Ten years ago, the word "bank" evoked imagery of long lineups, heavy paperwork and months-long processing time. Fast-track to today, and customers want a one-stop solution to cater for an "on the move" lifestyle. Boundaries between differentiated services have blurred and customers' expectations of banks go beyond their conventional financial needs to encompass all realms of lifestyle needs.  
The evolution of customer expectations 
A customer can be travelling on a bus and see an ad for a car. At the same time, they may be browsing Facebook and see that their friends have just purchased a car. They can, right there and then, book a test drive, register their interest, get initial approval on a loan and even buy or renew car insurance.  
This is the zero moment of truth (ZMOT), when the intent to purchase has taken shape, the customer starts looking for related services and the intent translates into action.  
Traditionally banks would usually register a lead when a customer reaches out to them for any particular service. Today, banks cannot afford to wait for the customer to reach out to them. Right from the very first moment, banks need to be alert to identify and capture customer intent. To succeed in providing a satisfactory experience and retaining the customer, banks need to deliver all the necessary services throughout, as well as after, the acquisition journey. The services should be tailored to the customer's needs, and banks should be capable of offering innovative products throughout the customer life cycle. These offers and products must go beyond the traditional offering and must cater to the changing needs and demands of the customers. To meet all these requirements, banks need to be omnipresent. 
A focus on agility, nimbleness, and adaptation to changing demands bodes well for financial institutes. Banks can build on their offerings, leverage their existing customer base, play the role of orchestrator and offer a one-stop solution for their customers. Banks have realized that collaboration—creating and participating in ecosystems and marketplaces—can offer a great opportunity for cross-selling financial products to their partners' customers. These collaborations have resulted in more loyalty, greater shareholder value and a lower cost-to-income ratio.  
A study on digital banks in the UK has revealed that the net promoter score (NPS) of digital banks is more than three times that of traditional banks. Moreover, in the financial ecosystem today, banks face competition not only from other incumbents and fintechs but also from other players (such as bigtechs) that have added banking services to their steadily broadening set of offerings. New-age players leverage the abundant and rich data that is being generated within the ecosystem to craft personalized solutions for customers. For example, there are firms using alternative data to offer customized rates and lending products to customers (even those with close to zero credit history), while others use geolocation data to nudge customers with offers related to nearby partner merchants.  
With the advent of these propositions, digital-only banks and fintechs are accelerating customer acquisition. Digital banks in the UK have reported a customer growth rate of 170%. Owing to these changing preferences, the banking industry is highly susceptible to future disruption. However, traditional banks have a great advantage in the form of their history and existing relationship with their customers.  
Banking Top 10 Trends for 2022: Our annual report highlights the trends that are shaping the future of the industry.
LEARN MORE
The pandemic as an accelerator of transformation 
The pandemic contributed greatly to the imperative for banks to evolve. Lockdowns around the world drove consumers to interact differently with all their service providers, including banks. For example, digital sales represented 49% of Bank of America's total customer sales in Q4 2020, up from 32% in Q4 2019, according to the bank's Q4 2020 earnings report. 
Banks have addressed the continuous drive for transformation by establishing "digital factories" to constantly revamp current products and services. We see that banks are increasingly adopting agile methods at an institution-wide level to facilitate faster remodeling. This remodeling involves digitalizing not only their front-end operations but also their internal operations and processes, and their data capture and monetization. These changes met the immediate needs of the pandemic—helping customers manage their finances without access to branches—but they also allowed banks to move beyond their traditional role as a financial services provider to immerse themselves in their customers' lifestyles. For example, DBS has implemented an extensive marketplace catering to customer needs from various domains, including health, cars, green solutions, travel and leisure, home and living, property and education.  
Enabling the banks of the future 
Banks are already in the midst of changing to adopt initiatives that enable their mobile presence, paperless offerings and lifestyle banking. However, this new environment requires a transformational journey comprising a succession of programs that allow the bank to evolve continuously to meet customers' ever-changing needs. Renovation and refinements should run across all parts of the organization. This transformation should not only involve mapping existing processes into the digital realm, but should also realign the business objectives, create new business and operating models, transform experiences and industrialize operations. Accenture identifies four areas for banks to focus on as part of helping them in their successful digital transformation. 
Accenture's four-part digital transformation framework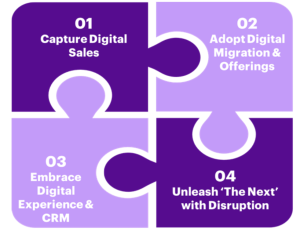 1. Capture digital sales: Purchase intent can originate anywhere, anyhow and anytime, and capturing a customer's interest at the right time is imperative for a successful conversion. Acquiring this capability involves collecting data from all possible sources, such as geolocation information from devices, social media activities, browsing data, in-store data, online sales data, app data, wearable tech/IoT data and many others. The data can be used to analyze demand and design a communication strategy and journey that maximizes customer acquisition. Digital sales refer to the use of data, technology and AI together to help accelerate banks' digital sales engines.
2. Adopt digital migration and offerings:  Banks need to take an omnichannel approach to ensure services and offers are available through the channels that customers prefer to use. Roughly 60% of the global population use the Internet, and about 90% of them do so on a mobile device. Smartphone penetration has reached approximately 78% of the global population. This represents a great opportunity to bank the unbanked by offering services and products on the channels most accessible to customers. Banks need to work on initiatives to transfer customer interactions and transactions from physical branches to digital channels by adding value to digital channels.
3. Embrace the digital experience and CRM: Deliver a personalized, proactive and customer-centric experience that includes providing recommendations based on consumer behavior. Manage customer relationships by analyzing interactions and collecting data throughout the customer life cycle, since this may maximize efficiency and value.
4. Unleash 'the next' with disruption: Ongoing industry convergence is opening doors to new ways of doing business and new revenue opportunities. Digital disruptors address customer needs in completely new ways and are growing strongly. Constant digital evolution and innovation leveraging "in the new" offerings may shift the focus from operations to people, and banks need to look for ways to lead during the next wave of disruption.
In today's financial arena, change is a constant, and perpetual enhancement of one's offering is a must. To ensure that these enhancements address customer needs, banks and fintechs should confirm the customer is firmly placed at the center of the ecosystem. This, in turn, may help that transformation programs – whether they strengthen current systems and applications or entail collaborating with fintechs and ecosystems – have the ultimate effect of driving real value.
To learn more, register to download the full report, "Global banking industry outlook."
Read report
To discuss strategies to transform your bank offerings to meet tomorrow's customers at their zero moment of truth, contact us here.
Disclaimer: This content is provided for general information purposes and is not intended to be used in place of consultation with our professional advisors. This document may refer to marks owned by third parties. All such third-party marks are the property of their respective owners. No sponsorship, endorsement or approval of this content by the owners of such marks is intended, expressed or implied. Copyright© 2022 Accenture. All rights reserved. Accenture and its logo are registered trademarks of Accenture.