Other parts of this series:
---
Financial services (FS) has always been an early adopter of new technology to achieve efficiency and speed, and offer new services to customers. Today, with the rapid growth in information technology, visionary companies can leverage digitization to reshape and transform the industry in new directions.
Many of the digital services and solutions that are emerging in financial services are underpinned by three game-changing technologies:
Artificial intelligence (AI)
The Internet of Things (IoT)
Blockchain
These technologies have the potential to impose profound and far-reaching change on the financial services industry. But as we focus on these transformative technologies, and their likely impact, it is critical to remember that FS remains a service industry and that these changes will augment, not replace all human capability. And they will require more agile ways of working.
Already, robotics software applications are transforming the accuracy and speed of previously cumbersome manual tasks. AI holds promise in changing the nature of customer interactions in financial services, as some customer service departments are almost fully virtualized.
The rise of the IoT and the proliferation of connected devices will lead to endless possibilities for new business models that are driven by optimizing the use of resources, improving processes and helping transform decision-making capabilities. We've already seen particularly good applications of IoT in the connected life and health programs insurers have launched in recent years.
Blockchain, though still in its infancy and several years away from widespread adoption, will drive tremendous change in the financial sector. By producing faster and more secure transactions through distributed ledgers, it will transform the world of capital markets. Settlements will take minutes, reconciliation will be a remnant of the past and the role of the middleman will be redefined.
As the impact of these technologies on the financial services sector grows exponentially, workforces and organizations will face specific challenges in:
What work needs to be done by humans,
How work is organized,
How many people are required in organizations,
Whether these new skills are in the labor market,
How to develop these skills.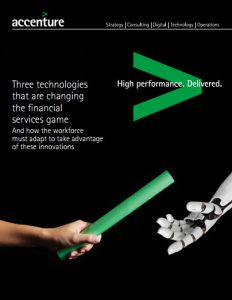 It is of paramount importance that organizations and their leaders use these technologies to drive growth, reduce cost and increase competitiveness in a digital age. In particular, it is essential that they understand the new, agile ways of working that are necessary in order to capitalize on these innovations and to position their organization for future success.
Coming up, we will take a closer look at the examples of these technologies in the industry and what the FS sector at large can learn from them in terms of human capital management.
To learn more, register to download the report:
Three technologies that are changing the financial services game: How the workforce must adapt to take advantage of these innovations