The hard truth about retail banking loyalty programs is that they do not always keep customers coming back.
Loyalty programs in financial services are expensive and expansive, but not differentiated. In fact, the market is flooded with look-alike programs. And as leaders in other industries transform their loyalty focus from vanilla rewards to customer value, banks will find themselves chasing customer expectations. Some already are.
The Lagging Loyalty Landscape
Eye-opening results from Accenture's 2015 North America Consumer Digital Banking Survey—our multi-year survey of over 4,000 consumers in the United States and Canada—reveal just how low customer participation and perception of loyalty programs are:
Poor participation. Only a third of customers participate in bank loyalty/programs—54 percent do not participate at all.
Information vacuum. Seven percent of customers are not sure if they participate—and 6 percent are uncertain if their bank even has a loyalty program.
Program stickiness. Only 9 percent of customers cite loyalty programs as the reason for staying with their primary bank.
Customer switching. Under-delivered loyalty programs are a key driver of switching.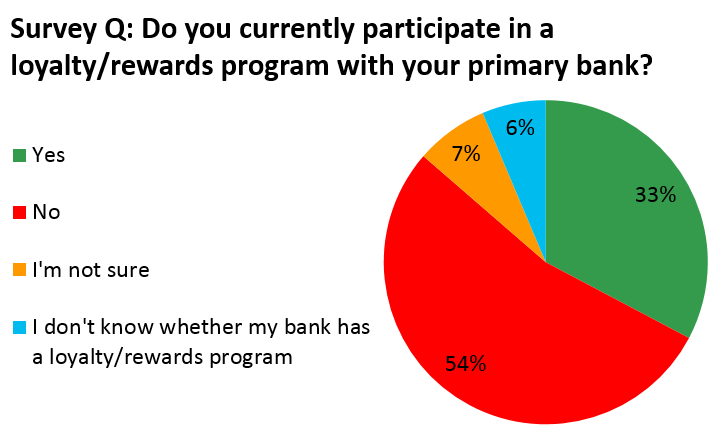 What Customers Want
Our survey also shows that customer expectations for loyalty programs are high—and specific. Consider the loyalty landscape from the customer perspective:
Design for digital. The ability to redeem loyalty points from multiple channels is a key characteristic of loyalty programs in customers' eyes.
Count on convenience. Over half of customers say that the most important characteristic of a loyalty program is offering cash or open loop prepaid cards.
Deliver the good life. Nearly one-third of customers think the most important loyalty program characteristic is the offer of points for quality of life experiences such as travel.
Make it personal. Over half of customers want their banks to locate and curate discounts on their behalf in purchase areas that are relevant to them.
Taking the Long View of Loyalty
It is clear that banks have work to do to transform this loyalty lag into loyalty that lasts. After all, leaders know that they can't risk losing customers in such a disrupted banking landscape. There are too many other players eager to lure customers away by upping the ante in many areas, including loyalty.
Getting more from loyalty programs requires a mindset shift for banks. Loyalty initiatives can no longer be viewed as an isolated part of the business. Instead, loyalty programs must be addressed as part of the banks' larger purpose to maximize customer value. It's about giving the loyalty organization a wider mandate not only within the enterprise, but also within customer's everyday lives.
Learn more about Accenture's latest consumer digital banking survey.