When you think about social media, do you think about connecting with old friends and watching the latest viral video, or do you think about your business and your customers?
Across industries—including banking and financial services—social media is not a nice-to-have. It is a must-have for connecting with today's always-on customers, building a strong brand reputation in the digital age and enabling the broader business strategy.
Social media is the new normal
It's time for banks to get serious about social media—and those financial institutions that haven't already will soon find themselves playing catch-up with the competition. Consider the following eye-opening statistics:
77 percent of the Fortune 500 now have active Twitter® accounts and 70 percent are on Facebook®.
Most (69 percent) respondents to the Accenture 2014 North America Consumer Digital Banking Survey say they are active on social media.
What's more, 22 percent of Millennials look for financial service advice via social media, according to the same survey.
These statistics confirm that social media as a modern, real-time communications channel is here to stay—it is no flash in the pan. Consumers rely on social media in many ways. They use it to conduct research, assess their network's trusted opinions, add their voice to ongoing conversations and interact with product and service providers in new ways.
Social media is serious business
We are seeing the financial services industry explore the business value of social media. A scan of latest industry news on the topic explores affinity offers tied to customers' social network accounts, the creation of corporate war rooms used to track consumers' social conversations, and even the advent of real-time money transfers conducted through social media sites.
As banks pursue and extend their social media strategies, it is important to approach them with the right mindset. Social was once viewed as opportunistic in nature. Remember that famous Oreo tweet during the XLVII Super Bowl after the lights went out that said, "You can still dunk in the dark"?
Today, social media has evolved well beyond a spur-of-the-moment reaction, no matter how ingenious. Sure, there is room for this at times. But more often, social media must be data driven—a true science—to help banks drive organic growth, increase operating efficiency and reduce risks.
This chart lays out some of the benefits from a strategic approach to social media: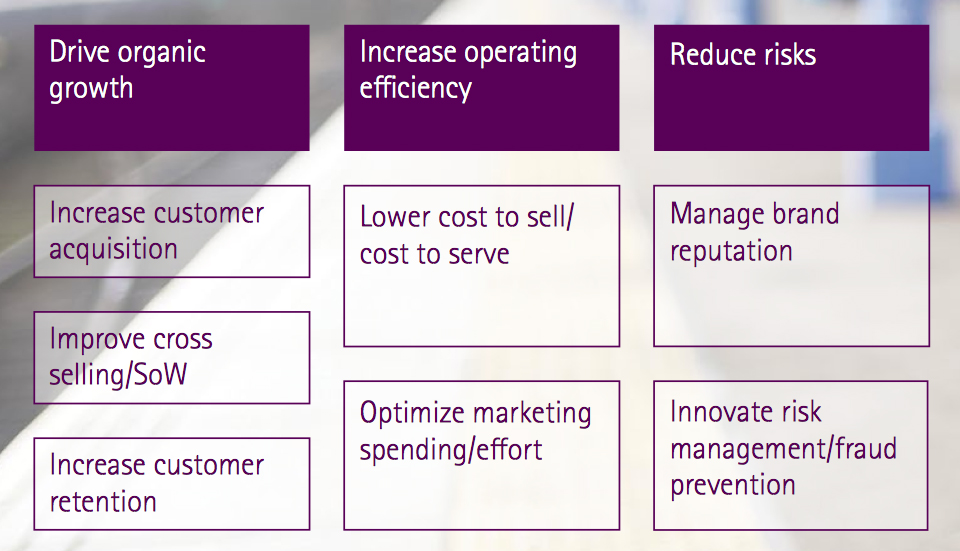 Risk management must evolve too
Any discussion of social media in this industry in particular is incomplete without acknowledging the risk that comes with it. As such, risk management must be a significant part of any bank's social media strategy.
There is enormous potential for social media to change how banks understand customers and interact with them. Success will mean understanding this new channel and advancing strategies with an eyes-wide-open approach to the risks—and the rewards.