Most banks split the execution of any change with detailed handover between various disciplines. This traditional approach does not work for a digital strategy. Successful, scalable digital transformation requires three important roles: The technology entrepreneur, the banking entrepreneur and the digital entrepreneur.
Let's take a closer look at each of the three:
Technology entrepreneur
This is the architect of your bank's future capabilities. This entrepreneur introduces new concepts, such as platform-based thinking, to create a more open, scalable and flexible technology environment.
Banking entrepreneur
The entrepreneur who balances risk and business viability is essential to maintaining sustainable banking value. Quite often the CEO assumes this role as he or she understands the relationship between value and risk, and knows all the nuances of the bank—from revenue flow to cost to regulatory boundaries.
Digital entrepreneur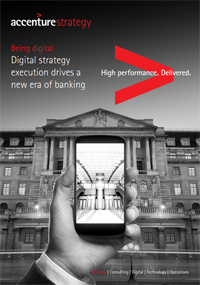 This role calls for a customer-centric mindset and skill in anticipating customer desires, trends and behaviors in the digital ecosystem. Using insight, this entrepreneur will shape the banking ecosystem and drive the revenue and process digitization agenda.
Where these three roles intersect is the customer experience, and that experience hinges upon these three entrepreneurs working together. With harmony and collaboration, they can set the digital vision for your bank, select services to be launched, define the strategy for digital capability development and guide a successful, long-term digital transformation.
There is great power in these three roles. Use them to your bank's advantage to drive scalable innovation across your enterprise.
If you want to learn more about what else is key to a successful digital strategy in banking, I encourage you to read our recent report, "Digital strategy execution drives a new era of banking."