Pricing and rewards points are the top two incentives for consumers to increase their use of mobile payments according to our 2015 North America Consumer Digital Payments Survey. But incentives like these do not guarantee lasting customer loyalty for payment providers.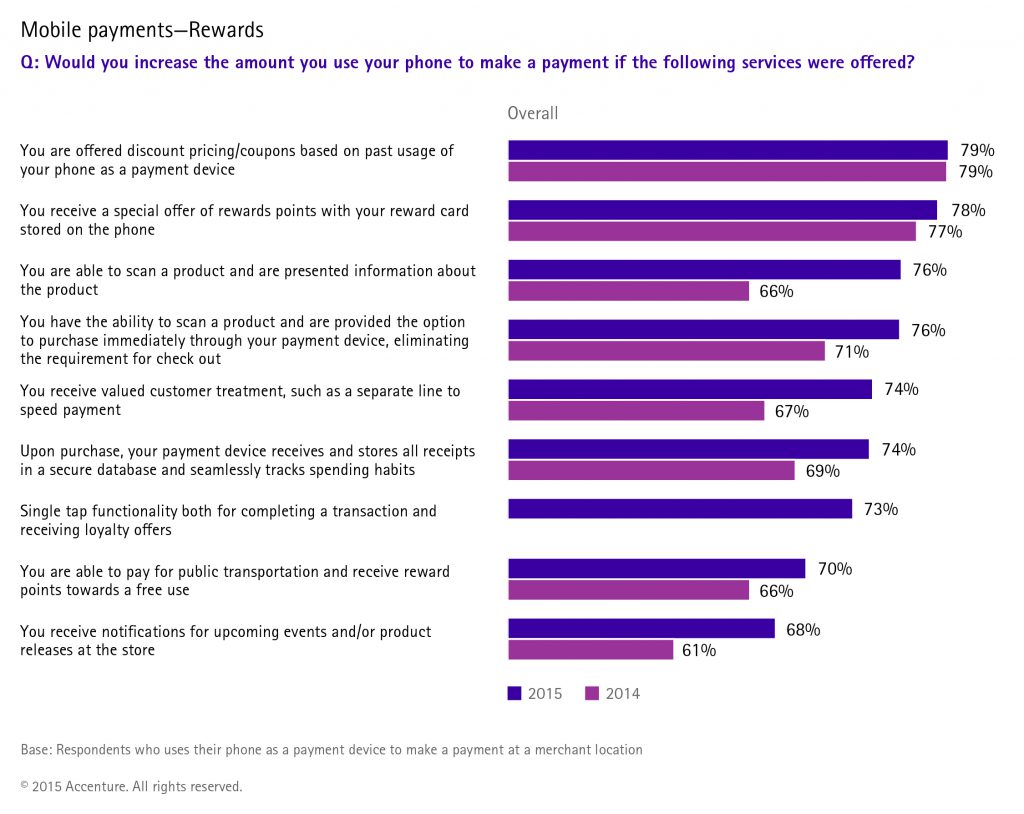 Today's consumers are fickle, and loyalty is fleeting. Points-based rewards programs are so common that they are table stakes, not differentiators. Consumers are willing to switch in favor of the best banking customer experience.
Two sides in a fierce battle
Considering this environment, there is a battle brewing in the loyalty and rewards landscape. And the two sides could not be more different.
Traditional payments institutions, including banks and credit card providers are on one side. They are struggling to align loyalty and rewards programs with today's commerce trends—mobility, immediacy and personalization. Traditional providers are hamstrung by their own ecosystem with its complex processes, legacy technology infrastructure and regulation.
On the other side, there are the emerging players, including technology companies, digital start-ups and retailers like Starbucks Corporation. These players are inherently nimble and lack technology and regulatory limitations.
Consider how Starbucks is driving loyalty through ease of payment and short redemption time. The company is also making the customer experience more seamless at every stage. Self-loading cards, personalized song recommendations, pre-order and in-store pick-up are all part of this commitment.
Developing a new defense
There is a lot at stake for traditional players if they do not rethink loyalty and rewards. There are also exciting opportunities for them as open source technology supports rapid merchant and partner integration and the ubiquitous use of points across partners and channels.
There is a clear imperative for traditional players to move from currency based rewards. This shift requires the development of brand-led experiences that drive loyalty through the combination of rewards, personalized merchant offers, unique experiences and ease of redemption. It's a whole new breed of loyalty.
Once traditional players define what this new loyalty looks like for them they can focus on several key areas to provide a foundation for change:
Technology infrastructure. Payment providers should strive to free themselves from the albatross of legacy systems with new technology approaches that allow for the rapid assembly of applications to solve dynamic business needs. This approach requires modular architectures, scalable elastic design, and a cloud-first, mobile-first mindset. Engineering innovations such as Agile development, DevOps, and Feedback Driven Iterations can aid speed of development and deployment and achieve minimum time to market.
Program innovation. Loyalty programs must evolve to build mutually beneficial relationships between merchant, payment providers and consumers. For example, there are coalition or "co-opetition" approaches that take advantage of a broader ecosystem centered on the customer. This involves merchant integration and rewards monetization opportunities, which are the foundation of American Express Company's Plenti program.
While this battle rages on, traditional payments players must do more than protect their territory. They need a new arsenal to extend their boundaries and grow consumer loyalty over time.
Learn more about Accenture's latest consumer payments survey.