Millennials. They are distinct, digital and distrustful of banks. Yet they are in demand.
It's no surprise that how to retain younger customers in banking is a trending topic for the industry. These are tomorrow's customers. What has been surprising for many banks is just how different millennials are from their parents, and their grandparents.
I recently read an article by Dan Kadlec that has me thinking about the gap between what traditional full-service banks are offering and what millennials want from them.
Industry observers would agree that millennials' desire for digital banking is a key force behind this gap. Digital natives have a clear preference and expectation for digital tools and omni-channel banking options that allow them to bank where, when and how they want to.
Banks are evolving to offer more digital banking options, and our view of the Banking 2020 landscape is that banks will continue to compete on the digital experiences they offer customers of every age. This evolution may not be fast enough for millennials. Accenture's 2014 North America Consumer Digital Banking Survey reveals just how digitally inclined millennials are today:
94 percent are active users of online banking.
72 percent are active users of mobile banking.
92 percent are active users of social media.
But banks must go beyond digital behaviors to understand the millennial mindset. As Kadlec discusses, banks must face the fact that many millennials distrust them. After all, most came of age during the recent recession, and the fallout touched many of their lives.
What this tells us is that serving millennials now and into the future is not just about "getting more digital," it must be about building trust on terms that this unique generation will accept. While there is not a quick fix here for banks, the Accenture survey exposes several areas where they could focus their efforts:
Millennials want help with their finances. Most (67 percent) are interested in their banks providing tools and services to help them create and monitor a budget.
Millennials want their bank to be proactive. The majority (58 percent) are interested in their bank proactively recommending products or services.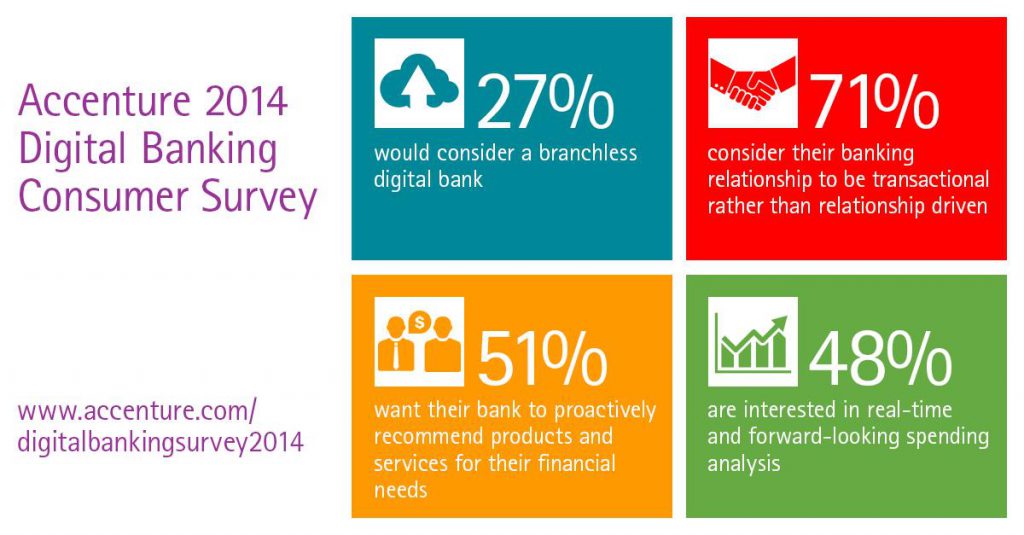 These findings suggest that relevant and personalized financial advice that consistently anticipates millennials' unique needs—as part of an omni-channel banking experience—may be the cornerstone of winning back the next generation of banking customers.