Other parts of this series:
---
In the new application programming interfaces (API)-driven financial services environment, banks that adopt an API architecture can gain a significant competitive advantage. Those that don't could quickly fall behind the competition. Though the premise might seem simple, effective API management isn't simply a matter of plugging in new technology. It requires a thoughtful, strategic approach.
As I explained in my previous post, while bankers may understand the importance of embracing an API-driven architecture, many stumble when it comes to effective API implementation and management. Others are simply hesitant to take the plunge.
However, by addressing API management through the following four pillars, banks can overcome common roadblocks and win in the new API-driven banking world:
#1 Approach
API adoption is a business-wide venture that touches every part of the organization, transforming how products and services are conceptualized, developed and delivered. This means everyone should adopt an API-first mindset that embraces new customer value propositions and how APIs facilitate this value creation. Senior leaders should establish and champion the API-first concept throughout every function, at every level. A mandate from the top and a clear strategic vision helps prevent the fragmentation and duplication of effort that can derail an effective API implementation and generate unnecessary costs. A culture of reusability is part of the API-first mindset. Business and design teams should always look at what can be reused before developing from scratch.
#2 Technology
The appropriate technology decisions can make or break an API transformation. Careful judgment should be applied to choosing the API management platforms, as they provide key capabilities such as analytics, fraud and security management, and developer portal integrations. Banks can reduce complexities generated through legacy technologies by integrating microservices into the API architecture. A robust and structured API catalog supports discoverability and reuse, key elements in the API-first approach. Ongoing monitoring is crucial to avoiding redundancy and driving sustainable API creation and consumption.
#3 Governance
Strong governance is an essential component in the API architecture delivery framework. It allows standardization and reduces duplication of effort in API development and execution. A multi-tiered governance structure headed by a central team that has design authority and acts as the quality gate for API development and supported by business unit-specific design and delivery teams serves as a sound model for effective API management.
#4 Ecosystem Management
In the interconnected digital business world, banks can no longer depend only on their own resources and capabilities. Collaborating, networking and welcoming new thinking are foundational to innovation. Engagement with innovative providers and the developer community is an essential step for banks that want to be innovation leaders. Developer portals create an open invitation for other developers who want to use a bank's APIs. Taking a "fintechs are welcome" position encourages ecosystem engagements. Banks that create monetization models can generate new revenue streams from their API-based offerings.
Steps to Effective API Management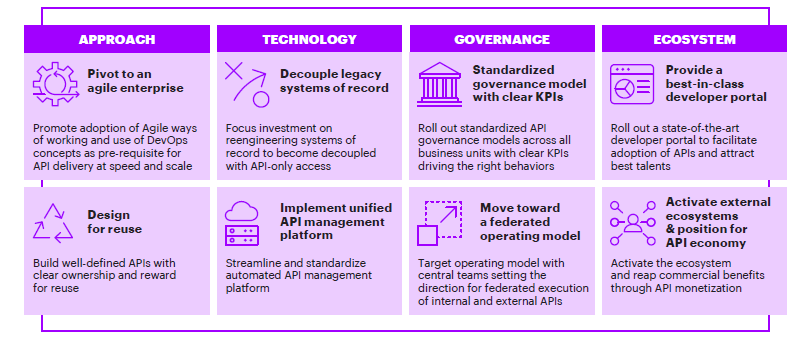 Source: Accenture April 2019
Other factors to consider
There are three other considerations banks should take into account in their API transformations:
Data ownership, storage and security are paramount. Data breaches can lead to devastating monetary and reputational damage and severely erode customer trust.
Security capabilities are a top priority. While APIs are inherently secure, the supporting architecture and ecosystem should be as well.
Service operating models. An API architecture is an entirely new way of doing business for banks, which are not accustomed to digitally transacting solely with external customers. Banks should think through new models for pricing offerings, billing customers and sharing revenue.
Getting off to a good start
The first step in adopting an API architecture is developing an organization-wide strategy. By aligning with the four pillars of effective API management, any bank can unlock new sources of business value and thrive in an API economy.