Other parts of this series:
---
Summary: Andy Young shares key findings from Accenture's Modern Boards research—and explains why a high human touch is essential to unlocking people's potential.
COVID-19 has upended so much, from our daily lives (hello, home schooling) to long-held beliefs about how business should work. Historically, workforce and talent strategy has been siloed within the HR function. And the pandemic has amplified a trend that's been growing for a while: organizations used to find people worthy of working for them—but now, organizations need to be worthy of the best people.
Boards are critical to holding leadership accountable. That still includes things like financial performance and strategic vision—and it also needs to include shaping a workforce strategy that will help guide the business through volatility, uncertainty and complexity.
Having Board oversight for workforce strategy is a key lever to help organizations hit the governance part of their Environmental, Social and Corporate Governance (ESG) agenda. This oversight also supports responsible leadership, which is a key driver to address the social, economic and environmental challenges of the 2020s.
It's time to give workforce strategy a seat at the table. Accenture's Modern Board 2020 Survey found that COVID-19 increased 70 percent of board member involvement in company workforce strategy.
Good leadership and decision-making are essential for any business and are especially critical for regulated industries like banking. As regulators evaluate your company's risk profile and business sustainability, workforce conduct and capability is high on the agenda—and that points to people strategy. In addition, as most banks are trying to navigate a pivot to be more digital-, cloud- and data-driven, many are finding their efforts will be constrained or enabled by people—again, pointing to people strategy.
Long story short, people strategy is essential for business performance. And high performers are elevating people strategy out of the HR silo, out of the C-suite and right up to the Board level.
The business case for a Modern Board
What happens when the Board has oversight over talent strategy? Our research shows they achieve three important outcomes:
Revenue growth. In our analysis of revenue growth over the past three years, Boards with high involvement in workforce strategy saw revenue growth of 10 percent or more compared to their peers. Their revenues are also more stable in times of crisis. For example, Boards with low involvement in workforce strategy saw their revenue decline by at least 5 percent during COVID-19—that's 1.3 times higher than companies with higher involvement Boards, which were better able to shield their organizations from such a decline.
Adaptability. Our research found that Board involvement strongly influences how well a company responded to COVID-19. Companies with highly and moderately involved boards were 1.6 times more prepared for their COVID-19 response than companies with low-involved boards.
Innovation. Innovation is a hallmark of companies with Modern Boards, and our research found they are up to 1.5 times more likely to outperform their peers in innovation. Even boards with moderate involvement in workforce strategy are significantly better at innovation than those with low involvement.
What's more, Modern Boards embed humanity and compassion into their fiduciary duties. That means better risk oversight that minimizes lost revenue. We analyzed more than 7,000 companies to understand the direct impact on future revenue losses due to trust-based events. Conservatively, the price tag totaled $180 billion.
Our analysis of 7,000 companies found that future revenue losses due to trust-based events could cost $180 billion.
Five characteristics of Modern Boards
These Modern Boards showed five key characteristics. (Helpfully, there are five Ms, because who doesn't love a good mnemonic?)
Mindset. Modern Boards are 1.7 times more likely than their peers to hold the broader C-suite accountable for workforce strategy. They reinforce that workforce strategy is a C-suite imperative, not an HR initiative. By elevating talent strategy to the C-suite, they also ensure that it is monitored by the organization's highest level of governance.
Mission. Modern Boards are 1.9 times more likely to be responsive to inclusion and diversity issues, and 2 times more likely to publicly report diversity and wellbeing metrics. In other words, they recognize and act on important social issues—an indicator that they are more prepared to address topics like #MeToo or Black Lives Matter. That's increasingly important given that roughly 1 in 2 workers agree that the ethical, sustainable and moral values a company holds will become more important to them after the pandemic passes.
Metrics. Modern Boards are 3.8 times more likely to have a strong pulse on workforce health. They measure and discuss critical workforce elements in their board meetings. Productivity, candidate recruiting, and health and safety are at the top of the list—and health and safety will continue to be a priority during the pandemic.
Muscle. Modern Boards are 3.4 times more likely to lead organizations that excel across all workforce capabilities, such as recruiting, learning and development, employee engagement and experience and talent retention. They make active and strategic use of their CHRO to provide actionable feedback (86 percent engage the CHRO for actionable feedback at least quarterly), and they are confident in management's strength and ability to execute workforce strategies.
Makeup. Modern Boards are 1.4 times more committed to diversity, and their makeup reflects greater global, industry and functional diversity than their peers. It's heartening to see this, but it's not enough—many boards, in their current composition, do not reflect the diversity of the people they represent and serve. And they certainly don't represent their customers.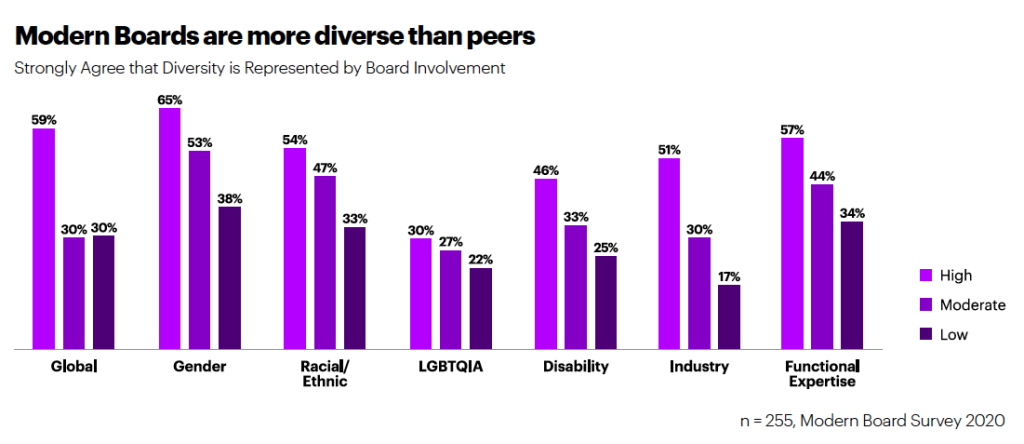 To accelerate business performance, focus on high human care
Through this series, we've looked at Accenture research showing that the six components of Net Better Off can unlock 64 percent of people's potential at work. These factors of human care—mental, physical, relational, financial, purpose and employability—can help us all be our best at work. We've also looked at the five sweet spot practices that Modern HR leaders get right, and what makes them tick. Finally, we've looked at the importance of making workforce strategy a C-suite and Board imperative.
If this seems like a lot to parse, you're right. And I think it's indicative of the increasingly connected world we live in. Just as you can't address physical health without considering mental, you can't focus solely on technology and innovation without also considering your workforce strategy.
As employers boost the dimensions of Net Better Off and create meaningful and trusting relationships with employees, they see an increase in business performance—and can generate up to 5 percent revenue growth, even in today's lackluster economy.
Earlier this year, joint research between Accenture and the World Economic Forum highlighted the importance of responsible business, with a focus on stakeholder inclusion, emotion and intuition, mission and purpose, technology and innovation, and heightened insight and continuous learning. Could a focus on high human care be the Rosetta stone for connecting these seemingly disparate business objectives?
In committing to make people Net Better Off, organizations can help people achieve new skills; provide safe workplaces in healthy, sustainable buildings; and lead in a way that benefits the business, its people and society. These objectives are probably rolled into your organization's ESG values, but you may not have a strategy that addresses them in a holistic way. Could a focus on high human care be the lens through which you achieve your ESG agenda?
In 2020, banks drastically accelerated their digital transformation, achieving years' worth of work in months. They've invested in digital solutions and a remote workforce, pivoting to better serve customers under lockdown and support their people to work from home. As challenging as it has been, it has also been an exercise in innovation, flexibility and agility.
The COVID-19 pandemic has shone a spotlight on resilience: of individuals, of teams, of organizations and of societies. We may have started off wanting to go back to the new normal—or the never normal, as it were—but I go back to the idea that in every crisis, there is opportunity. We have an opportunity to change things and put people at the focus of everything that we do.
We started this research before COVID-19 and its lessons were important then. But they're essential now. Organizations that can support their workers today, when they really need it, strengthen trust in the relationship. Organizations that put care and compassion at the heart of the work experience can build trust through transparency.
It's critical for banks to close the gap between what individuals expect and what the C-suite believes it's responsible for. Recall that 73 percent of the banking workforce strongly believes their employer is responsible for helping them achieve Net Better off (compared to 75 percent in our cross-industry sample) but only 30 percent of the banking C-suite agrees (compared to 50 percent in our cross-industry sample).
In that gap lies the opportunity: To get this right and unlock the full potential of the banking workforce.
To help people achieve their potential, experience positive emotions and feel happier.
And I can think of nothing more important right now.
To learn more about why workforce strategy needs a seat at the boardroom table, contact me here or on Twitter at @andyyoungACN.
Many thanks to Eva Sage-Gavin, Yaarit Silverstone and Barbara Spitzer for your leadership in this area.
Disclaimer: This content is provided for general information purposes and is not intended to be used in place of consultation with our professional advisors. Copyright© 2022 Accenture. All rights reserved. Accenture and its logo are registered trademarks of Accenture.