The year 2018 saw more and more questions raised about organizations' behavior, ranging from misuse of data to production of plastic waste. At the same time, consumers have been thinking more deeply about the effects their brand choices have on themselves, those around them and the planet as a whole.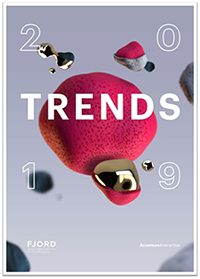 The result? As 2019 gets underway, brands and organizations also need to think more carefully about the choices they make. Combined with advances in technology, this shift offers companies many opportunities to navigate new and more positive paths forward—a potential underlined by this year's Fjord Trends report, our annual look at what's ahead for business, technology and design.
We at Accenture have been taking this same path, growing in maturity as we've progressed from developing a foundation to recently launching "Technology for Good". One of the hottest topics at this year's World Economic Forum (WEF) was the need to make inclusion and trust the way forward for the future. Accenture Strategy is at the forefront of this new way of doing business—and this year's Circular Economy Awards recognize individuals and organizations for making strides in the circular economy and trailblazing a more sustainable future. Accenture is also working on various initiatives with other organizations and WEF to create the Digital Identity framework that is basis of a successful digital economy.
What does this mean for Banking…?
Banks are far from immune to the growing scrutiny of corporate behavior and its wider impacts on society—and they can use it as an opportunity to find new ways to stand out from their competition. Becoming a trusted bank and achieving a positive social impact are absolute requirements for a winning strategy. By standing for something bigger than what they sell, tuning in to customers' beliefs and taking decisive action, banks have the chance to recast their customer relationships and connect with consumers on a deeper level.
The advantages of doing this are already evident in other industries. For example, Unilever's sustainable brands have grown 30 percent faster on average than its other brands and are delivering 70 percent of its turnover growth. At the same time, firms such as Dassault Systèmes (software), Neste (oil, gas & fuels), Valeo (auto components), UCB (pharmaceuticals) and Outotec (construction & engineering) have secured high rankings in Forbes' list of the 100 most sustainable organizations, thanks to their initiatives in waste reduction, renewable energy, emissions reduction, healthy patient solutions  and sustainable use of natural resources, respectively.
Realizing the benefits
Banks can achieve similar benefits by intertwining sustainability and positive social impact in their core business. For example, support for the circular economy should be required when revamping existing offerings and integrated into activities—particularly credit analysis. Banks should also develop new businesses based around the circular economy, in areas like circular supply chain; recovery and recycling; sharing platforms; new services (providing advisory services and financing for developing business in areas like renewable energy, water scarcity and resource efficiency); or product life-extension-related solutions.
Banks' focus on sustainability should go beyond facilitating the issuance of green bonds and extend to integrating sustainability dimensions into project analyses, and helping businesses learn how to comply with environmental, health and worker safety regulations. Additionally, focusing on financial inclusion should go beyond providing low-cost services, to include providing financial education and services to lower income customer segments using an Open Banking model.
Sustainable banking also involves expanding the notion of the 'client' to include governments and supranational organizations. Indeed, banks are best positioned to use their wealth of data to provide government with insights into spending patterns, returns on investment, impacts on target audience, identification of fraud and tax avoidance, prediction of crime hotspots and more. They can also leverage their deep pools of data and strong analytics capabilities to support and service bodies such as the United Nations.
Making a difference
Today, people want the organizations they do business with to make a positive difference in the world. So, the time is right for banks to start thinking about how they can apply an ecosystem strategy and collaborate with government, other industries and fintechs to achieve progress in three dimensions:
Determine their mission to scale the relevance of their brand
Broadcast their social purpose to a wider audience and client base (including public services)
Help create a more sustainable world