Other parts of this series:
---
Hong Kong could have a major role to play in supporting the overseas expansion of China's fintech giants.
The growth of China's fintech giants in their domestic market has, until recently, been relatively unfettered by regulatory constraints. But the recent emergence of a more hands-on regulatory approach has created a degree of uncertainty about the extent to which they can continue expanding at home,[1] and provided greater urgency to their plans to grow internationally.
To be sure, China's major fintech players, led by Ant Group and Tencent, have significant potential to export their fintech expertise overseas. And Hong Kong could serve as a vital staging ground in that effort.
In a statement to mark the release of the authoritative China Fintech Report 2020 by the research arm of Hong Kong's leading English-language daily the South China Morning Post, the city's financial secretary, Paul Chan Mo-po, noted: "As the mainland continues to expand its flourishing fintech sector, Hong Kong, as one of the world's leading financial centres, the unique business gateway to the mainland and a rising regional fintech power, has much to offer and is poised to reap the rewards."[2]
That theme was echoed by our own recent survey on the current state of Hong Kong's fintech sector.[3] That survey found that while the city is perceived to be behind its global counterparts in fintech innovation and adoption, the local government could quickly close the gap by implementing ambitious initiatives to upgrade infrastructure, cultivate homegrown talent and offer greater funding to early-stage startups. This would enable Hong Kong to exploit its considerable natural advantages as a gateway to mainland China, serving not only as a preferred base for companies with regional ambitions in Greater China, but also as a launchpad for Chinese corporations into international markets.
Policy boosts
The most compelling export markets for China's major fintech players are developing nations, where the need for greater financial inclusion is most pressing. Access to those markets will be greatly facilitated by Beijing's expansive Belt and Road Initiative (BRI).
The BRI's remit is to promote cooperation among countries and regions in various areas, including facilitating unimpeded trade and financial integration. As the only major international financial centre in China with free flows of capital, Hong Kong has a specific role to play within the BRI in international project financing and offshore Renminbi (RMB) business.[4] As one of the region's top asset management centres, Hong Kong can meet the demand for wealth management services generated by BRI projects. There is also considerable scope for Hong Kong to become the risk management centre for state-owned enterprises investing in major BRI projects and looking to expand their international footprints.[5]
Hong Kong-based firms involved in fintech identified local government and regulatory support as essential to realising the opportunities created by both the BRI as well as the Greater Bay Area (GBA) development plan, another important central government policy that promises to enhance Hong Kong's fintech hub status. Additional schemes supporting fintech development within the GBA include the Stock Connect,[6] Wealth Management Connect[7] and soon-to-launch Insurance Connect[8], which enable Hong Kong, Macau and bay area residents to seamlessly purchase stocks, wealth management products and insurance products offered by institutions based in the separate jurisdictions of the GBA. Among the measures highlighted by our survey as essential in realising the opportunities created by all these policies are a cross-regional investment, outreach programmes and enhanced supervision.[9]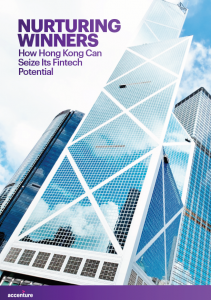 Subscribe for more from Accenture Banking.
---
[1] Evelyn Cheng, "With Ant's IPO on hold, China calls for fintech regulation," CNBC, 6th November, 2020: https://www.cnbc.com/2020/11/06/with-ants-ipo-on-hold-china-emphasizes-need-for-fintech-regulation.html
[2] Enoch Yiu, "Hong Kong has a huge role to play in supporting China's fintech juggernaut, financial secretary Paul Chan says", South China Morning Post, 28th October, 2020: https://www.scmp.com/business/banking-finance/article/3107286/hong-kong-has-huge-role-play-supporting-chinas-fintech
[3] Accenture, "Nurturing Winners: How Hong Kong Can Seize its Fintech Potential," 30th October, 2020: https://bankingblog.accenture.com/nurturing-winners-how-hong-kong-can-seize-its-fintech-potential
[4] Belt and Road Initiative – Hong Kong: https://www.beltandroad.gov.hk/work.html
[5] From Hong Kong Chief Executive Carrlie Lam's address at the Asian Insurance Forum on 10th December, 2019: https://www.scmp.com/presented/business/topics/tech-gba-pave-new-way-insurers/article/3042737/experts-discuss-how
[6] Stock Connect, Hong Kong Exchanges and Clearing: https://www.hkex.com.hk/Mutual-Market/Stock-Connect?sc_lang=en
[7] HKMA, "HKMA welcomes Wealth Management Connect", 29th June, 2020: https://www.hkma.gov.hk/eng/news-and-media/press-releases/2020/06/20200629-5/
[8] Enoch Yiu, "'Insurance connect' will be next big step for Greater Bay Area, with two services centres expected to be set up by end of year," 24th July, 2020: https://www.scmp.com/business/banking-finance/article/3094497/insurance-connect-will-be-next-big-step-greater-bay-area
[9] Accenture, "Nurturing Winners: How Hong Kong Can Seize its Fintech Potential," 30th October, 2020: https://bankingblog.accenture.com/nurturing-winners-how-hong-kong-can-seize-its-fintech-potential