Other parts of this series:
---
In my previous post, I noted that social media presents a number of opportunities for financial institutions—helping them build their business through marketing and advertising, improve customer service and resolve grievances. But social media also exposes organizations to considerable risk. This week I'll talk about the specific risks posed by major platforms.
Facebook
Facebook has become ubiquitous—70 percent of Fortune 500 firms manage a corporate Facebook page. Yet it's a platform that can blur the boundaries between business and personal lives and lead to inadvertent leaks of information. Personal posts about interesting work or travel can allow corporate spies to deduce an organization's business relationships with outside companies and parties or provide information about their research and development work. Posts can also harm a company's reputation or damage high-profile corporate campaigns.
Twitter
Twitter is another popular platform. More than three-quarters of Fortune 500 firms (77 percent) have an account. Posting content in small chunks is simple and quick with Twitter, but it also offers interested outsiders a way to stitch together pieces of information that might have been too freely shared. For example, people working for a security consultancy were able to predict that a company would file for bankruptcy based on employee tweets about budget cuts.
LinkedIn
LinkedIn is a platform that's very popular with businesses. But it too offers corporate spies a way to learn more about an organization than it might intend. For example, when salespeople connect with contacts outside the company, they may not realize that they could be disclosing confidential customer relationships.
Email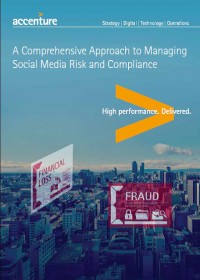 Email has been around for so many years at this point, that it's easy to forget the potential risks it presents. Today, emails are sent with an ever-increasing number of links to websites and possibly embedded malware, making it all too easy for hackers and spies to install rogue software on computers when people click bad links.
Social media platforms are here to stay, and in today's world, they are an expected part of doing business. With updated social media risk management plans and processes in place, effective communication with employees about what they can talk about on social media, as well as new tools and technologies for use by security and infrastructure teams to monitor and report on social media, financial services firms can feel confident in seizing the opportunity to build stronger relationships with their customers and develop a competitive edge.
In my next post, I'll look at how you can keep millennials happy by embracing social media.