The strong growth recorded in the US commercial card market in recent years is not letting up. Accenture forecasts the market to grow 10 percent annually through 2022, as shown in the diagram below. We expect the growth to come from payments providers' initiatives to address evolving B2B customer payments needs and build better technology solutions.
US Commercial Card Spend

1

($ billion)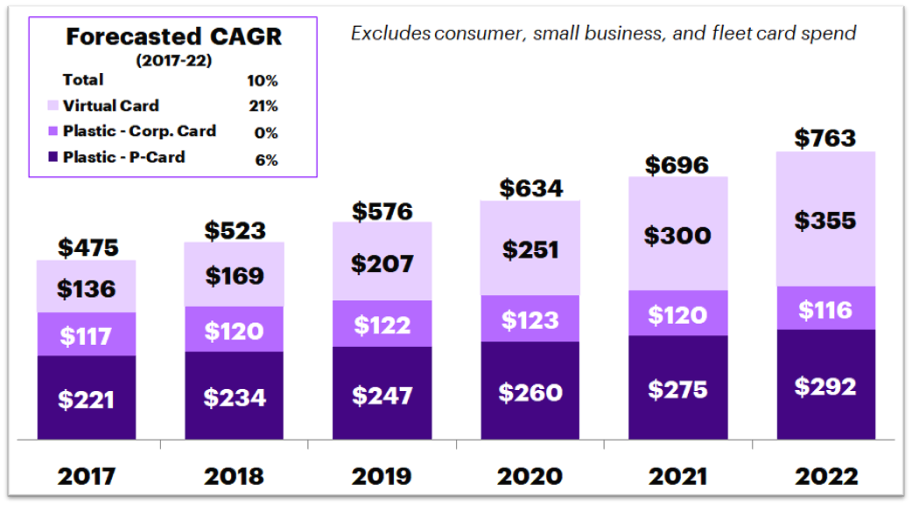 Upside B2B payments market potential driven by more innovative ways to meet customer needs
Commercial card spend currently represents less than one percent of an approximately US$150 trillion B2B payments market. Still, it has significant upside potential, driven by key B2B payments trends, such as continuing accounts payable (AP)/accounts receivable (AR) automation and integration, increasing focus on working capital, improving real-time spend visibility and expense management and emerging "consumerification".
Bank and non-bank card providers are becoming more sophisticated in designing solutions for different channels, verticals and differently sized organizations, with growing emphasis on the experience and value optimization.
Digitally integrated solutions to fuel growth in commercial card products and us
e
Virtual card spend2 for purchasing activities is projected to grow at 19 percent annually due to buyer commitment, improved connectivity and enhanced supplier acceptance, with further growth potential as traditional boundaries blur.
Tokenized mobile spend3 has the potential to reach US$42 billion in 2022 (43 percent CAGR), as issuers continue to enhance solutions to issue/approve virtual cards from mobile form factors, and corporate travelers become more comfortable with mobile wallet capabilities from the "Pays" (e.g., Apple, Google, Samsung), banks and merchants.
Plastic Purchasing/Corporate Card spend may slow as spend shifts to virtual cards though use cases remain (for example, solutions for different user groups and next-gen "one cards" from which virtual cards can be issued).
Card is becoming increasingly valuable to integrated AP/AR offerings from technology, process and people perspectives.
Commercial cards can be valuable tools for end-user organizations and current market trends suggest their use will continue to grow. In a competitive environment, it is important for issuers and third-party technology providers to continuously seek to improve their commercial card offerings to meet the evolving needs of B2B customers.
For more information or to discuss the opportunities within commercial card growth for your business, please contact us.
---
1Accenture estimates and analysis based on Accenture market data and knowledge as of time of this publication. 2Includes vcard, epayables, EAP, and other IP-protected or commonly used terms for non-plastic card accounts often integrated with AP and/or ERP systems. To reflect the ongoing evolution and diversity of non-plastic digital payments, virtual cards defined herein also includes virtual cards used with online travel agencies (OTAs), proprietary closed-loop card systems, and tokenized mobile payments for commercial cards. 3Included in virtual cards, tokenized mobile spend relates to use of transaction-level virtual identifiers (e.g., mobile-raised single use accounts, tokenized mobile transactions) as an alternative to plastic corporate cards.
Sources: Accenture proprietary commercial card sizing model, informed by data from Visa, Mastercard and American Express annual reports, SEC filings and investor presentations; UATP press releases; The Nilson Report, GSA SmartPay statistics, 2013 / 2016 RPMG Corporate Travel Card Benchmark Survey Results; the Federal Reserve Payments Study; US Census data; Federal Reserve 2016 Payments Study.