Other parts of this series:
---
Banks are increasingly interested in ecosystems as a source of new revenue and growth—and with good reason. Yet many are unsure how to proceed. As part of Accenture Research's survey of 120 global banks, we asked banking leaders to name the three biggest challenges they face to orchestrate an ecosystem.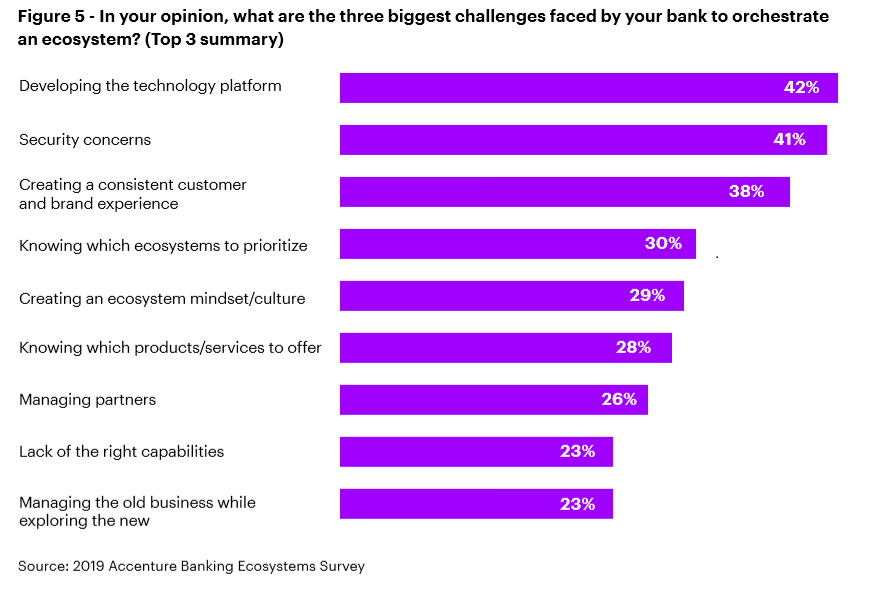 Technology, security, and consistency were the three most popular answers. Other common concerns mentioned by the banks included knowing which ecosystems to prioritize, creating an ecosystem culture, and knowing which products or services to offer.  
In this post, I'm going to share the six most important actions Accenture sees for banks to address these challenges and set their ecosystem plays up for success. These are based on our in-depth interviews with banking ecosystem experts from around the world. 
The actions break down across three broad categories. The first is ecosystem partners, which focuses on creating and managing the external relationships a bank needs to build the right ecosystem. The second is business architecture—that is, how an organization should be structured to help its ecosystem succeed. The third is technology: the tools needed to maximize the potential of ecosystems. Let's look at the categories in order. 
Category one: ecosystem partners
Choosing the right partners and properly managing partner relationships can make or break an ecosystem play. For that reason it can be tempting to search for a perfect ecosystem model—but in our experience, this is usually not ideal. We recommend that banks develop separate partnership models with strategic and tactical partners. Simply put, not all partners can offer the same value, so not all partner agreements should be the same. We see particular value in creativity with remuneration models. 
Once a partnership is established, it is vital to effectively manage and monitor performance. Develop a speedy partner onboarding process—as with a new hire, how you start can make or break the relationship. Clearly define and communicate KPIs to ensure the partnership creates the anticipated returns. And don't forget about the power of automation to make compliance monitoring more scalable—our research indicates that just 45 percent of banks have made AI tools part of their ecosystem strategy so far. 
Category two: business architecture
Operating a successful ecosystem demands sophisticated marketing and analytical capabilities that aggregate multiple data sources and extract actionable insights. Banks will need intelligent marketing tools to make this possible at scale. Experimenting with unstructured data can also be helpful here. 
Second, banks should go agile with their ecosystem management. Ecosystems are a great way to achieve hyper-relevance—but only if they move as fast as the customer. For that reason, your ecosystem management organization needs to be agile. That means embracing multidisciplinary teams, blending product development with IT operations, and revamping the compliance department to operate on real-time data.  
Category three: technology
Even the best partnership management and business architecture won't guarantee ecosystem success. That requires the right tools. We recommend that banks move towards API-enabled architectures to transcend the challenges that legacy systems can present in this regard. API-enabled architectures also make managing multiple partners much easier, especially if it is open and adaptable. 
Second, ecosystems can present new kind of security risk for all partners. That's why banks need to take ownership of ecosystem security. Banks are responsible for what happens in their ecosystems, and that responsibility extends beyond activities that take place on their platforms. Therefore, banks need to adopt a security mindset to their ecosystems. One effective way of taking on a leadership role in this regard is sharing expertise with partners—especially smaller ones. For example, you might share security staff or suggest tech vendors to partners to achieve higher security standards.   
These six actions can go a long way to realizing the potential of ecosystems to transform banking growth. Yet banks must also be cognizant of the many challenges related to launching and sustaining ecosystems. Banks that address these and make the right moves will be well-positioned to attract and retain customers in this continually disrupted world.
For more information, read Competing with Banking Ecosystems.