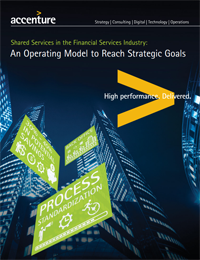 A shared services model can bring a variety of gains to banks and financial services firms. My previous post on this topic outlined some of the positive benefits to be derived from shared services.
But shared services models are not all the same, and trends have changed over time. Accenture's paper, Shared Services in the Financial Services Industry, looks at how banks and insurers got their start with the shared services approach. Since 2008, banks appear to have increased their sourcing of shared services activities, often with group-wide, global arrangements, moving from captives to more complex models such as the hybrid model (a mix of captives and outsourcing).
Changing market conditions and a dynamic regulatory climate have prompted other changes. Here are some of the shared services trends and variations we've seen over the years:
Banks and insurers have tended to transition to shared services in an effort to reduce costs. More recently, though, we've seen finance and risk functions making sourcing decisions to support a bank's strategic objectives. On the other hand, C-level leadership generally does not view shared service operations as a strategic priority. That can lead to conflicts, and a fragmented approach.
Over the years, banks and insurers have steadily moved from outsourcing transactional, high volume processes toward shared service models for more complex, specialized areas. Shared services efforts may have started as part of in-house cost reduction programs—but over time we're seeing some banks and insurers starting to buy specialist capabilities, instead of trying to build them internally.
When it comes to location, India, Eastern Europe and North America have been preferred shared service locations, but up and coming locations include China, Malaysia, Philippines, Argentina, Chile, Brazil and Mexico. When it comes to captive models, onshore shared services centers are still popular, because they can deliver benefits while reducing the risk of disruptions. Location decisions hinge on these factors: availability of an educated workforce, language barriers, political stability and overall cost savings potential.
There's another side to the coin when it comes to location. Banks and insurers have found they can use shared services to spread their operations across their own locations, reducing their dependencies on local economies, building business continuity and boosting their ability to respond with agility to local regulations.
Many banks and insurers are continuing to invest in a common enterprise resource planning (ERP) platform in concert with their shared services transformation programs, to further increase standardization and deliver benefits from scale.
Over time, shared services models have evolved, and they are continuing to evolve. Increasingly they are growing in value and importance, shifting from must-do cost saving efforts to want-to-pursue skill building exercises.
While the benefits are many, implementing a shared services model isn't always easy. My next post will explore the stumbling blocks on the road toward a shared services model.