We are in the middle of a major technology revolution—one that's digital and disruptive.
Digital is effecting every part of the economy. Accenture research forecasts that 25 percent of the global economy will be digital by 2020, possibly much higher in some countries. For example, ecommerce in the UK represented 18 percent of UK retail sales in 2015; by 2020, it could reach 50 percent with profound implications for change in consumer behaviours, retailer capabilities and payment mechanisms.
Change is the new normal. Accenture calls this "rotating to the new".  In banking we have seen five trends from our Technology Vision for Banking that bring this to life:
Intelligent Automation – weaving systems, data and people together with artificial intelligence to create solutions that fundamentally change the way organisations work.
The Platform Economy – capturing new growth opportunities with platform-based business models.
Predictable Disruption – predicting the trajectory of emerging digital ecosystems to gain competitive advantage.
Liquid Workforce – enabling workforces to adapt to change and exploit new technologies that enhance workforce productivity and performance.
Digital Trust – strengthening customer relationships through ethics and security.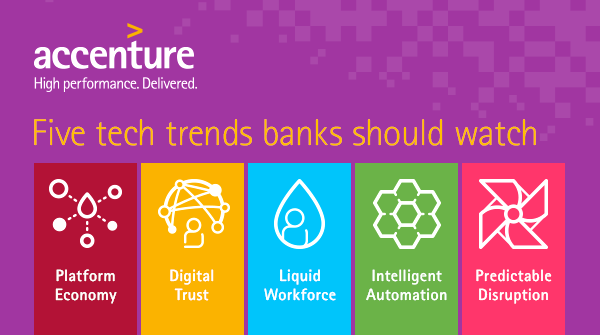 What do these trends mean for payments, and how should banks and other payments service providers "rotate to the new"?
Payments-as-a-service is an example of intelligent automation. Cloud-based services are pervading the payments value chain, covering every step—from point-of-sale to the back office.
APIs will form the backbone of the platform economy in payments. A Cambrian explosion of APIs is imminent in Europe with the PSD2, and those who build API platforms will capture new opportunities to extend payment services into digital ecosystems.
Real-time payments are an example of predictable disruption. The evidence is everywhere. Banks and PSPs have a short window to set their real-time strategies, and position new products and services for a 24×7, real-time payments environment.
Robotics is an example of how liquid workforces are emerging. Repetitive manual processes, such as manual repairs, can be automated away to help improve customer service and free up people to focus on value-adding activities.
Behavioural biometrics is an example of a digital trust enabler. With PSD2 mandating strong authentication, behavioural biometrics can be used with other biometrics to continually, and invisibly, authenticate users as they transact.
Accenture is strengthening the way we help clients "rotate to the new" through partnerships, acquisitions and investments. Examples include Fjord, our digital design agency; an investment in Digital Assets Holdings for blockchain; an alliance with Ripple for payments; our Cloud Sherpas acquisition for cloud; an investment in Apigee for APIs; strategic alliances with best-in-class solution providers, such as D+H and ACI, to enhance our payment and cards offerings; and our FinTech programme which includes Aimbrain (behavioural biometrics) and PayKey (social payments).
Today, technology is a catalyst to change fast. It is no longer a barrier. Becoming a digital business is a reality and an imperative. It means using technology to empower people to do things differently and do different things, and to create results that few expect but all admire.
How are you rotating to the new?