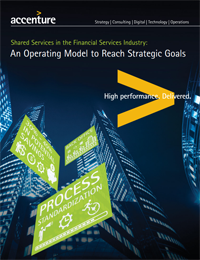 In this blog space we've talked about the benefits and opportunities offered by shared service models, as well as variations and trends we are seeing.
What we haven't yet addressed are the potential difficulties involved in implementing a shared services model. Accenture's paper, Shared Services in the Financial Services Industry, takes a detailed look at the various challenges banks and insurers may encounter. I'd like to take a closer look at some of those challenges here.
One challenge banks and insurers often face involves strategy. Financial institutions may lack a common strategy across functions. Or, strategy changes may not be managed properly. When the strategy is shaky, gains from shared services frequently are short-term, and become less sustainable over time. Sometimes a solid strategy is in place at the start—but the world changes. As regulations change or financial institutions restructure, the strategy may not realign to reflect those changes. An ideal solution is to plan and execute ongoing, periodic strategy reviews.
For some banks and insurers, attempts at cost saving have taken a toll in the form of decreased efficiency and reduced process quality, impacting overall operational efficiency. Focusing exclusively on cost reduction, and not on structural change and doing things differently while engaging the shared services model, can lead to a less efficient organization. Processes break. Unnecessary handoff points take place between retained and shared services. This puts the shared services organization on its back foot, with resulting difficulties hiring and retaining the right level of talent.
Other difficulties can stem from leadership and culture challenges. For example, some difficulties come from the C-level. In my previous post, we've seen that C-level leaders don't always see strategic value in shared services. Their lack of sponsorship is problematic. Culture can be problematic too. For example, as banks and insurers work to break down organizational silos, ambiguity and uncertainty take hold, further complicating the shared services function.
Another trouble spot is service quality and agility. When a shadow organization is retained, it can inhibit a shared services organization's agility. In a reversal, some financial institutions are in-sourcing, bringing more complex processes in house,
Sometimes the problem lies in complexity. Many systems remain incompatible or complex. Some financial institutions have launched large enterprise resource planning (ERP) programs to create common platforms, but their scale and complexity have led to budget and time overruns.
Lastly, and not surprisingly, the transformation process can be compromised by poor governance, execution or lack of change management skills. The overall execution model relies heavily on governing, decision making and on avoiding compromises and work arounds.  Stakeholders aren't always as close to the program as they need to be or focused on the role they play in the process. Following implementation, organizations can struggle with inadequate governance and undefined service delivery frameworks.
There are plenty of challenges facing banks and financial firms working to implement a shared services approach—but the benefits of an effective implementation are well worth pursuing. My next post, then, will look at favorable factors around implementing shared services.