We talked in my previous post about the crucial role of finance and risk in helping banks move toward an Everyday Bank vision. Eliminating silos is a mandatory first step toward building a flexible, responsive approach to finance and risk.
But it is far from the only step.
As technology drives more and more online interaction—particularly through social media vehicles—banks are exposed. One tweet could blossom into a disaster, literally within minutes.
Social media is only one aspect of reputational risk management. Risk Management magazine offers good insight into the fundamentals of managing reputational risk. But it's the rapidity and the ever-presence of social vehicles that makes reputational risk a top challenge for banks when it comes to social media.
Our report on Remaking Finance and Risk for the Everyday Bank cites specific concerns for banks and financial enterprises:
Information explosion: When banks tap more data to build more insights and provide better service, they open the door to privacy and cybercrime risks. Strict governance and other safeguards are necessary to manage big data.
Mass audience: People are more connected than ever thanks to social media; many individuals have vast audiences to which they can send Facebook posts, tweets, Instagrams or Kiks. As I've pointed out, one negative post can unleash a PR disaster. Digital monitoring systems can help banks keep on top of social media content, particularly when they are connected to provide an integrated, real-time snapshot.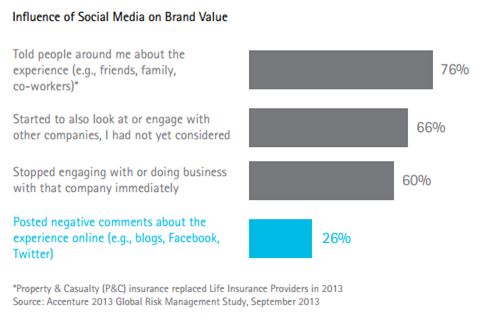 Virtual banking: Banking is less about brick and mortar these days, and more about moving money electronically. Open computing means banks need to dramatically beef up their IT and security systems to protect data.
Financial services businesses aren't taking the challenge lying down. WallStreet & Technology notes banks are faster than other industries to address social media challenges—and their solutions are higher on the maturity curve as well.
Our report suggests providers cultivate a new competency around rapidly identifying problems—anywhere across the reputational risk spectrum—and devising immediate solutions.
The study suggests reputational risk management is both a challenge and an opportunity. Ninety-five C-level executives responding to our survey believe the risk organization is vital to managing reputation—but only 30 percent say they have the right capabilities. Sounds like CFOs and CROs should begin cultivating this expertise.
My next post will look at building dynamic-responder capabilities in the integrated finance and risk function.