Industry convergence, start-ups and disruption are buzzwords that describe a reality of today's business environment: Competition is increasingly coming from non-traditional sources. One driving factor, identified in the Accenture Institute for High Performance's recent paper, Remaking Customer Markets, is that when businesses focus on latent customer needs they focus on markets that can transcend traditional boundaries – like shopping, staying healthy or paying for things. All are markets that are changing significantly. When you add digital innovation to the mix, these customer markets become "digitally contestable." Starting a bookstore anyone?
We are familiar with how high-tech companies are entering many markets from retail to healthcare, or how retailers, telcos and tech companies are entering payments – but to a broader extent, how contestable is the retail banking relationship? If you talk to bankers and industry insiders, the answers range from zero to 100 percent.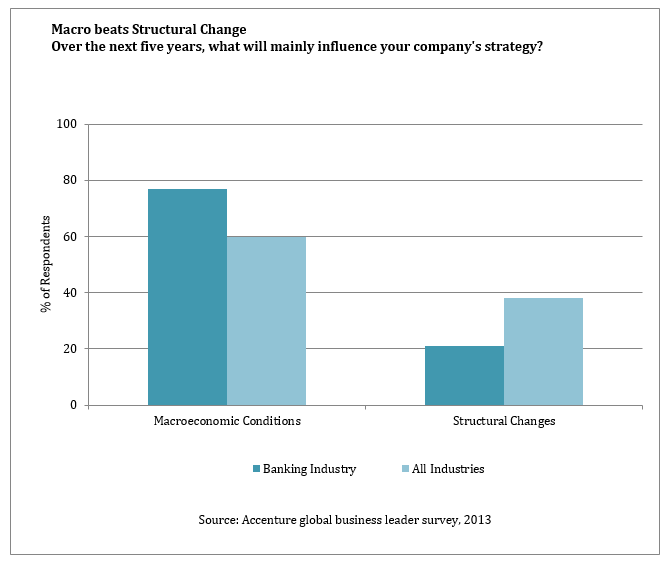 In this study, Accenture's Institute asked 500 C-level executives across a range of industries about the key influences on their corporate strategy. Not surprisingly, bankers answered that macroeconomic conditions would influence their strategy more than structural changes, by 77 percent to 21 percent. Other industry sectors are still dominated by macroeconomic conditions (60 percent) but structural changes are more relevant at 38 percent. Interest rates still matter.
And when we asked these executives to identify the most relevant structural changes they will face over the next five years, bankers unsurprisingly identified regulation and stakeholder expectations as the number one and two issues. Interestingly, the number three issue was the ability of technology and innovation to reshape industry norms and boundaries.
So it's important, right? But not as important for other industries. For almost all the other industry segments surveyed, technology and innovation disruption was a number one or two issue, and more important than any other single issue raises across all industries.
And technology innovation is important because it is shaping industry strategy now. We know plenty of examples: Tesco, the supermarket, launched a full service bank in the United Kingdom; T Mobile, is the latest carrier to launch a mobile money service in the United States; approximately 30 percent of Starbucks transactions in the United States are on their own loyalty system; Google's (and Apple's rumoured) forays into payments and digital wallets make headlines. In fact, while 64 percent of companies are planning growth in their existing business model in the next five years, a larger share, 80 percent, are planning growth in new business models – and 60 percent in other industries. So don't be surprised when they come after your customers.
Banks are more focused on growing their existing business models than others (70 percent), but they are looking at new growth opportunities also. More than half (53 percent) are exploring opportunities in other industries. So how do you do this?
For banks, we think this goes beyond conventional alliance partnerships. To defend core payment businesses, first, and then other banking product markets from non-traditional competitors in retail banking, banks have to get closer to their customers. And it goes beyond customer centricity; banks need to earn the right to be an everyday partner to their customers. It means making their banking interactions relevant and accessible to customers when and how customers need them, but also going further to help customers meet their broader or latent needs – meeting their budget, finding a house, getting around. Accenture calls this "The Everyday Bank," where the bank helps a customer with advice, access and creating value in their everyday interactions – as well as their financial transactions.
Payments has already become a digitally contestable market, and banks need to think about how to defend and grow the rest of their business–before it becomes contestable too.