Regulators in financial services continue to make new rules—and for good reason. The goal is to increase resilience in banks and financial institutions around the world. These structural reform regulations—constituting Global Structural Reform (GSR)—are significantly changing the traditional ways of working for financial institutions. In fact, taken together, GSR regulations are reshaping the entire financial services industry.
Faced with this increasingly complex environment, financial institutions are forced to make difficult decisions around the business models they've used to navigate out of the financial crisis. This won't be smooth sailing: Seventy-one percent of respondents to Accenture's GSR Study agree that smaller institutions may slip away in the wake of GSR changes.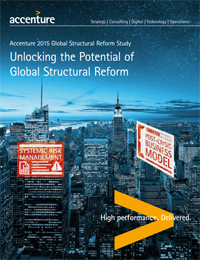 Larger banks and wealth management institutions won't be immune to GSR requirements. All financial businesses should know that GSR is changing the market landscape in key ways:
Geographically—Some institutions are tailoring offers to particular geographic markets and seeking ways to capitalize on geo-specific market conditions.
Products-based—Banks are building targeted offers that allocate capital to business lines generating good return, and considering tossing less profitable offers.
Client-based—Some client segments are more profitable to service than others. Financial institutions are offloading some high-service clients to reduce costs.
GSR will churn onward, and in its wake, financial institutions—particularly those that operate globally—will need to acknowledge that routine business practices may need to change dramatically in response. Forward-thinking providers can and should monitor trends and understand the way new regulations are reshaping the financial services marketplace.
For a more thorough look at GSR, see the results of Accenture's GSR Study. And, stay tuned. In my next post I'll take a look at the key themes inherent in the GSR regulations.