Key themes
Receivables growth has started to gain momentum, though 

payment rates remain elevated, with most issuers reporting 

high single-digit/low double-digit

QoQ

and YoY growth.

Purchase Volume growth continues to be strong with 

issuers reporting 15%+ YoY growth; AmEx in particular 

reported over 35% YoY growth as a result of improved

travel spend and strong goods and services spending.

Net Charge-Offs remain at historically low levels and 

continue to fall due to continued high payment rates; some 

issuers reported 

QoQ

increases in charge-offs. 

Earnings commentary suggests many issuers expect the 

favorable credit conditions to normalize going forward and 

losses to increase in 2022/2023. 

Issuer profitability remains favorable but has begun to normalize from previous quarters due to a slow / cease in reserve releases and increased operating expenses driven by elevated marketing spend (direct mail volumes) and revenue sharing / payments to merchant partners.
Notable happenings
New partnerships
SYF added Prime Healthcare to its CareCredit network; Alliance Data announced the acquisition of the NFL co-branded credit card from Barclays, a new credit card launch with Michael's and the transition of the TBC PLCC portfolio from Synchrony/Citi; TD announced a PLCC partnership with BrandSource (currently with Citi)​.
Partnership developments
Chase renewed its co-brand partnership with Southwest; Citi renewed its partnership with Macy's; ADS renewed its partnerships with Ulta Beauty and Toyota/Lexus; SYF renewed several PLCC partnerships including American Signature Furniture and Husqvarna​.
New products/features
AmEx relaunched the Morgan Stanley card to offer cash back rewards; COF launched its new Venture X premium travel card; Chase and Hyatt launched a new SMB co-brand card; WFC launched its new Reflect card; SYF to offer POS financing through Fiserv's Clover system.
Mobile & tech
AXP to enable cardholders to pay for healthcare and auto payments via installments in partnership with Opy; Google announced the rollout of its Pay-via-Voice feature in Gpay; Amazon added Affirm and Venmo as payment methods in Amazon Pay; SYF announced a strategic investment in Skipify; Klarna launched its "Pay Now" feature in US; Afterpay launched a BNPL solution for subscription payments.
Industry statistics (based on non-retail card issuers in scorecard section)

1 Total receivables for all issuers below at end of 4Q21.2 Total purchase volume of all issuers below in 4Q21, not annualized.3 After-Tax ROA of issuers that publicly report – Citigroup, Capital One, Synchrony, Discover and ADS.4 YoY = Year-over-year change versus 4Q20. 5 QoQ = Quarter-over-quarter change versus 3Q21.
Issuer scorecard ($billions)-Q4 2021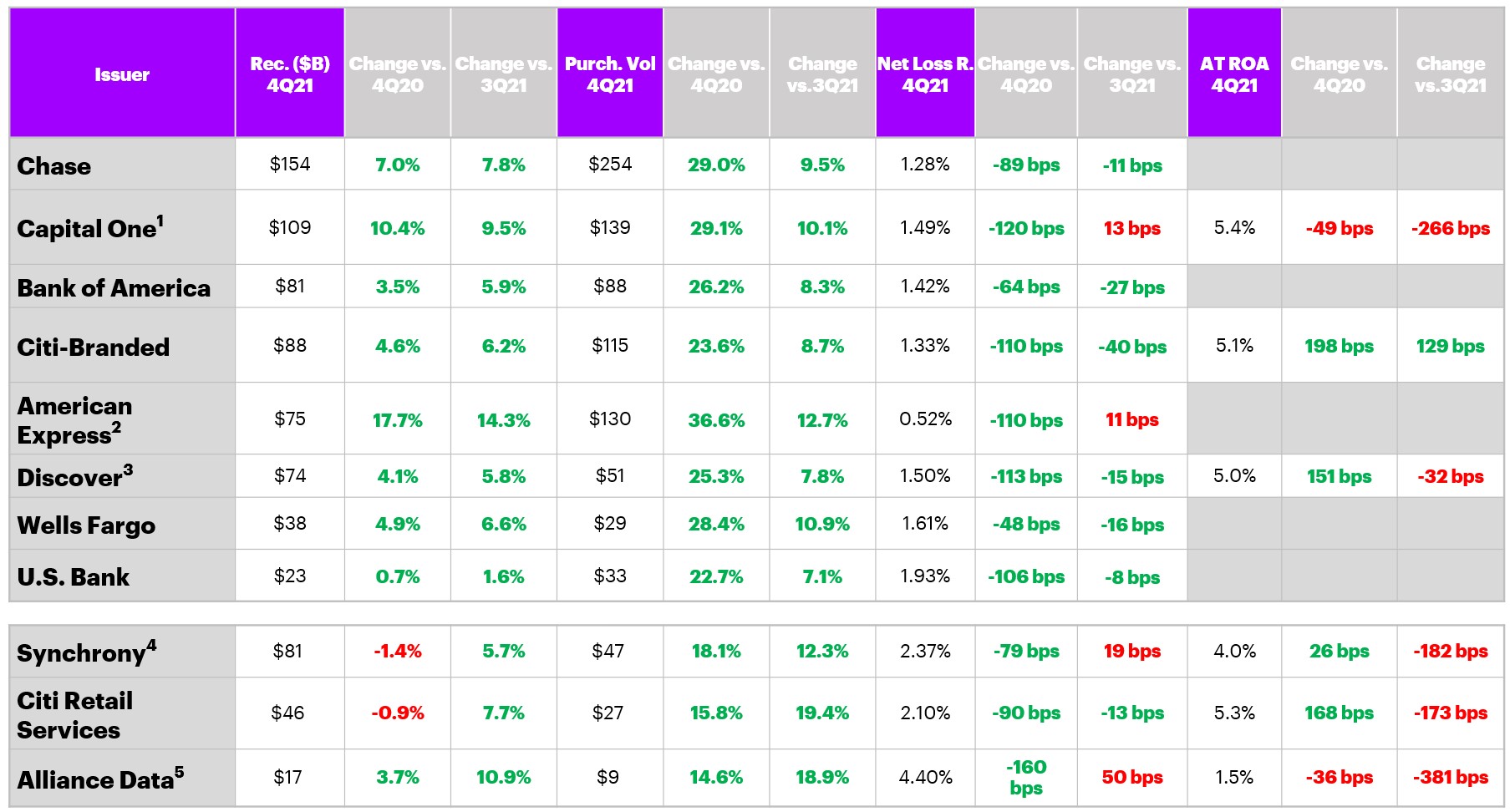 1 Capital One is US consumer and small business credit cards and installment loans. Purchase volume excludes cash advances. 2  American Express changed its reporting method as of 2Q18; all figures are for US Consumer segment (revolving and charge products) which no longer reports net income. 3 Discover receivables, purchase volume (excludes cash advances), and losses are US domestic card only; ROA includes all of Digital Banking segment (credit card loans represents ~80% of Digital Banking loans). 4 All figures include all SYF business lines (i.e., Home & Auto, Digital, Diversified & Value, Health & Wellness, Lifestyle, and Other). Credit Card accounts for ~95% of total receivables. 5 Alliance Data changed its reporting in Q4 2021 to no longer report Card Services segment profitability, ROA shown above reflects single "Continuing Operations" segment (majority of which is credit card income) following divestiture of LoyaltyOne; previous quarters have been adjusted to reflect this change.
Year-over-year growth rate trends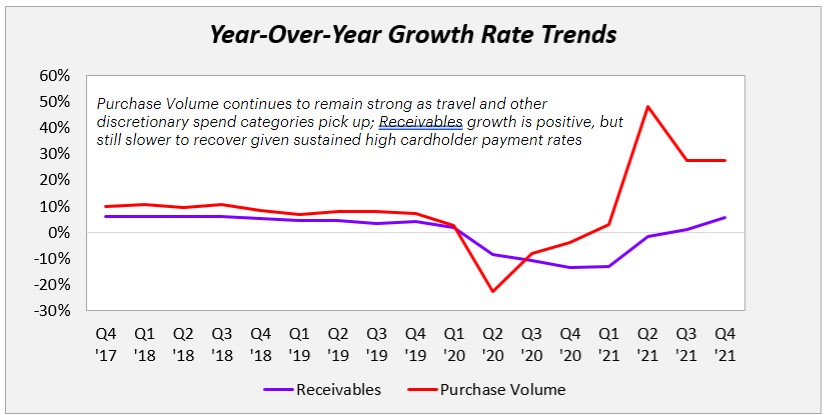 Profitability trends – ROA proxy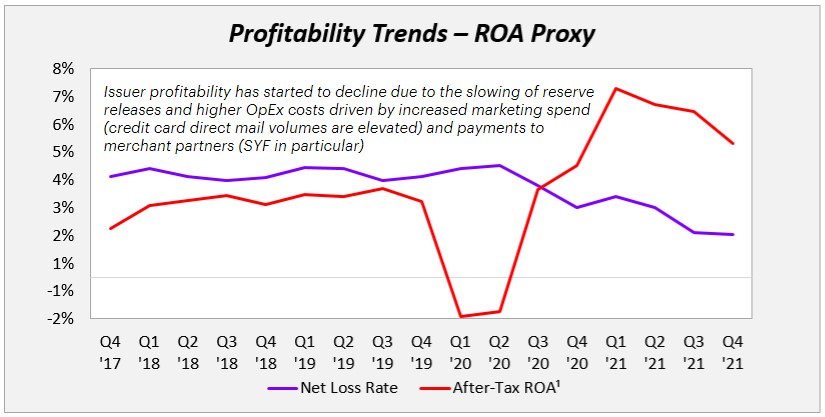 ​1 After-Tax ROA is a weighted average of – Citigroup, Capital One, Synchrony, Discover and ADS.
---
This makes descriptive reference to trademarks that may be owned by others. The use of such trademarks herein is not an assertion of ownership of such trademarks by Accenture and is not intended to represent or imply the existence of an association between Accenture and the lawful owners of such trademarks.
Disclaimer: This content is provided for general information purposes and is not intended to be used in place of consultation with our professional advisors. This document may refer to marks owned by third parties. All such third-party marks are the property of their respective owners. No sponsorship, endorsement or approval of this content by the owners of such marks is intended, expressed or implied. Copyright© 2022 Accenture. All rights reserved. Accenture and its logo are registered trademarks of Accenture.