Key themes
Purchase volume continued to show signs of recovery as all issuers reported QoQ growth in spend and some had YoY growth; Alliance Data posted the strongest QoQ growth of ~25%, likely as a result of easing retail lockdown restrictions.
Receivables growth was modest over last quarter but still down significantly YoY; many issuers point to high payment rates as a factor for the low receivables growth vs. high sales volume growth.
Charge-off rates decreased significantly in Q4 for most issuers due to COVID-relief, stimulus efforts and savings from low travel/commuting resulting in high payment rates; however, issuers generally expect losses to increase in mid to late 2021.
It's worth noting that Affirm and PayPal also reported sharp declines in their Q4 net charge-off rates of 485bps and 170bps, respectively.
Issuer profitability continued to increase, even exceeding pre-pandemic levels, largely as a result of low credit losses combined with low provision expense as many issuers have released reserves due to a more favorable economic outlook.
Notable happenings
New partnerships
Synchrony entered into a partnership with Walgreens to launch a co-branded credit and pre-paid debit card; Air Canada announced the launch of a new US co-branded credit card in partnership with Chase; Synchrony acquired the Bobcat sales finance portfolio from Sheffield Financial.
Partnership developments
Synchrony renewed sales finance partnerships with Kawasaki and Mattress Firm and expanded relationships with several partners including AspenDental.
New products/features
Bank of America relaunched the Spirit Airlines co-branded credit card product suite; Visa and BlockFi announced a partnership to launch a Bitcoin-based rewards credit card.
Mobile & tech
Alliance Data completes its acquisition of Bread; HomeAdvisor partnered with Affirm to enable digital financing capabilities; Wells Fargo partnered with Bill.com for automated bookkeeping; Goldman Sachs and Citi announced a partnership with Stripe to offer business banking services; Chase launched same-day card acceptance capabilities for small businesses.
Industry statistics (based on non-retail card issuers in scorecard section)
Click/tap to view larger image.
1 Total receivables for all issuers below at end of 4Q20. 2 Total purchase volume of all issuers below in 4Q20, not annualized. 3 After-Tax ROA of issuers that publicly report – Citigroup, Capital One, Synchrony, Discover and ADS. 4 YoY = Year-over-year change versus 4Q19. 5 QoQ = Quarter-over-quarter change versus 3Q20. 
Issuer scorecard ($billions)—Q4 2020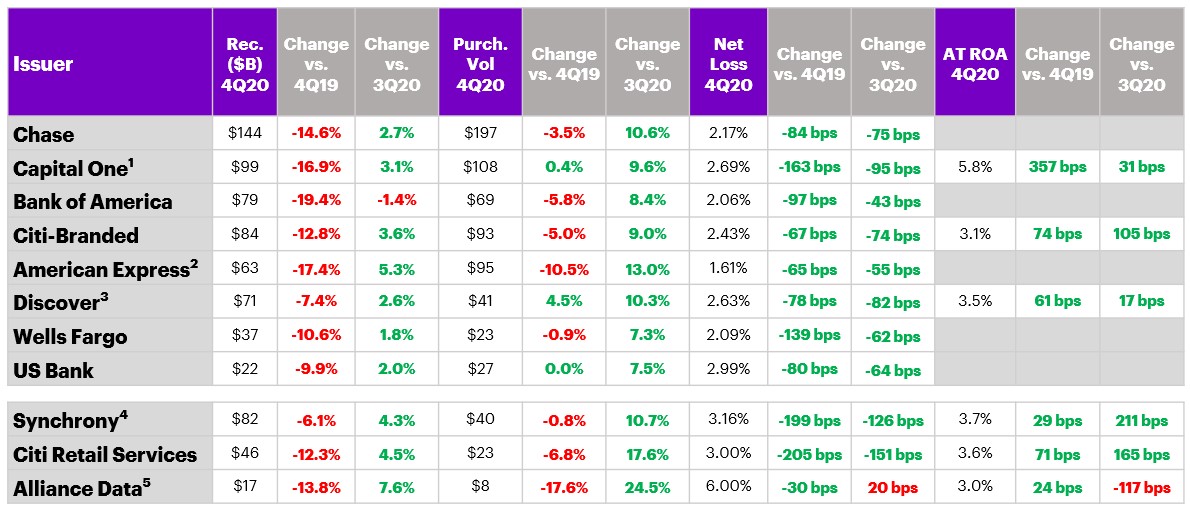 Click/tap to view larger image.
1 Capital One is US consumer and small business credit cards and installment loans. Purchase volume excludes cash advances. 2 American Express changed its reporting method as of 2Q18; all figures are for US Consumer segment (revolving and charge products) which no longer reports net income. 3 Discover receivables, purchase volume (excludes cash advances), and losses are US domestic card only; ROA includes all of Direct Banking segment (credit card loans represents ~80% of Direct Banking loans). 4 All figures include all SYF business lines (i.e., Retail Card, Payment Solutions, and CareCredit). Retail Card accounts for ~65% of total receivables. 5 Average receivables of $15.8B (does not include loans held for sale).
Year-over-year growth rate trends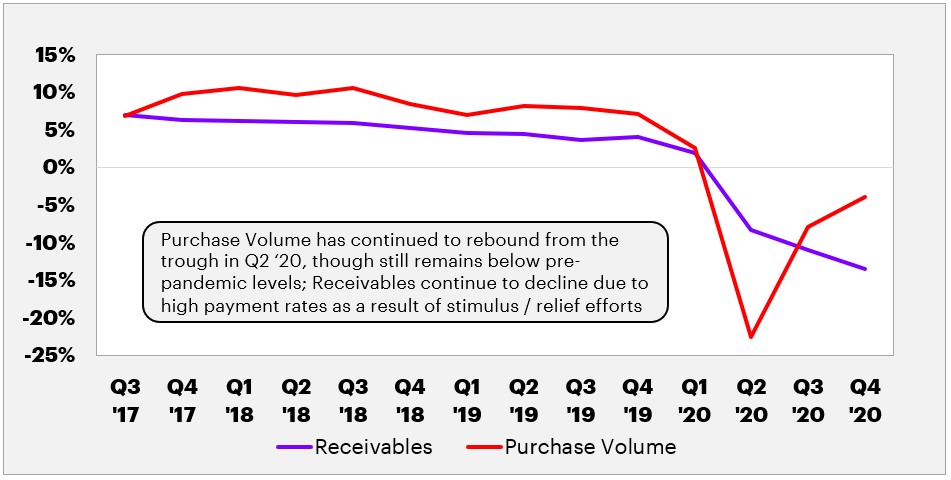 Profitability trends – ROA proxy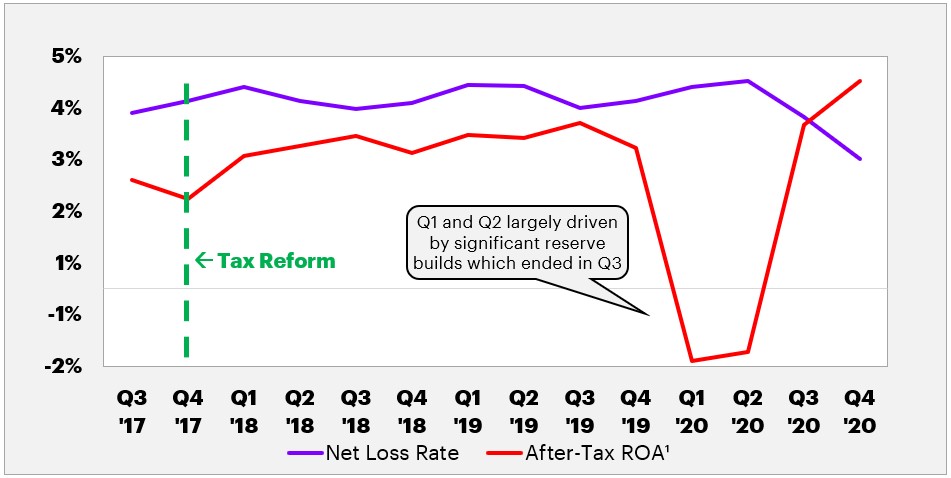 1 After-Tax ROA is a weighted average of – Citigroup, Capital One, Synchrony, Discover, and ADS.
---
This makes descriptive reference to trademarks that may be owned by others. The use of such trademarks herein is not an assertion of ownership of such trademarks by Accenture and is not intended to represent or imply the existence of an association between Accenture and the lawful owners of such trademarks.
Disclaimer: This content is provided for general information purposes and is not intended to be used in place of consultation with our professional advisors. This document may refer to marks owned by third parties. All such third-party marks are the property of their respective owners. No sponsorship, endorsement or approval of this content by the owners of such marks is intended, expressed or implied. Copyright© 2022 Accenture. All rights reserved. Accenture and its logo are registered trademarks of Accenture.