Key themes
Receivables growth of 4% YoY in Q4, slightly above the 3.5% YoY growth in Q3.
Purchase volume YoY growth of 7% in Q4 is lower in comparison to Q3 YoY growth by ~100 bps, and lower than Q4 2018 YoY growth by ~130 bps.
Chase and Capital One continued to lead YoY purchase volume growth (Capital One due to Walmart acquisition).
Capital One posted the strongest receivables growth among all issuers due to the acquisition of the Walmart portfolio. ADS reported strong growth after several quarters of negative growth.
Loss rates increased slightly both YoY and QoQ but largely benign. Synchrony posted the most significant YoY improvement in charge-offs among all issuers due to the sale of the WMT portfolio.
Synchrony profitability decreased both YoY and QoQ despite lower charge-offs; executive commentary points to lower NIM as a result of the Walmart sale.
Alliance Data YoY and QoQ ROA decline is largely due to significantly higher charge-offs and loan loss provision. ADS also points to the sale of "non-core, but income producing" receivables as a driver.
Notable happenings
New partnerships
Synchrony announced a co-brand credit card partnership with Verizon; Alliance Data signed a co-brand agreement with Sony (formerly with Capital One); Meijer co-brand and PLCC programs will transition to Citi from ADS (announced Jan. 2020); Synchrony announced new sales financing partnerships with Mor Furniture for Less and Grand Home Furnishings (were TD and Wells programs, respectively)
Partnership developments
Synchrony renewed partnerships with sales financing partners Rooms To Go and CF MOTO; Goldman Sachs' Marcus disclosed Apple Card receivables reached $2B within 6 months of launch.
New products/features
AmEx relaunched Green card with enhanced value proposition; Apple launched a no-interest installment loan solution for iPhone purchases through the Apple Card; Amex launched a new reservations booking tool for Platinum and Centurion cardholders; Discover began issuance of contactless credit cards; AmEx announced rollout of corporate card program for startups; Capital One enabled rewards redemption on Amazon.
Mobile & tech
J.P. Morgan launched an eWallet product for tech companies; AmEx launched ability to split credit card purchases in mobile app via link to PayPal or Venmo; Affirm relaunched app to enable virtual card use in-store where Apple or Google Pay is accepted; Goldman launched a mobile app for Marcus.
Industry statistics (based on non-retail card issuers in scorecard section)

1 Total receivables for all issuers below at end of 4Q19. 2 Total purchase volume of all issuers below in 4Q19, not annualized. 3 After-Tax ROA of issuers that publicly report – Citigroup, Capital One, Synchrony and Discover 4YoY = Year-over-year change versus 4Q18.  5 QoQ = Quarter-over-quarter change versus 3Q19.
Issuer scorecard ($billions)—Q4 2019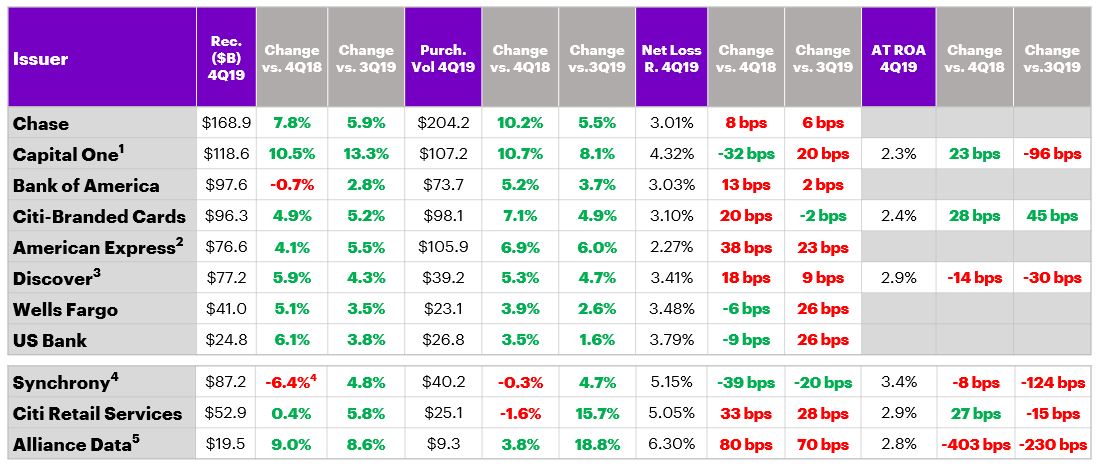 1Capital One is US consumer and small business credit cards and installment loans. Purchase volume excludes cash advances. 2American Express: Changed reporting method as of 2Q18; all figures are for US Consumer segment (revolving and charge products) which no longer reports net income. 3Discover receivables, purchase volume (excludes cash advances), and losses are US domestic card only; ROA includes all of Direct Banking segment (credit card loans represents ~80% of Direct Banking loans). 4All figures include all of SYF's business lines (i.e., Retail Card, Payment Solutions, and CareCredit). Retail Card accounts for ~70% of total receivables. YoY decline in receivables due to the transition of WMT portfolio. If WMT is excluded, receivables would have grown by approximately 5%. 5Average receivables of $18.1B (does not include loans held for sale).
---
This makes descriptive reference to trademarks that may be owned by others. The use of such trademarks herein is not an assertion of ownership of such trademarks by Accenture and is not intended to represent or imply the existence of an association between Accenture and the lawful owners of such trademarks.