The fourth quarter earnings show that credit card assets continue to grow across the major banks, though the growth in receivables continues to slow down compared to prior years. Profitability metrics continue to be strong as loss rates improved year-over-year, and returns remain elevated. The partnership market remains very active.
Key themes
Receivables growth, while positive, continue to slow compared to prior years (6.3 percent in Q4 '17, 10% in Q4 '16).
Purchase volume growth is outpacing receivables growth buoyed by a strong economy and attractive card rewards.
The normalization of loss rates is slowing – rates increased slightly from Q3, but decreased YoY. Banks are not signaling increases or expansion of their targeted credit spectrums.
Credit card profitability remains attractive for banks with our ROA proxies increasing 33bps YoY.
American Express and Synchrony reported receivables growth of more than 10 percent YoY, driven by the acquisitions of Hilton and PayPal Credit, respectively.
Chase, Capital One, and Synchrony reported purchase volume growth of more than 10 percent YoY.
Bank commentary on rewards is that expenses have increased (as has purchase volume), but did not signal a rewards pull-back.
Notable happenings
New partnerships
Synchrony acquired the HSN program from Alliance Data; Synchrony and Harbor Freight tools announced a new PLCC; Alliance Data to issue a co-brand credit card with Penn National Gaming.
Partnership developments
Capital One agreed to acquire the Walmart portfolio of ~$9B from Synchrony; Synchrony renewed partnerships with Sam's Club, JCPenney, Amazon and Google; ADS has stated its intent to sell receivables associated with non-strategic programs.
New products/features
American Express added new benefits to its Business Platinum Card, which include access to WeWork and a $200 annual statement credit on Dell purchases; Synchrony launched an enhanced eBay Mastercard; American Express launched the Amazon Business American Express card.
Mobile & tech
Visa (with Chase) and Mastercard have indicated a rapid transition to contactless cards in 2019; Capital One acquired online shopping comparison site, Wikibuy; Chase announced the release of "Chase Offers".
Stay tuned for next quarter's report on US consumer credit card trends. For questions or comments, please contact me directly.
Industry statistics (based on non-retail card issuers in scorecard section)

1 Total receivables for all issuers below at end of 4Q18. 2 Total purchase volume of all issuers below in 4Q18, not annualized. 3 After-Tax ROA of issuers that publicly report – Citigroup, Capital One, Synchrony and Discover. The YoY comparison has been normalized for the Tax Act (see footnote 6 below) 4 YoY = Year-over-year change versus 4Q17. 5 QoQ = Quarter-over-quarter change versus 3Q18.
Issuer scorecard ($billions)—Q4 2018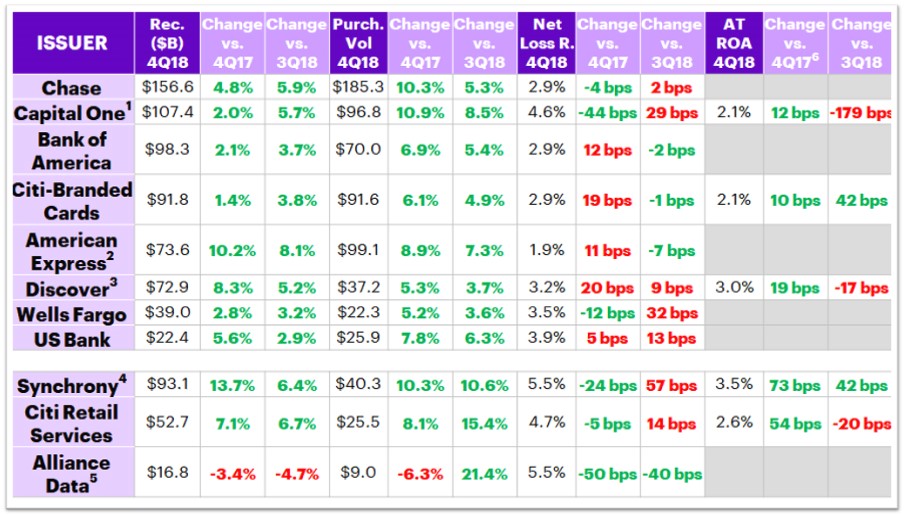 1 Capital One is US consumer and small business credit cards and installment loans. Purchase volume excludes cash advances. QoQ ROA decrease driven largely by increased non-interest expense and provisions for loan loss. 2 American Express: Changed reporting method as of 2Q18; all figures are for US Consumer segment (revolving and charge products) which no longer reports net income. 3 Discover receivables, purchase volume (excludes cash advances), and losses are US domestic card only; ROA includes all of Direct Banking segment (credit card loans represent ~80% of Direct Banking loans). We assume Discover's 3Q'17 effective tax rate of ~33.3% for the 4Q'17 ROA (rather than actual of 57%) to account for non-recurring charges related to the Tax Act. 4 All figures include all of SYF's business lines (i.e., Retail Card, Payment Solutions, and CareCredit). Retail Card accounts for ~70% of total receivables. YoY growth in receivables includes the acquisition of PayPal Credit in 3Q '18 (+$7.6B) 5 Receivables are average for the quarter. ADS sold $1.2B of non-strategic credit card receivables in 2018 and moved another $925MM to held-for-sale leading to growth declines. 6 We add back additional tax expense related to the Tax Act in Q4'17 for Synchrony ($160MM), Citi Retail ($325MM), and Citi-Branded ($320MM). See footnote #3 for Discover. Capital One's Domestic Card segment was not affected.