Key themes
Receivables showed positive YoY growth for the first time in five quarters.
Purchase Volume growth continues to be quite strong, with all issuers reporting 15%+ YoY growth; AmEx and Chase, in particular, reported over 30% YoY growth.
Net Charge-Offs continue to remain at historically low levels primarily due to high payment rates; all issuers reported significant QoQ declines in charge-offs, signaling a further reduction in credit loss levels for 2021.
Despite the QoQ decline in charge-offs, many issuers expect losses will begin to increase/normalize in 2022 (but at what level is the key question, issuer predictions continue to change each quarter).
Issuer profitability remains at highly elevated levels due to continued reserve releases and low credit losses; however, profitability seems to have plateaued as most issuers reported slight QoQ declines in AT ROA for the past two quarters.
Notable happenings
New partnerships
Alliance Data added Sezzle to Bread's installment lending network; Synchrony announced a new Gardner White PLCC partnership (formerly ADS); Alliance Data announced a new PLCC partnership with Tourneau (formerly TD); Afterpay announced an omnichannel partnership with PetSmart; Affirm partnered with Amazon to add to AMZN's POS financing solutions.
Partnership developments
Barclays renewed its co-brand partnership with JetBlue; Synchrony extended several key relationships including TJX, American Eagle and Ashley HomeStores; Alliance Data renewed PLCC partnerships with GameStop and Petland.
New products/features
SYF announced its new Pay in 4 product; FNBO announced the launch of its new BNPL solution (Slice); Wells Fargo launched its new Reflect credit card; COF, Chase and USB all announced testing of or are considering BNPL products; Goldman Sachs and Apple are developing an installment loan solution.
Mobile & tech
Synchrony will launch a new savings account in partnership with PayPal; Goldman Sachs announced its acquisition of GreenSky for $2.2B; Chase launched its new B2B real-time payment solution "Request for Pay"; Truist announced the acquisition of Service Finance; Square announced its acquisition of Afterpay.
Industry statistics (based on non-retail card issuers in scorecard section)

1 Total receivables for all issuers below at end of 3Q21.2 Total purchase volume of all issuers below in 3Q21, not annualized.3 After-Tax ROA of issuers that publicly report – Citigroup, Capital One, Synchrony, Discover and ADS.4 YoY = Year-over-year change versus 3Q20. 5 QoQ = Quarter-over-quarter change versus 2Q21.
Issuer scorecard ($billions)-Q3 2021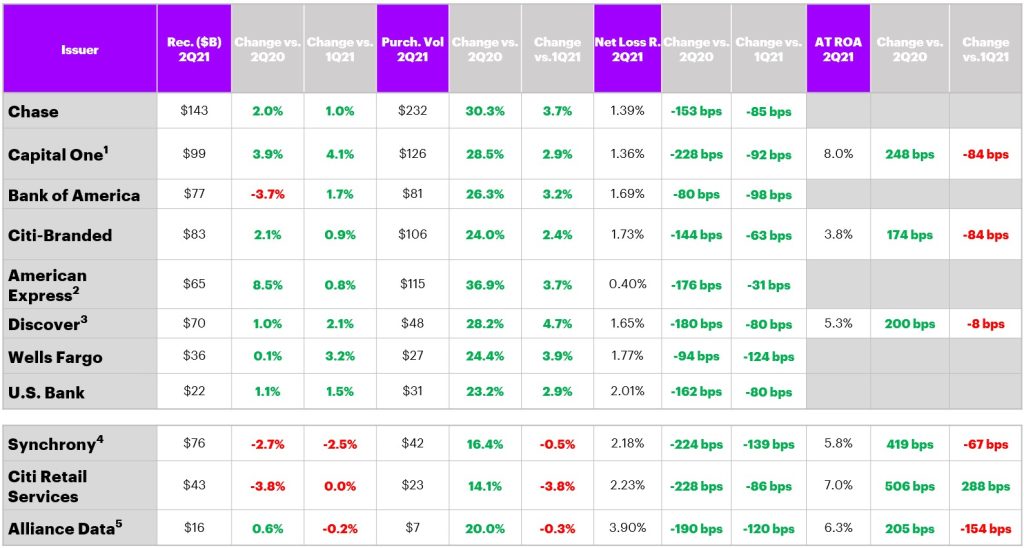 1 Capital One is US consumer and small business credit cards and installment loans. Purchase volume excludes cash advances. 2 American Express changed its reporting method as of 2Q18; all figures are for US Consumer segment (revolving and charge products) which no longer reports net income. 3 Discover receivables, purchase volume (excludes cash advances), and losses are US domestic card only; ROA includes all of Digital Banking segment (credit card loans represents ~80% of Digital Banking loans). 4 All figures include all SYF business lines (i.e., Home & Auto, Digital, Diversified & Value, Health & Wellness, Lifestyle and Other). Credit Card accounts for ~95% of total receivables. 5 Average receivables of $15.5B (does not include loans held for sale).
Year-over-year growth rate trends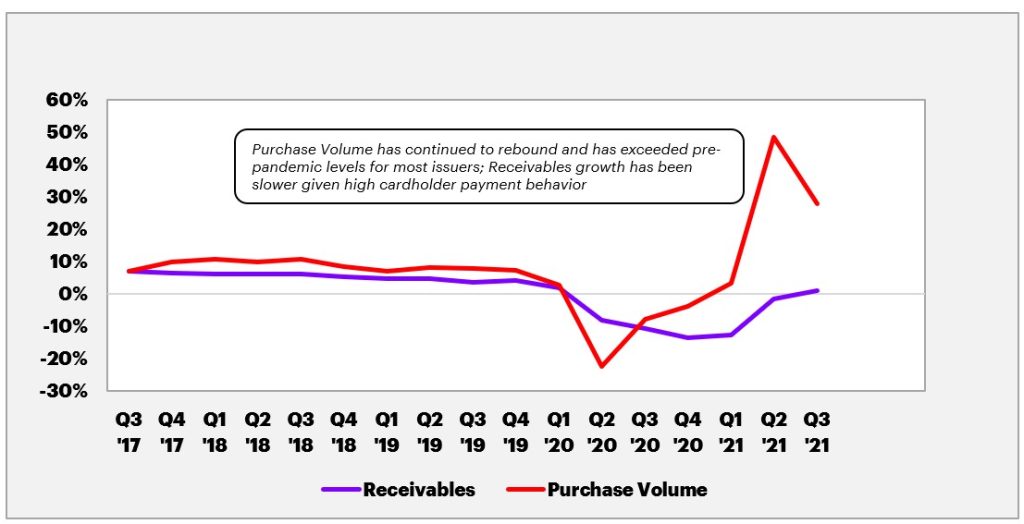 Profitability trends – ROA proxy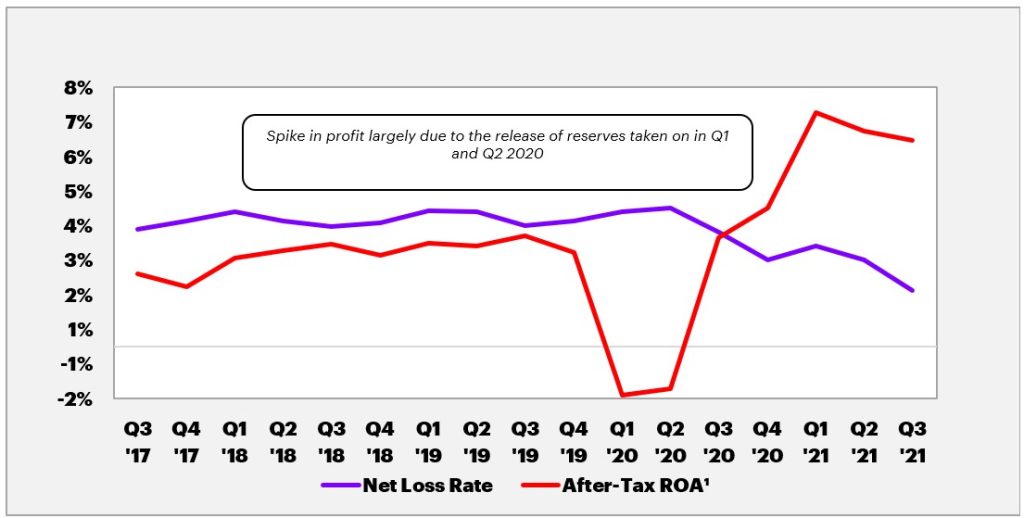 1 After-Tax ROA is a weighted average of – Citigroup, Capital One, Synchrony, Discover and ADS.
---
This makes descriptive reference to trademarks that may be owned by others. The use of such trademarks herein is not an assertion of ownership of such trademarks by Accenture and is not intended to represent or imply the existence of an association between Accenture and the lawful owners of such trademarks.
Disclaimer: This content is provided for general information purposes and is not intended to be used in place of consultation with our professional advisors. This document may refer to marks owned by third parties. All such third-party marks are the property of their respective owners. No sponsorship, endorsement or approval of this content by the owners of such marks is intended, expressed or implied. Copyright© 2022 Accenture. All rights reserved. Accenture and its logo are registered trademarks of Accenture.