Key themes
Purchase volume experienced a significant rebound in Q3 relative to Q2, as pandemic lockdowns generally eased during the quarter; spend has not yet recovered to pre-pandemic levels – all issuers reported negative YoY growth.
Alliance Data and American Express, which were among the most impacted by pandemic lockdowns, showcased the largest QoQ spend recovery; AXP points to growth in non-T&E spend and a modest recovery in travel spend as drivers.
Receivables continued to decline for most issuers in Q2 though some did increase QoQ.
Credit quality remains stable, although issuers generally expect losses to increase and unemployment to remain high well into 2021.
Issuer profitability exhibited a drastic rebound from Q2, primarily driven by low/modest provision expense (after two consecutive quarters of large reserve builds), further bolstered by spend recovery and benign losses.
Notable happenings
New partnerships
Synchrony and PayPal launched the new Venmo co-brand card; Wayfair announced the transition of its PLCC and launch of a new co-brand card with Citi (from ADS); Goldman Sachs announced the acquisition of the General Motors co-brand portfolio (from Capital One); First National Bank of Omaha announced the launch of a co-brand credit card with Ford; Alliance Data launched a PLCC product with Sally Beauty; Emirates launched a US co-brand credit card with Barclays; Hotels.com launched a co-brand card with Wells Fargo; U.S. Bank launched a suite of new co-brand products in partnership with BMW.
Partnership developments
Synchrony renewed its PLCC and co-brand relationship with Sam's Club; Alliance Data renewed its private-label agreements with GameStop and Bealls and Burkes Outlet; Apple discontinued its co-brand partnership with Barclays.
New products/features
United launched a new co-brand credit card with Chase (no annual fee); Chase launched the new Freedom Flex card.
Mobile & tech
Alliance Data announced the acquisition of Bread and a processing partnership with Fiserv; AmEx announced the acquisition of Kabbage; ChargeAfter launched Visa installments in the US; Synchrony announced the public rollout of SetPay (online short-term installment financing).
Industry statistics (based on non-retail card issuers in scorecard section)

Click/tap to view larger image.
1 Total receivables for all issuers below at end of 3Q20. 2 Total purchase volume of all issuers below in 3Q20, not annualized. 3 After-Tax ROA of issuers that publicly report – Citigroup, Capital One, Synchrony, Discover and ADS. 4 YoY = Year-over-year change versus 3Q19. 5 QoQ = Quarter-over-quarter change versus 2Q20. 
Issuer scorecard ($billions)—Q3 2020
Click/tap to view larger image.
1 Capital One is US consumer and small business credit cards and installment loans. Purchase volume excludes cash advances. 2 American Express changed its reporting method as of 2Q18; all figures are for US Consumer segment (revolving and charge products) which no longer reports net income. 3 Discover receivables, purchase volume (excludes cash advances), and losses are US domestic card only; ROA includes all of Direct Banking segment (credit card loans represents ~80% of Direct Banking loans). 4 All figures include all SYF business lines (i.e., Retail Card, Payment Solutions, and CareCredit). Retail Card accounts for ~65% of total receivables. 5 Average receivables of $15.3B (does not include loans held for sale).
Year-over-year growth rate trends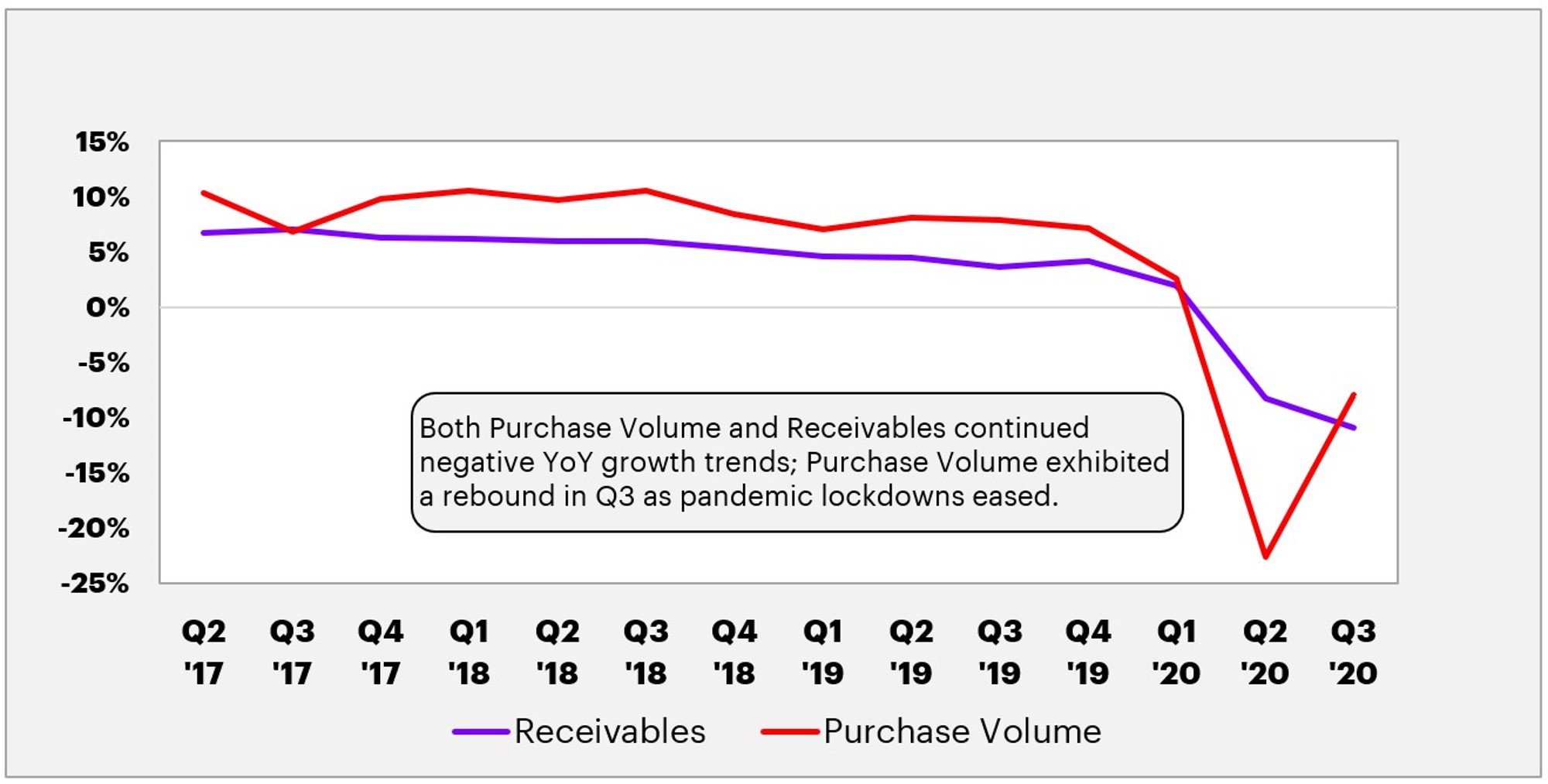 Click/tap to view larger image.
Profitability trends – ROA proxy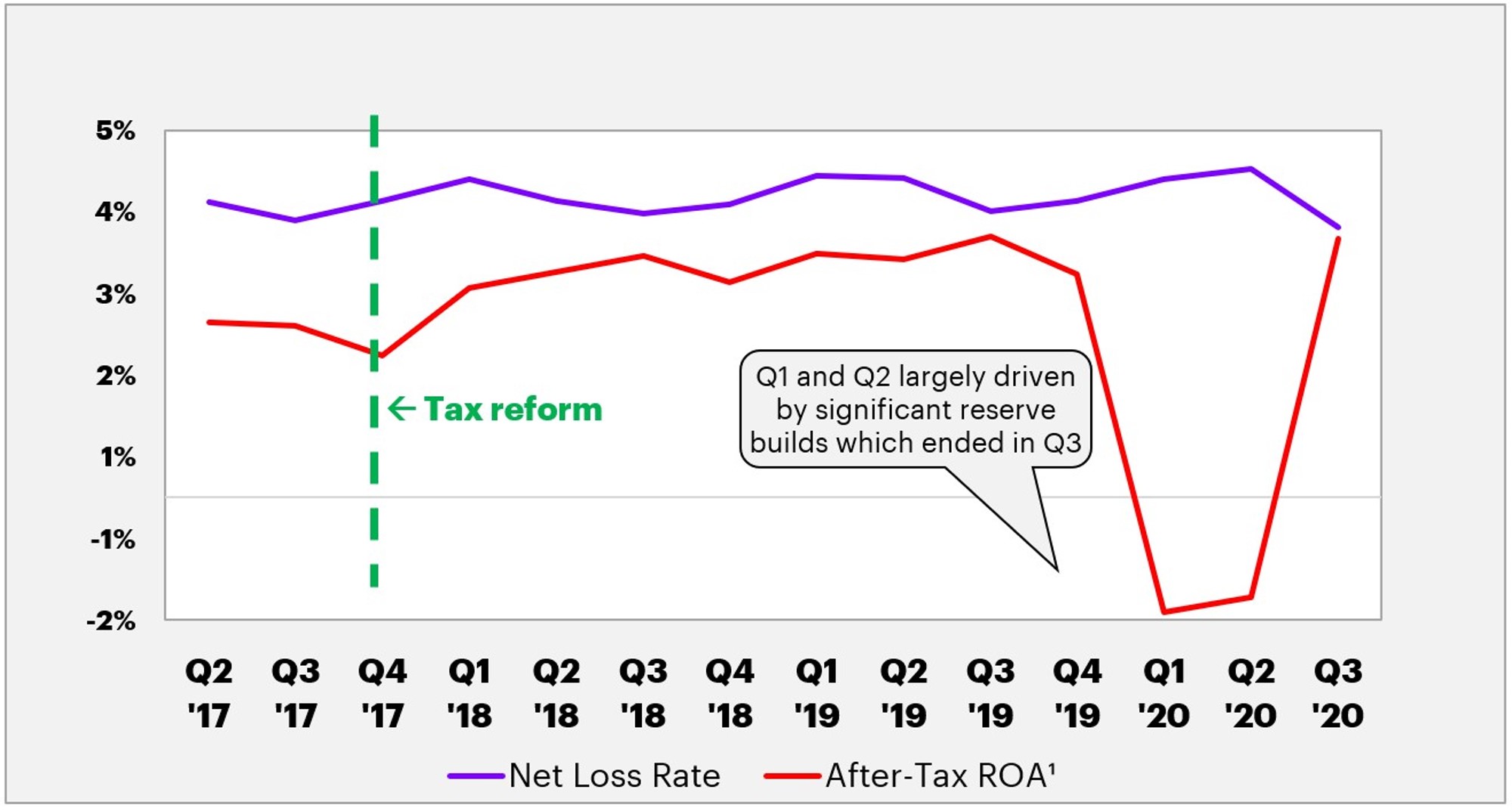 Click/tap to view larger image.
1After-Tax ROA is a weighted average of – Citigroup, Capital One, Synchrony, Discover and ADS.
---
This makes descriptive reference to trademarks that may be owned by others. The use of such trademarks herein is not an assertion of ownership of such trademarks by Accenture and is not intended to represent or imply the existence of an association between Accenture and the lawful owners of such trademarks.