Credit Product Penetration of Retail Sales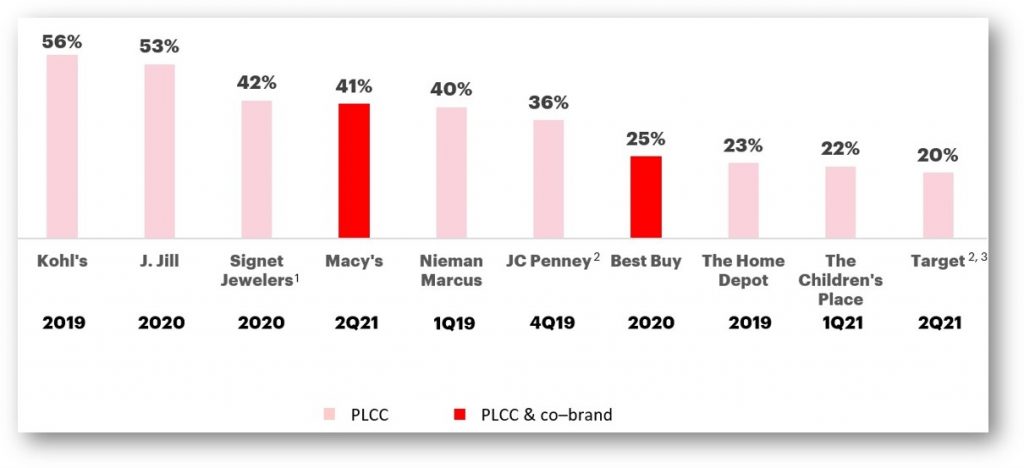 Shopping experience refresh
"We are excited to pilot a virtual store staffed by dedicated associates … but with no physical customers. Customers can interact via chat and screen sharing to see physical products." – Best Buy
 "Piloting a new holistic market approach

… to

leverage all our assets

across stores, fulfillment, services, an outlet, lockers, our digital app both in-store and In-Home Consultation labor." – Best Buy

"Enhanced the customer experience during the Anniversary Sale, with new virtual and in-store events to drive engagement … built on success of last year including digital catalogs with personalized content and product recommendations, online wish lists, and remote selling and styling tools." – Nordstrom
"We are investing in stores, digital business and omnichannel capabilities … piloting self-returns and self-pickup in stores. We had a very successful launch of the Sephora at Kohl's digital experience … and an aggressive store rollout plan." – Kohl's
"We are launching virtual search in-store

, a customer can hover a phone over a product and explore similar items on Lowes.com … to

integrate the online and in-store shopping experiences

." – Lowes

"We're excited to launch e-commerce on homegoods.com in Q3. We believe this is something our existing customers have been waiting for, and there's another way for us to attract new shoppers." – TJX
"The streaming app is our flagship, providing a highly immersive, interactive and frictionless experience with the ability to make purchases directly through the app using a remote control." – Qurate
"We now have 140+ small store format locations … and remodeled over half the chain … transforming the shopping environment while optimizing the layout in support of our same-day services." – Target
"Cloud-powered checkout enables seamless experiences for customers and associates like mobile Check Out With Me, Scan & Go and Self-Checkout."– Walmart
COVID-19 commentary
"Customers continue to interact with us digitally at a significantly higher rate than pre-pandemic as online sales were 32% of domestic revenues compared to 16% in Q2 of fiscal '20." – Best Buy

"

Casual and home categories continue to see the strong demand levels they experienced during the height of the pandemic

, while categories

quiet during that period

, like traditional wear-to-work and dressy,

showed increases

." – Macy's

"I want to acknowledge the

likelihood that the second half of the year will continue to be volatile

, particularly in light of the ongoing uncertainty surrounding the Delta variant." – Target

"

78%

of consumers have said that the

pandemic made them realize that shopping online is better and easier

than their previous perception.

80% of U.S. consumers believe they are the same or better off economically

than they were before the pandemic. " – Signet

"Customer behaviors changed in Q2, people

shopped with us more in stores than online

." – Walmart
Card revenue
"We generated $197MM in credit card revenues, up $21MM from Q2 2019, and ahead of expectations. Increasing by 30 bps as a percent of net sales to 3.5%, higher than prior annual guidance." – Macy's

"2Q21

credit card rev. of $92MM down $2MM vs 2Q19. Lower interest and late fee revenues

from lower balances due to high payment rates and

lower interchange fees

from lower spend." – Nordstrom

"The increase in other revenue of $30MM for

2Q21

was driven by an

increase in credit revenue due to lower write-offs

.

YTD

, other revenue decreased $13MM driven by

lower credit revenue due to lower accounts receivable balances."

– Kohl's

"2Q21 credit card

profit sharing rev. of $172MM

, up $4MM vs 2Q19 and up $14MM vs 2Q20." – Target
Payments and loyalty programs
"Loyalty performance improved on all tiers of Star Rewards. Platinum, Gold, and Silver average spend per customer increased by 15%, and avg. spend per visit increased 11% … Bronze tier is one of our best customer acquisition vehicles, with ~26% of members under 40, and 56% ethnically diverse." – Macy's

"

Loyalty is a powerful engagement driver, members contributed 70%

of

Q2 sales

." – Nordstrom

"Our loyalty is tied to a credit card and that's fine … but

we are committed to getting into a loyalty program not tied to the credit card

. We will have tests

towards the end of this year

." – L Brands

"Our new

tiered loyalty program roll-out

(new two to three-day shipping promise for top-tier loyalty members),

combined with

our already strong

cross-brand credit card programs

, enabled our

65 million known active customers to shop with rewards

across our portfolio." – Gap

"We

started the year with a very low A/R balance 

… we do

expect credit to grow

throughout the year, but it will still be

flat vs last year

as we build that A/R back up." – Kohl's

"

Target Circle launched in 2019

and has

more than 100MM members …

offering meaningful rewards." – Target

"[The Stars for Everyone Program] helped drive a

49% increase YoY in Starbucks Reward membership

… we added 1MM+ new active members. Our 24MM+ active

members represent 51% of all spend

—up 8 percentage points over pre-pandemic. Our

ability to engage has never been higher

." – Starbucks
Omnichannel & mobile
"We are also piloting mobile app checkout so that customers, particularly grab-and-go customers, can quickly check out without needing to interact with an associate." – Best Buy

"Customers are more comfortable buying online, but we've

never been more confident in importance of physical stores …

they remain the center of our experience due to the project nature of our business." – Home Depot

"Our

capital spend will increase from $650MM this year to ~$1B

…

heavily focused on omnichannel capabilities

with investments in digital shopping experiences, data and analytics, technology infrastructure, and more efficient fulfillment capabilities." – Macy's

"Digital sales up

30% YoY and 24% over 2Q19

.

Digital penetration of 40%

was a bit lower than Q1 as

store traffic and sales trends improved

across all regions." – Nordstrom 

"Our

digital business in Q2 was up 128% vs 2Q19

… stores were up around 39% in Q2." – L Brands

"At over $6 billion in sales,

our online channel is ranked number 2 in U.S

. The

online business grew 65% versus 2019

and

contributed 33% of total sales in the quarter

." – Gap

"More customers are embracing experiences that effortlessly fit their lifestyle, with

drive-thru representing 47% of transactions and mobile ordering for in-store pickup at 26%

." – Starbucks

"

Sam's Club members are utilizing curbside pickup

and the

adoption of Scan & Go is at an all-time high

. The success of Scan & Go at Sam's … led to including it as part of the Walmart+ offering." – Walmart
Headwinds
"There are still headwinds we continue to face. The supply chain constraints, the tight labor markets, elevated levels of holiday shipping surcharges, and potential unforeseen impacts of the COVID variant." – Macy's

"The teams are mitigating

supply chain headwinds

from closures in the countries where we source and make our clothes and delays due to transportation challenges." – Gap

"YTD we've closed 24 stores as part of our

350-store closure plan for N. America

… And that while

we will still maintain an online presence, we will be closing our stores in the UK and Ireland

." – Gap

"We're continuing to see a bit

more cost inflation than normal [low single digits]

, but our merchants are working with suppliers and monitoring price gaps to keep prices low while managing margins." – Walmart
Source: Retailer earnings calls and SEC filings.
Copyright © 2021 Accenture. All rights reserved.

This content is provided for general information purposes and is not intended to be used in place of consultation with our professional advisors. This document refers to marks owned by third parties. All such third-party marks are the property of their respective owners. No sponsorship, endorsement or approval of this content by the owners of such marks is intended, expressed or implied.