Key themes
Purchase volume has continued to exhibit a strong rebound (up 20%+ QoQ for all issuers) and has largely returned to pre-pandemic levels; American Express, in particular, points to a healthy return of T&E spend as a growth driver.
YoY purchase volume growth was substantial given that Q2 2020 was the height of the COVID-19 pandemic lockdowns.
Receivables are showing signs of rebounding—positive QoQ growth was reported for all issuers and some reported YoY growth as well.
Charge-off rates continue to decline due to sustained high payment rates; many issuers expect losses to begin to normalize towards the end of 2021, once stimulus programs begin to expire.
Issuer profitability was highly elevated in Q2 due to the release of reserves built up over the course of the pandemic (and low charge-off rates).
Notable happenings
New partnerships
Capital One announced the acquisition of the Williams Sonoma, Pottery Barn / West Elm credit card portfolios from Alliance Data; Sezzle announced a partnership with Target to provide BNPL services in-store and online; FNBO partnered with Runnings to issue consumer and SMB co-brand cards, and Big R Stores for a co-brand card; ADS announced new card partnerships with rue21 and GasBuddy.
Partnership developments
Synchrony renewed its private-label and co-brand credit card partnership with TJ Maxx; ADS renewed its sales finance partnership with Signet Jewelers (includes Kay, Jared, and Zales portfolios), its PLCC and co-brand credit card partnership with Ann Taylor and its private-label partnerships with Lane Bryant and Maurices; Citi announced the termination of its Macy's partnership and renewed its co-brand credit card partnership with AT&T and its PLCC partnership with Tractor Supply Co.
New products/features
Citi launched Custom Cash credit card; Wells Fargo launched its new Active Cash credit card; Barclays partnered with Amount to offer white-labeled merchant POS financing options.
Mobile & tech
American Express launched Kabbage Checking, a checking account tailored for SMBs; Marqeta completed its IPO with a market cap of $14B; Brazilian fintech PicPay filed for a US IPO.
Industry statistics (based on non-retail card issuers in scorecard section)
1 Total receivables for all issuers below at end of 2Q21.2 Total purchase volume of all issuers below in 2Q21, not annualized.3 After-Tax ROA of issuers that publicly report – Citigroup, Capital One, Synchrony, Discover and ADS.4 YoY = Year-over-year change versus 2Q20. 5 QoQ = Quarter-over-quarter change versus 1Q20.
Issuer scorecard ($billions)—Q2 2021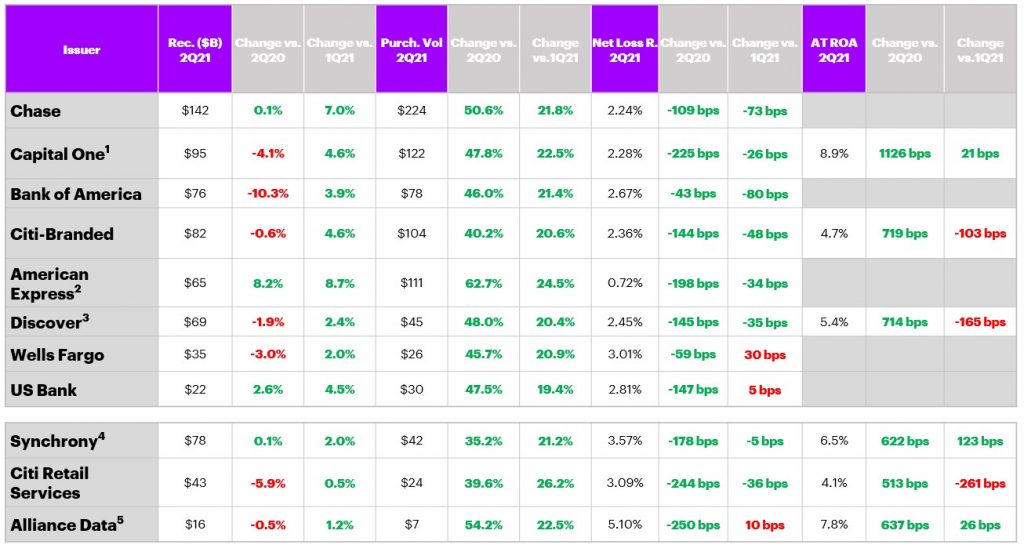 1 Capital One is US consumer and small business credit cards and installment loans. Purchase volume excludes cash advances. 2 American Express changed its reporting method as of 2Q18; all figures are for US Consumer segment (revolving and charge products) which no longer reports net income. 3 Discover receivables, purchase volume (excludes cash advances), and losses are US domestic card only; ROA includes all of Direct Banking segment (credit card loans represents ~80% of Direct Banking loans). 4 All figures include all SYF business lines (i.e., Retail Card, Payment Solutions, and CareCredit). Retail Card accounts for ~65% of total receivables. 5 Average receivables of $15.3B (does not include loans held for sale).
Year-over-year growth rate trends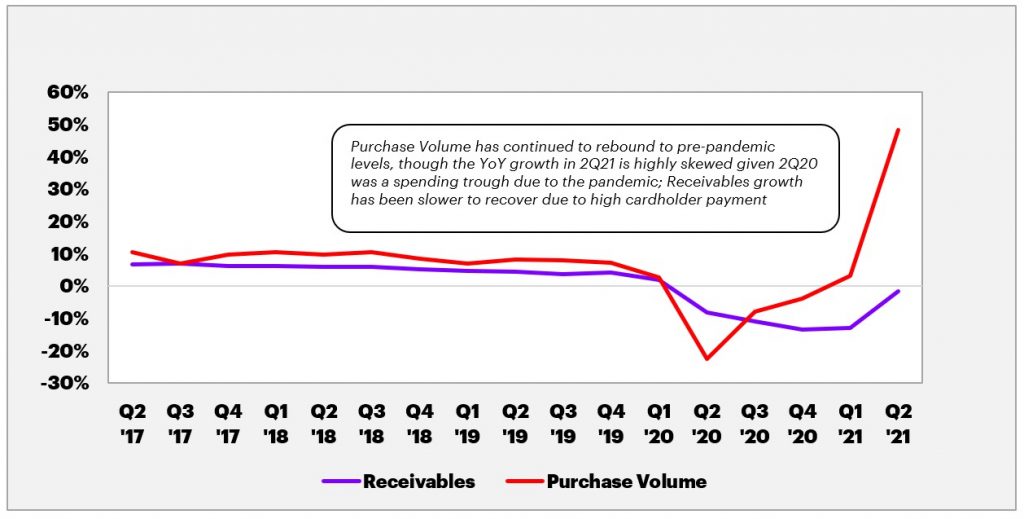 Profitability trends – ROA proxy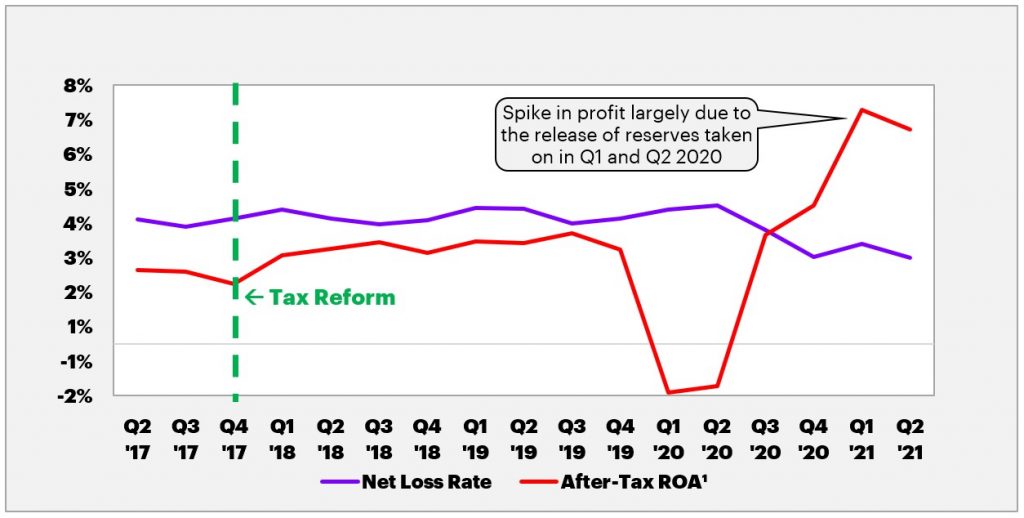 1 After-Tax ROA is a weighted average of – Citigroup, Capital One, Synchrony, Discover, and ADS.
---
This makes descriptive reference to trademarks that may be owned by others. The use of such trademarks herein is not an assertion of ownership of such trademarks by Accenture and is not intended to represent or imply the existence of an association between Accenture and the lawful owners of such trademarks.
Disclaimer: This content is provided for general information purposes and is not intended to be used in place of consultation with our professional advisors. This document may refer to marks owned by third parties. All such third-party marks are the property of their respective owners. No sponsorship, endorsement or approval of this content by the owners of such marks is intended, expressed or implied. Copyright© 2022 Accenture. All rights reserved. Accenture and its logo are registered trademarks of Accenture.