Credit card receivables & purchase volume YoY growth: 2Q21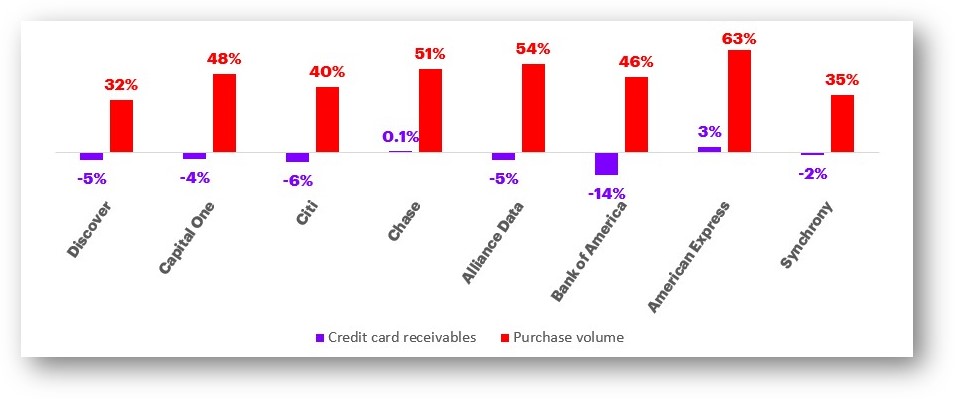 Earning call commentary
Growth
"We've ramped up our acquisition engine. We're pleased to see overall acquisitions of proprietary cards, which include our co-brands, increased to 2.4 million new cards acquired in the quarter."– American Express
"Spending accelerated as COVID vaccinations increase, business reopen, and domestic travel increases. Combined spend at retailers and services is over 50% of debit and credit card spending."– Bank of America
"Revenue grew, largely driven by the impact of strong Domestic Card purchase volume on non-interest income." – Capital One
"Given the faster recovery we are seeing today, we are accelerating investments in areas, like cards marketing, to capture this upside."  – Citi
"Our card receivables grew sequentially in May and June, causing our period end receivables to be up quarter-over-quarter. This outcome, combined with the strength in consumer spending and our account acquisition, increased our confidence for moderate receivables growth this year." – Discover
"We are more than halfway through our initial market expansion commitment as we have opened more than 200 new branches out of our goal of 400, which have exceeded our expectations by generating $7 billion in deposits and investments." – Chase
"Our recent re-org, which included the creation of a growth organization and the redistribution of our partners from three sales platforms into five will allow us to leverage company resources and deliver swifter, more optimized products and capabilities for our partners and sustainable profitable growth." – Synchrony
Credit quality
"We continue to see excellent credit performance with both delinquency and write-off rates improving further and reaching near historic lows in the quarter."– American Express
"Given the continued low level of late-stage delinquencies in the 180-day pipeline, we would expect card losses to decline again in Q3." – Bank of America
"In constant dollars, end-of-period loans declined 3% year over year, reflecting higher repayment rates across institutional and consumer." – Citi
"With the continued improvement in credit performance, our current expectation is that credit losses will be down this year compared to 2020." – Discover
"We do think that pay rates are going to remain quite elevated at a minimum through the end of this year. So, as a result, we don't really see revolving interest-bearing balances increasing meaningfully this year." – Chase
"Payment rate was almost 300 bps higher YoY, which primarily led to a 6% reduction in interest and fees on loans." – Synchrony
Partnership/product
"In the second quarter, we added several new partners during the second quarter, including new card partners Rue21 and GasBuddy. We also signed multiyear card renewals with several partners, including Ann Taylor and Signet." – Alliance Data Systems
"Since the onset of the pandemic, we've been investing in short-term value enhancements to several of our premium products, which has helped drive Card Member engagement and contributed to retention levels that remain higher than the last few years." – American Express
"In the U.S. you'll notice the renewal of JetBlue and the work that we've done with a couple of major retailers. So, I think you should look forward to the U.S. card business recovering to historic levels in terms of activity." – Barclays
"In the U.S. we're investing in our home market, as demonstrated by the well-received launch of our innovative Custom Cash Card in June." –Citi
" We benefited from a gain on our equity investment in Marqeta. This gain was the result of a relationship that began a decade ago, and we continue to see opportunities and innovative partnerships." – Discover
"We continue to renew key partnerships, including our recent renewal with TJX Companies." – Synchrony
Digital
"We have several new opportunities, including a new opportunity with Wayfair to provide Bread's digital payment platform offerings to their customer base" – Alliance Data Systems
"We continue to see strong online and card-not-present spend growth, demonstrating the lasting effect of the behavioral changes we've seen during the pandemic, even as offline spending recovered to pre-pandemic levels." – American Express
"After crossing 40 million digital users in Q1, we added another quarter million users in Q2 and digital sales growth, is up 26% year-over-year ." – Bank of America
"Digital trends continue to be strong as retail mobility recovers at a faster pace… Active mobile users grew 10% year-on-year to over 42 million, and total digital transactions per engaged customer were up 12%." – Chase
"COVID has accelerated the embedded finance model. Our partnerships allow us to learn a lot as many of these ecosystems are still in their infancy. We learn about marketing, user experiences, and the tech stack. It enables us to tap into next-generation customer bases." – Citi
"Our digital expertise, combined with the partners data, empowers merchants to optimize their marketing, customer acquisition and sales strategies. The value that product suite provides to their customers is clear; about 58% of our sales are repeat purchases." – Synchrony
COVID-19 outlook
"We produced another quarter of solid earnings and showed evidence of good client activity in an economy that continues to recover from the pandemic." – Bank of America
"Looking ahead, we now assume that overall T&E spending globally will have recovered to around 80% of 2019 levels by the fourth quarter of 2021."– American Express
"During Q2, consumer savings rates remained strong, unemployment continued to improve, and consumer confidence reached a 16-month high. As a result, discretionary spend seems to be making a gradual return to pre-pandemic levels."  – Synchrony
Reserves/provision
Our strong results were, in part driven by an $866 million credit reserve release as we saw continued strong credit performance and some improvements in the macroeconomic outlook. "– American Express
"Provision was a $1.6 billion net benefit driven by the continued improvement in the macroeconomic outlook, which resulted in the $2.2 billion release of credit reserves, split fairly evenly between consumer and commercial loans." – Bank of America
"We continue to have an overall favorable outlook with regard to credit performance. And depending on the macroeconomic outlook, we could see further reserve releases." – Citi
"We built $8.9 billion in credit reserves during the height of the pandemic, whereas this year, we released $3 billion. So, in this quarter, credit costs were a net benefit of $2.3 billion." – Chase
"With an improved credit performance and a more optimistic macroeconomic environment, we reduced our loan loss reserves by $878 million this quarter." –Synchrony
Source: Bank quarterly earnings reports and earnings call transcripts.
Copyright © 2021 Accenture. All rights reserved.

Disclaimer: This content is provided for general information purposes and is not intended to be used in place of consultation with our professional advisors. This document may refer to marks owned by third parties. All such third-party marks are the property of their respective owners. No sponsorship, endorsement or approval of this content by the owners of such marks is intended, expressed or implied. Copyright© 2022 Accenture. All rights reserved. Accenture and its logo are registered trademarks of Accenture.