Key themes
Receivables growth continues to gain momentum with

 

issuers reporting single and double-digit YoY growth.

​

Purchase volume growth continues to be robust (27%+ YoY

 

growth) as cardholder spend rebounds from pandemic lows.

​

AmEx reported particularly strong growth of nearly 38% on

 

spend and 22% on receivables due to a resurgence of travel

 

spend.

​

Net Charge-Offs continue to remain at historically low

 

levels due to sustained high cardholder payment behavior,

 

though there was a slight increase QoQ which is typical due

 

to seasonality.

​

Full year outlooks on credit losses expect increases going

 

forward but the extent/speed with which that will occur

 

remains uncertain and will be dependent on several factors

 

(e.g., inflation, recession concerns, etc.)

​

Issuer returns remain favorable, but have begun to decline

 

YoY primarily due to the slowing of reserve releases and

 

higher OpEx costs.
Notable happenings
New partnerships
Capital One announced a co-brand credit card partnership with BJ's Wholesale (transitioning from Bread Financial); Goldman Sachs and GM launched their new co-branded credit card; Bread Financial announced a sales finance private-label credit card pilot in partnership with Harley Davidson; Wells Fargo launched a co-brand card with Bilt; Chase launched its new co-branded card with Instacart; FNBO announced a PLCC and co-brand partnership with BP (was with SYF)​.
Partnership developments
Chase renewed its co-brand partnership with Amazon; Bread Financial renewed its private-label credit card partnership with Victoria's Secret and launched a new co-branded credit card as part of the renewal; Bank of America renewed its co-brand partnership with Alaska Airlines; Citi renewed its PLCC and co-brand partnership with Brooks Brothers; Synchrony renewed several relationships including PLCC partnerships with Guitar Center and Generac; Capital One renewed its PLCC partnership with Kohl's​​.
New products/features
Synchrony announced the refreshed PayPal co-branded credit card with an enhanced value proposition; Bread Financial launched a general-purpose credit card (with AXP).
Mobile & tech
SYF launched ability to pay for EV charging with Synchrony Car Care credit cards; Zip announced the acquisition of Sezzle for $360MM​.
Industry statistics (based on non-retail card issuers in scorecard section)

1 Total receivables for all issuers below at end of 1Q22.2 Total purchase volume of all issuers below in 1Q22, not annualized.3 After-Tax ROA of issuers that publicly report – Capital One, Synchrony, Discover, Barclays and Bread.4 YoY = Year-over-year change versus 1Q21. 5 QoQ = Quarter-over-quarter change versus 1Q21. Note: Citigroup no longer reports card-specific profitability metrics as of Q1 2022.
Issuer scorecard ($billions)-Q1 2022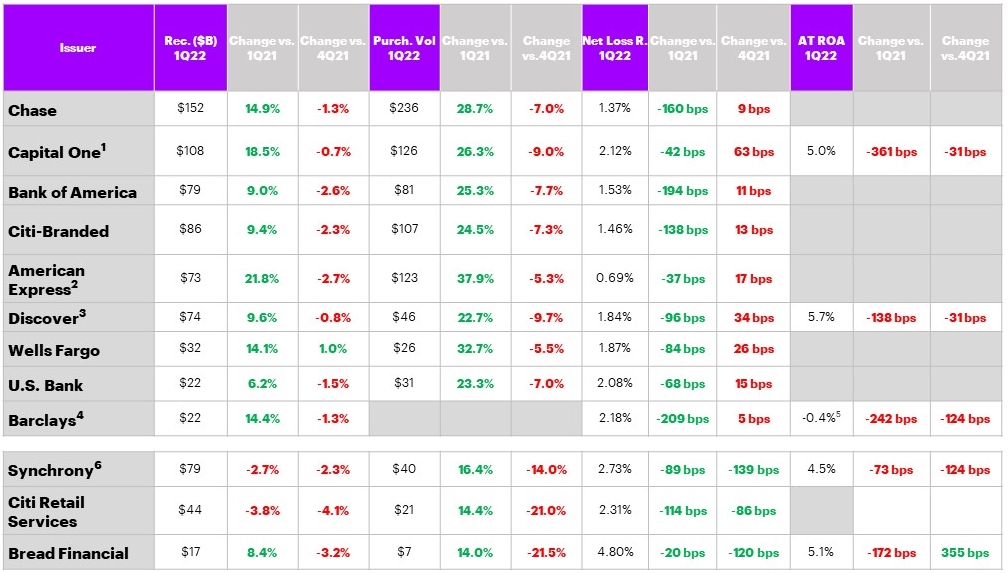 1 Capital One is US consumer and small business credit cards and installment loans. Purchase volume excludes cash advances. 2 American Express changed its reporting method as of 2Q18; all figures are for US Consumer segment (revolving and charge products) which no longer reports net income. 3 Discover receivables, purchase volume (excludes cash advances), and losses are US domestic card only; ROA includes all of Digital Banking segment (credit card loans represents ~80% of Digital Banking loans). 4 ROA figures reflect all Barclays Bank; Net Loss Rates calculated by dividing annualized Credit Card Net Credit Losses by quarterly Average Credit Card Loans. Barclays does not publicly report Credit Card Purchase Volume. 5 Primarily due to FV of Derivatives loss accounting for -1.8% of the ROA. 6 Figures include all SYF business lines (i.e., Home & Auto, Digital, Diversified & Value, Health & Wellness, Lifestyle, and Other). Credit Card accounts for ~95% of total receivables. 7 Bread changed its reporting in Q4 2021 to no longer report Card Services segment profitability, ROA shown above reflects single "Continuing Operations" segment (majority of which is credit card income) following divestiture of LoyaltyOne; previous quarters have been adjusted to reflect this change.
Year-over-year growth rate trends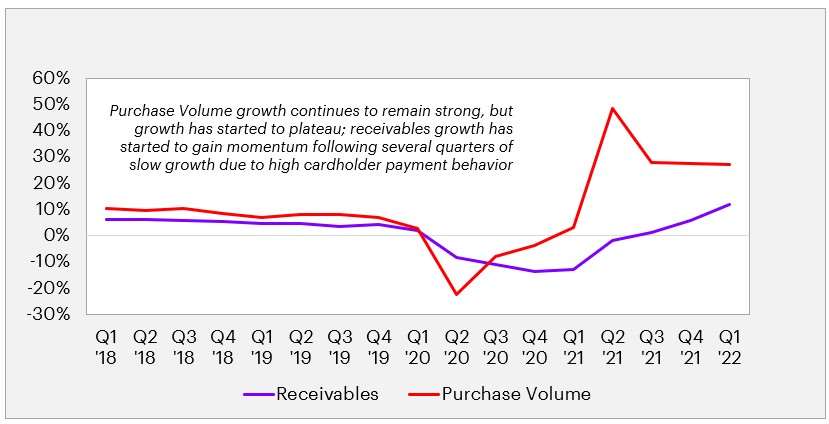 Profitability trends – ROA proxy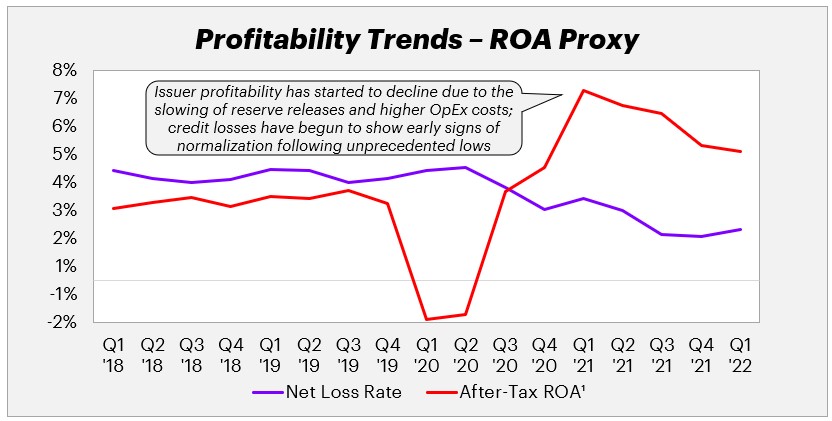 1 After-Tax ROA is a weighted average of – Capital One, Synchrony, Discover, Bread Financial, and Barclays.
---
This makes descriptive reference to trademarks that may be owned by others. The use of such trademarks herein is not an assertion of ownership of such trademarks by Accenture and is not intended to represent or imply the existence of an association between Accenture and the lawful owners of such trademarks.
Disclaimer: This content is provided for general information purposes and is not intended to be used in place of consultation with our professional advisors. This document may refer to marks owned by third parties. All such third-party marks are the property of their respective owners. No sponsorship, endorsement or approval of this content by the owners of such marks is intended, expressed or implied. Copyright© 2022 Accenture. All rights reserved. Accenture and its logo are registered trademarks of Accenture.