Key themes
Purchase volume has continued to show signs of recovery and most issuers are now reporting YoY growth for the first time in a number of; reported spend volumes at or above Q1 2020 levels; all issuers reported modest QoQ declines in spend as is typical following the holiday period
Receivables growth continues to experience headwinds (declines for all issuers) primarily as a result of the high payment rate behavior associated with stimulus / relief efforts
Charge-off rates have continued to remain well below pre-COVID levels driven primarily by the high payment rates associated with stimulus / relief programs; issuers generally expect losses to increase in late 2021 / early 2022 as consumer payment behavior normalizes and underwriting standards loosen given the favorable credit environment
Issuer profitability is elevated and has reached levels not seen for many years  primarily due to large reserve releases (booked at the height of the pandemic) and low loss rates
Notable happenings
New partnerships
Barclays will acquire the Gap credit card portfolio from SYF in April 2022; Chase partnered with Instacart to develop a co-branded credit card program; Alliance Data launched a new private label credit card with Famous Footwear and a new PLCC and co-brand credit card program with Petco; Barclays launched a new AARP co-brand  product suite (transitioned from Chase); Synchrony added 10 new programs to its CareCredit network; Citizens expanded its Citizens Pay financing solution via a partnership with BJ's Wholesale; Affirm partnered with Vrbo and Vacasa to enable vacation rental financing
Partnership developments
Synchrony renewed its PLCC and co-brand credit card partnership with American Eagle, PLCC partnerships with Citgo and Phillips 66, and its sales finance partnership with Ashley Homestore; Alliance Data renewed its PLCC partnership with Torrid and its sales finance partnerships with Big Lots and Arhaus
New products/features
AmEx launched refreshed Gold Card; Alliance Data reissued the Victoria's Secret PLCC as a Mastercard-powered chip card with Apple Pay provisioning capabilities; TD launched new Double Up credit card
Mobile & tech
PayPal launched cryptocurrency checkout solution; Amazon expanded its palm-based checkout solution (Amazon One) to Whole Foods
Industry statistics (based on non-retail card issuers in scorecard section)
Click/tap to view larger image.
1 Total receivables for all issuers below at end of 1Q21.2 Total purchase volume of all issuers below in 1Q21, not annualized.3 After-Tax ROA of issuers that publicly report – Citigroup, Capital One, Synchrony, Discover and ADS.4 YoY = Year-over-year change versus 1Q20. 5 QoQ = Quarter-over-quarter change versus 4Q20.
Issuer scorecard ($billions)—Q1 2021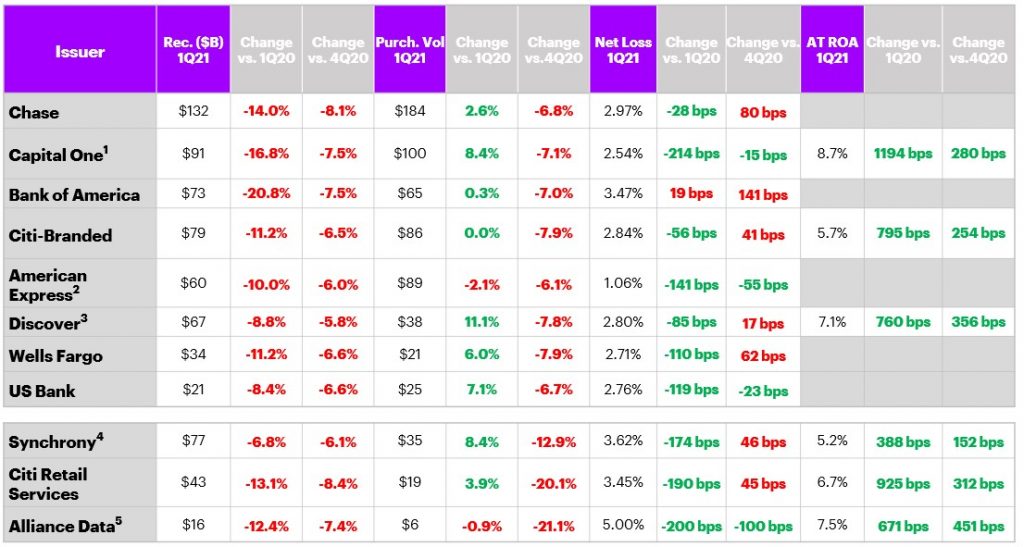 Click/tap to view larger image.
1 Capital One is US consumer and small business credit cards and installment loans. Purchase volume excludes cash advances. 2 American Express changed its reporting method as of 2Q18; all figures are for US Consumer segment (revolving and charge products) which no longer reports net income. 3 Discover receivables, purchase volume (excludes cash advances), and losses are US domestic card only; ROA includes all of Direct Banking segment (credit card loans represents ~80% of Direct Banking loans). 4 All figures include all SYF business lines (i.e., Retail Card, Payment Solutions, and CareCredit). Retail Card accounts for ~65% of total receivables. 5 Average receivables of $15.8B (does not include loans held for sale).
Year-over-year growth rate trends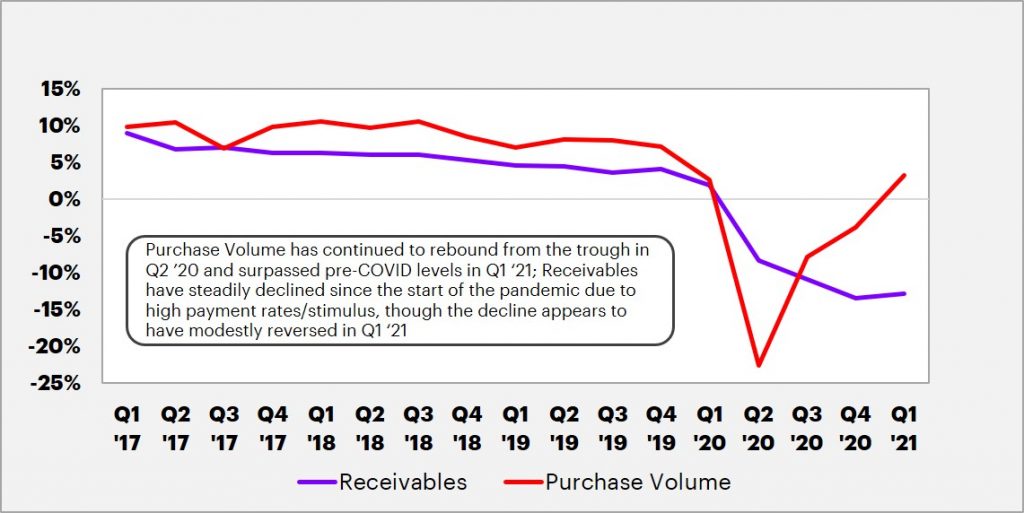 Profitability trends – ROA proxy
1 After-Tax ROA is a weighted average of – Citigroup, Capital One, Synchrony, Discover, and ADS.
---
This makes descriptive reference to trademarks that may be owned by others. The use of such trademarks herein is not an assertion of ownership of such trademarks by Accenture and is not intended to represent or imply the existence of an association between Accenture and the lawful owners of such trademarks.
Disclaimer: This content is provided for general information purposes and is not intended to be used in place of consultation with our professional advisors. This document may refer to marks owned by third parties. All such third-party marks are the property of their respective owners. No sponsorship, endorsement or approval of this content by the owners of such marks is intended, expressed or implied. Copyright© 2022 Accenture. All rights reserved. Accenture and its logo are registered trademarks of Accenture.