Other parts of this series:
---
With financial services organizations facing transformational change in their businesses and operating environments, old approaches to change management are no longer enough. Often, banks and insurers will depend on change teams that evolved over time out of large programs, or that are fragmented in siloes across the business, IT, operations and support functions.
Leading FS organizations are now taking a more strategic look at what they need within their specialist change team and across the wider enterprise. This is similar to the professionalization and industrialization of IT that swept through their organizations in the 1990s and 2000s.
A good place to start is to ask what the organization's change priorities are for the next three to five years. This allows clear prioritization of demand, and insight into the capacity and capability required to address this demand
It also allows banks and insurers to develop a vision for change. Accenture's ChangeTracking© research shows that 'vision and direction' is by far the most important factor in realizing benefits from a change program – three to four times as important as any other intervention.
The most important foundation for a change capability is the people. Attracting the best change talent, continuously developing and engaging change people, and deploying them effectively across the change portfolio and programs are key success factors.
A professional change capability goes beyond project management, addressing a wider range of disciplines such as change leadership, portfolio management, program management,
PMO, business analysis, business testing, implementation management and change management.
These capabilities may also be specialized around certain types of change (e.g. corporate transactions, regulatory change) and business areas (e.g. retail banking, private/wealth, investment banking, and general insurance). And they demand a new set of skills.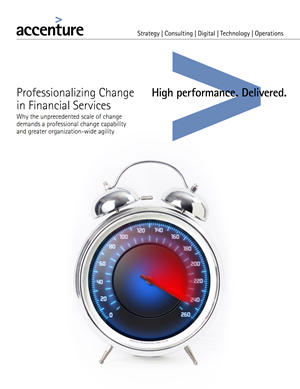 Change professionals must now be able to do more than just manage a plan – they must lead change and manage to a commercial outcome. All change professionals, especially business analysts, need to be able to collaborate across organization boundaries, working at pace in multi-disciplinary teams.
They must be capable of handling complex implementation, but also the 'softer' side: behavior and culture change. Increasingly, they need to be comfortable using analytics to make data-driven decisions, rather than relying on habit or intuition.
A change team should be augmented with the right foundation: tools, methods, governance and reporting to improve their impact. These provide a common language for change, helping teams get started and improving transparency. They also give programs a jump-start – by not having to start from scratch, delivery is accelerated and de-risked.
The next post in this series will examine the role of change leadership in aligning a financial service organization behind transformational change.
To learn more, download Professionalizing change in financial services.