How can banks deliver a banking customer experience to win Millennial customers?
This is a million-dollar question for many retail banks as the Millennial generation's influence and share of consumer spending grows.
Exploring peer-to-peer engagement
In an article published in the Harvard Business Review, Ron Faris, founder and CEO of Virgin Mega, offers a thought-provoking answer. While he doesn't write specifically about retail banks, his discussion of Millennials and peer-to-peer engagement is very relevant.
Peer-to-peer engagement uses digital channels to create virtual communities—tribes—of like-minded people who essentially do brand building for companies. Faris offers a useful metaphor to make his point. Think of the company as a cocktail party host. It provides the essentials of a great evening, but the guests themselves generate all the fun.
Faris argues that two Millennial traits make peer-to-peer engagement appealing to them. For one, most Millennials are social. They use digital tools and channels to share and connect with peers. Secondly, they are drawn to experiences that build on a sense of urgency to act, share, do or risk missing out on a viral moment with peers.
Giving customers what they want
Peer-to-peer engagement strategies align with what Millennials say they want from their banking customer experience.
Accenture's 2015 North America Consumer Digital Banking Survey tells us that many consumers across demographic groups (79 percent) consider their banking relationships to be purely transactional—and that they are open to more value-added services. Millennials in particular are drawn to personalized, proactive interactions and acquiring digital services.
Starting from a strong foundation
Retail banks are well positioned to build peer-to-peer engagement strategies for Millennial customers for several reasons:
Data insight. Banks can access customer data to understand behaviors and preferences related to customers' financial and non-financial lives. This way, they build programs that associate the bank's brand with issues and experiences that passionate tribes care about. One bank is doing this by sponsoring a marathon. Runners can connect to each other through training programs and social media communities to build comradery prior to, during and after race day. This shared enthusiasm reflects positively on the brand.
Digital platforms. Peer-to-peer engagement also depends on a digital platform, the connective tissue that keeps virtual tribes connected. This can be through social media, mobile banking apps or online banking services. The good news for banks is that Millennial customers prefer these tools. Our consumer research reveals that more of them (22 percent) purchased or signed up for mobile banking software or apps in the past year than 33 to 54 year olds (13 percent) or customers 55 and over (6 percent).
A different way forward
Banks know they need new banking customer experiences to attract and engage Millennials. After all, Millennials switch from their primary bank at a pace nearly double the average in North America, according to our research.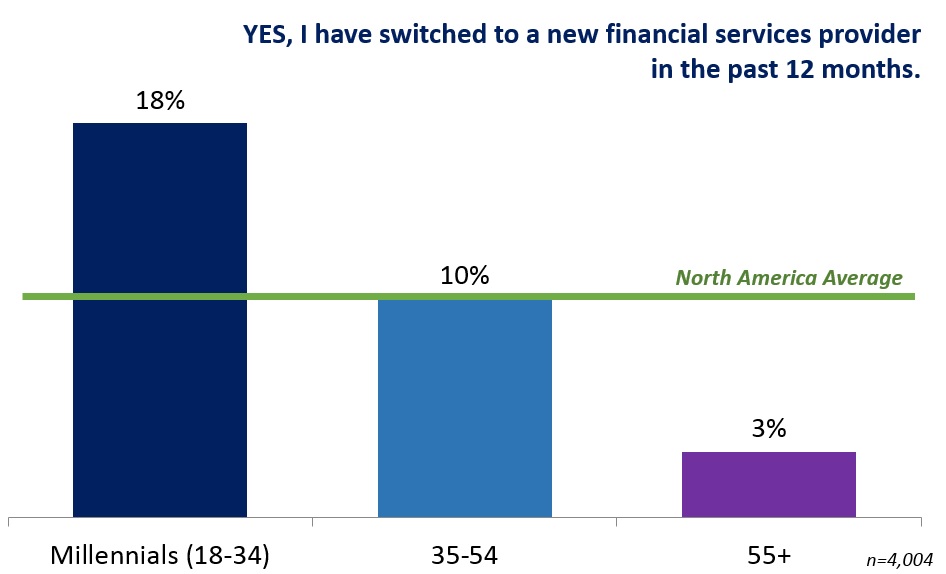 Harnessing a passionate tribe of Millennials to create viral excitement and endorsement for the bank is a unique strategy worth exploring. Because in many respects, Millennials will soon be among banks' most valuable customer groups.
Learn more
For more information on Millennials' banking customer experience preferences, check out the results of Accenture's 2015 North America Consumer Digital Banking Survey.