Summary: How—and why—does your organization invest in learning at work? Until February 5, you can add your voice to the CIPD Learning and Skills at Work Survey 2021.
From COVID-19 to accelerating cloud change, remote working to diversity, 2020 was a stress test and accelerator of change. Organizations are working to create more inclusive teams, embark on ambitious paths for new skilling, and transform physical and digital workplaces. In other words, they're striving to meet the future of work head-on.
Learning and development (L&D) has always been important, and even more so in times of disruption. New skills and continuous learning are essential if we—as organizations, individuals and society—want to achieve the agility and resilience that's needed to thrive in times of change.
That's why Accenture is again working with the Chartered Institute of Personnel and Development (CIPD) for the CIPD's Learning and Skills at Work Survey 2021. The anonymous survey is run through the research platform YouGov and all responses are confidential.
The report is an essential resource for UK-based L&D professionals, and it's only as good as our data. Please take a few minutes (13 of them, according to the survey preamble) and make your voice heard: Take the CIPD Learning and Skills at Work Survey 2021.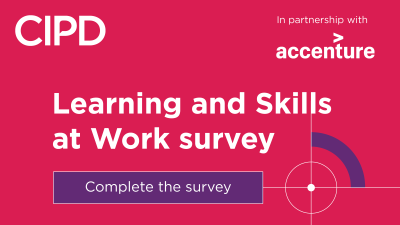 We want to know:
How and why does your organization invest in and develop workplace skills?
What strategies and technologies are you using?
How are you tying learning and business objectives?
How has COVID-19 affected your L&D programs, and what does it mean for the future of L&D?
The survey is open until February 5, 2021 and is open to UK-based organizations.
Key findings from the 2020 research
Some of the key findings from last year's report included:
Attitudes are in the right place. The vast majority of respondents reported that their learning strategy is aligned to organization need (83 percent), they understand the skills they need today and the skills of tomorrow (78 percent) and they can respond agilely to changing skills needs (67 percent).
But there are gaps between intent and action. Only 4 percent identified the need to reskill employees affected by automation and just 8 percent are focused on developing soft skills. The vast majority (86 percent) identified at least one barrier to delivering learning, with the top three being lack of learning time, limited budgets and lack of management time or support.
Technology is gaining traction for learning delivery. Our 2020 research found the popularity of online L&D has increased from 57 percent, up from 29 percent in 2015. I would expect this number to go up even more as the pandemic pressed L&D teams to pivot from face-to-face learning toward digital solutions for remote teams.
Read my blog series outlining the study's key findings, which includes links to download the infographic, full report and case studies.
Leaders use learning to drive business value and revenue; become more agile; and attract, retain and motivate talent.
Make your voice heard
Here's that link again: Take the CIPD Learning and Skills at Work Survey 2021.
Thank you in advance for helping us strengthen the L&D practice with critical insights. I look forward to sharing the report's findings with you later this year.
For more about learning and development:
Disclaimer: This content is provided for general information purposes and is not intended to be used in place of consultation with our professional advisors. Copyright© 2022 Accenture. All rights reserved. Accenture and its logo are registered trademarks of Accenture.