In payments, so much is changing so fast that sometimes it's hard for banks to know where to start. Moving payments functions to the cloud is one area that a lot of our banking clients are trying to figure out right now as part of their strategy for growth in payments.  
At the Money 20/20 conference last fall, I was joined by Marla Sofer, Microsoft's Industry Solutions CTO and Financial Services Cloud Lead, and Michelle Baxter, Global Financial Services Lead of Avanade, which is a joint venture between Accenture and Microsoft founded in 2000. We shared our thoughts with the Fintech Times in this video on how the Accenture, Avanade and Microsoft alliance is helping banks move their payments functions confidently to the cloud.  
By bringing together business vision and technological expertise, strategic alliances like the one we've built with Microsoft and Avanade can support clients and help them put together a winning plan for implementing cloud-based payments.   
Bridging the gap between business and technology 
Banks have a lot of questions about the transition of payments to cloud. It's a significant undertaking that requires tight internal and external coordination. At Accenture, we connect with business leaders, which allows us to hear their concerns and help them determine how cloud payments technology fits into their larger strategic planning. Bigtech firms like Microsoft and partners like Avanade are designing powerful cloud solutions for the financial services industry. Working together, this type of alliance can bridge the gap between the bank's overall business strategy and the technical solutions that support it.   
For example, Accenture works with clients on identifying business use cases and client needs. We then connect with partners like Avanade and Microsoft to refine the technical solution that can be built into the bank's operating model. This partnership facilitates close collaboration that addresses the specific business challenges of each bank, focusing on the right products and successful delivery.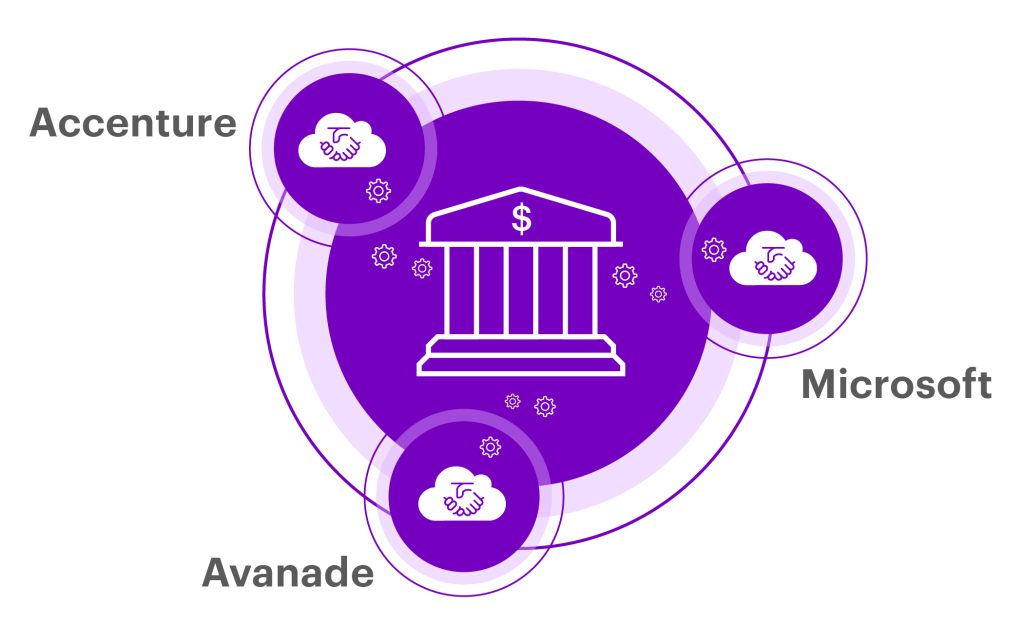 Accenture's access to business leaders and Microsoft and Avanade's effective business solutions combine to address pressing business problems faced by payments providers. Each partner contributes a unique understanding of the industry, market opportunity and technical innovations and the know-how to comply with the strict security and compliance requirements in the payments sector. Clients benefit from multiple perspectives and specialized knowledge of the various aspects of a cloud transformation. It's a win for the clients when they don't have to seek out this expertise individually. 
Learn how Accenture supports Women in Payments, a growing network that unites women in payments from around the globe.
LEARN MORE
Value lies in seeing the big picture 
By refining the use cases and the technical solutions that focus on a client's business goals and specific risks, strategic partnerships can help payments providers build out an operating model that translates their strategic vision through to effective implementation.  
With the increasing popularity of collaborations between cloud-native fintechs and large incumbent banks, lines are blurring between traditional banking and fintech in the payments space. Although these partnerships can help banks accelerate their cloud journey, they are also making it more important to build solutions that function across platforms to improve end customers' experiences.  
Having strong partnerships between the tech side and the business side promotes more interoperability of technical solutions and better alignment of those solutions to business goals. These, in turn, help banks deliver better digital payments services and generate meaningful analytics and insights using cloud data capabilities. 
We see the Accenture, Avanade and Microsoft alliance as a way to tie together strategy, product, delivery and customer service. This gives clients the confidence to move ahead with cloud solutions in payments, because both the business and technical questions have been addressed.  
Creating a win-win-win 
Collaboratively linking business and technical expertise gives banks looking to transform their business the best of both worlds—without having to identify and coordinate the various experts required to build a solution themselves. Each member of the strategic alliance recognizes that it can offer a smoother experience and a better-targeted solution by drawing on the expertise of the others. Here's how it works in the Accenture, Avanade and Microsoft alliance. 
| | |
| --- | --- |
| | Microsoft works with partners like Accenture and Avanade to focus on the right client challenges, which lets them pinpoint solutions to address these problems. For Microsoft, the win is customer insights that lead to improvements in their products. |
| | Avanade focuses on Microsoft solutions and complements their own industry expertise and thought leadership by capturing insights through their relationship with Accenture's strategic experts. For Avanade, the win is a way to bridge the gap between business and technology, smoothing the process for banking clients that are undertaking a technological transformation. |
| | As for Accenture, we gain the advantage of working with trusted partners to guide our clients through their transformation with confidence to achieve their business goals and vision. We win by helping them execute a strategic transition to cloud that both meets their goals and addresses their challenges and risks. |
For banks, having a team with such a breadth of expertise and experience creating their cloud payments solution is a win-win-win.
I'd like to thank my co-authors Michelle Baxter, Global Financial Services Lead at Avanade, and Marla Sofer, Industry Solutions CTO and Financial Services Cloud Lead at Microsoft, for their contributions to this blog post.
Contact me to find out how you can harness the power of our strategic alliance to accelerate your journey to cloud. Get in touch with Michelle Baxter and Marla Sofer to learn more about the recently launched Microsoft Cloud for Financial Services coupled with Avanade's accelerators. 
Read more
---
Disclaimer: This content is provided for general information purposes and is not intended to be used in place of consultation with our professional advisors. This document may refer to marks owned by third parties. All such third-party marks are the property of their respective owners. No sponsorship, endorsement or approval of this content by the owners of such marks is intended, expressed or implied. Copyright© 2022 Accenture. All rights reserved. Accenture and its logo are registered trademarks of Accenture.