Other parts of this series:
---
The perception that Hong Kong is behind other global financial and technology hubs on innovation both in fintech and technology, in general, is widespread. Within Asia, Hong Kong is seen as having lost ground to Shenzhen, home to Tencent and Huawei, and Singapore, which has arguably nurtured a much more vibrant technology start-up ecosystem. In 2019, the value of fintech investments in Singapore more than doubled year-on-year to US$861 million across 108 deals, while that in Hong Kong nearly doubled to US$374 million across 25 deals.
As for adoption, there is a lingering perception that Hongkongers are warier of fintech, based largely on the city's slow take-up of mobile payments. But that is partially due to the early and mass adoption of the convenient Octopus pre-paid wallet, used by over 95 percent of the city's population aged 15 to 64, as well as the lack of urgency among the city's well-entrenched incumbent MNC FIs to offer their customers fintech products. The Covid-19 pandemic is tipped to be a game-changer for digital financial services globally as it accelerates fintech adoption and innovation. In Hong Kong, however, although 39 percent of the multinational financial institutions and fintechs we surveyed rated Covid-19 as a positive for overall adoption of fintech solutions, 43 percent saw it as a negative, and 18 percent said it would have no impact. Most significantly, half of all respondents said the pandemic was either a moderate or major negative for the development of fintech innovations or initiatives, presumably through its imposition of funding and budgetary constraints, and the detrimental effect on the availability of fintech talent in the city. The latter concern was highlighted by 48 percent of respondents.
Both the funding and talent issues can be addressed. The Hong Kong government is in the process of setting up a HK$22 billion (US$2.8 billion) private equity fund dubbed the Hong Kong Growth Portfolio. Akin to a sovereign wealth fund, the new fund will use 10 percent of the government's Future Fund to invest in Hong Kong-specific projects aimed at boosting the city's competitiveness in financial services, commerce, aviation, logistics and innovation. The fintech sector will no doubt be a major beneficiary.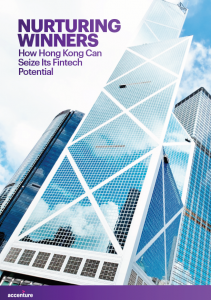 Subscribe for more from Accenture Banking.
Disclaimer: This document is intended for general informational purposes only and does not take into account the reader's specific circumstances, and may not reflect the most current developments. Accenture disclaims, to the fullest extent permitted by applicable law, any and all liability for the accuracy and completeness of the information in this presentation and for any acts or omissions made based on such information. Accenture does not provide legal, regulatory, audit, or tax advice. Readers are responsible for obtaining such advice from their own legal counsel or other licensed professionals.