The credit card partnership market is off to an aggressive start in 2019, given issuers' robust activity in the first half to try to fuel new growth amidst a leveling-off in receivables. Already, 10 new credit card programs launched in the second quarter of 2019 (Figure 1), compared to the 16 launched in 2018, based on our analysis.
This comes at a time when year-over-year receivables growth rates for major US issuers have been declining for nine consecutive quarters, dropping by about 50 percent during that period (from 8.9 percent in Q1'17 to 4.5 percent in Q2'19). The number of new credit card partnership programs will likely nearly double over this same period. As the competition remains fierce in general purpose bank cards, the partnership market provides an opportunity for new growth-inducing channels. Even with headlines of uncertainty in the retail sector and late economic cycle concerns, banks continue to invest in this market, albeit in different ways than they have done before.
Figure 1. Estimated number of credit card partnership launches vs. bank industry end of period (EOP) receivables growth
According to our analysis, traditional retail opportunities have historically accounted for some 50 percent of launches each year, due to the sheer number of opportunities and deep experience of issuers in this segment (Figure 2). Not surprisingly, issuers are looking more at non-traditional retailers to launch card programs in hopes that these merchants will thrive in the digital economy and fuel new growth. Specifically, internet-only and alternative (e.g., cosmetics) retail and big-ticket companies are starting to drive the partnership market. The number of launches in these retail categories accounted for 50 percent of launches in the first half of 2019, compared to only 20 percent for 2015. We expect this trend to continue as the retail landscape evolves and digital/mobile capabilities proliferate in the US.
Figure 2. Credit card partnership program launches by sector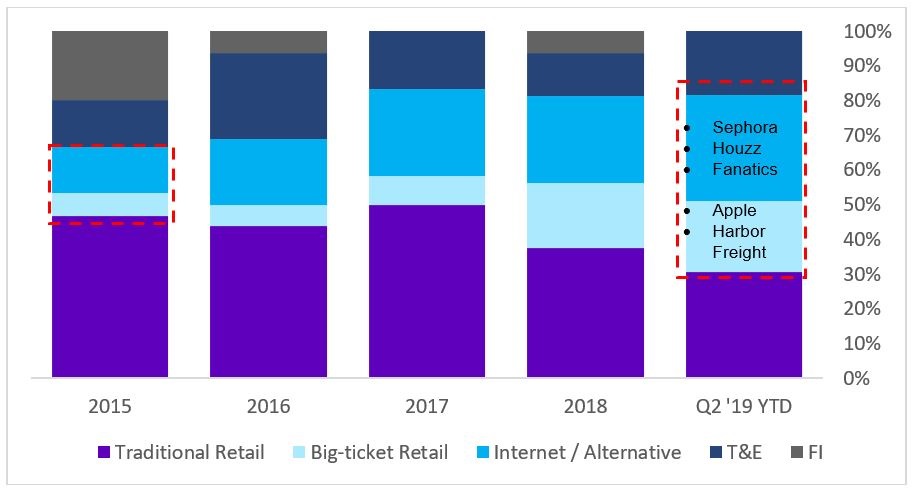 In addition to the change in the type of retailers launching credit card partnership programs, the product itself has shifted in recent years. Private label credit card-only programs (PLCC) accounted for 80+ percent of new retail credit card programs in past years. Of the recent retail program launches, however, an increasing proportion now include a co-branded card product in the portfolio (Figure 3).
PLCC was a more popular option for traditional retailers, like department and apparel stores. With the shift in banks' focus to non-traditional retailers, it's logical that co-branded has a greater presence. For example, Houzz, an online retailer specializing in home décor and remodeling, launched both PLCC and co-branded credit cards in 20191. Also, the general slowing growth in receivables across the industry, that we discussed earlier, contributes to the appeal of launching co-branded cards, which allow issuers to benefit from broader card acceptance with use outside the retailer's channel.
Across both product types, we are seeing virtual cards become a more prominent offering as both consumers and retailers are increasing their adoption and use of mobile applications and wallets. Examples include the deep integration of the Apple Card (in partnership with Goldman Sachs) with the iPhone and Wallet app2, Amazon's introduction of digital cards through the Amazon Store Card mobile app (via Synchrony)3 and Synchrony's new SyPi mobile app plug-in (contains digital cards) that garnered 200 percent annual growth rate in visits4.
Figure 3. Retail credit card program launches by product types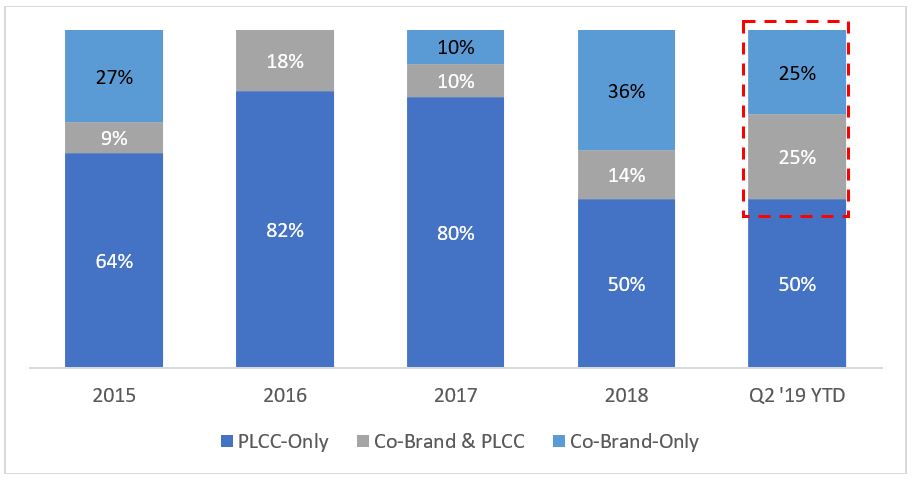 Ultimately, as issuers continue to search for de novo launch prospects outside of traditional retail sectors, they will also experiment with what product type fits this sector and demographic of customers. The emergence of other non-card payment products, like "buy now, pay later" financing from companies such as Afterpay, and the newfound popularity of installment loans offered by fintechs, like Affirm and Klarna, are challenging legacy issuers. While we expect legacy issuers to soon roll out similar types of non-card products, we predict that the growth in card-based partnership programs will continue in the near term as possibly both an offensive and defensive strategy.
Read more about disruptions in the credit card market in our latest report, Payments Pulse Survey 2019: Two ways to win in payments
---
This makes descriptive reference to trademarks that may be owned by others. The use of such trademarks herein is not an assertion of ownership of such trademarks by Accenture and is not intended to represent or imply the existence of an association between Accenture and the lawful owners of such trademarks.
1Pymnts, "Houzz To Launch First Credit Card, Co-Branded With Mastercard" 7/30/2019
2Apple Insider, "Apple Card is now accepting applications in the United States" 8/20/2019
3Amazon.com
4Synchrony Financial, Quarterly Earnings Call Q2 2019, 7/19/2019