This February the Indian Telecommunications regulator ruled to ban free Internet services that might restrict access to a limited number of sites. This was a setback for the Facebook-led, Internet.org's Free Basics offering, but the organization which already offers 'Free Basics' in 37 countries worldwide remains focused on its mission.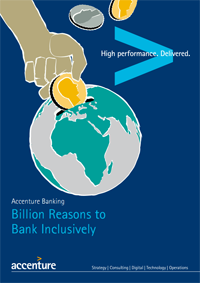 On the face of it, the offer sounds great. The service is built around the "goal of bringing Internet access and the benefits of connectivity to the two-thirds of the world that doesn't have them".  Personally I applaud the objective. Look at how developed markets have flourished and new businesses have emerged thanks to a large Internet-connected population. I recognize, however, the considerable challenge of finding a means of paying for free unlimited data access for all. Yet for a more restricted offering, concerns related to differentiated pricing (e.g., network providers charging certain sites more to handle their traffic) and net neutrality are among the key obstacles raised.
What has this got to do with Banking you might ask?
Our research on Inclusive Banking (Billion Reasons to Bank Inclusively) showed that extending banking services to the un/underbanked populations could generate as much as $380 billion in new revenues for banks. Imagine the potential if larger percentage of developing market populations were to have access to the Internet.  I believe it is only a matter of time before governments and leading firms worldwide find a solution to the problem of how best to extend the reach of the Internet within developing markets.  The financial sector is well placed to help in that process, and facilitate the increased business that will result. Why not consider providing basic free Internet access to reach for example the growing number of small and micro enterprises that currently lack access to finance?
Today, with smartphones becoming ubiquitous and their prices declining to a point where companies give them away for free to attract new customers, it is feasible to consider developing a set of banking mobile apps that could be targeted at unbanked and underbanked populations. World Bank figures show over 50% of mobile penetration even among low income populations, making it relatively easy to reach these customer segments.
The benefits to a developing economy would be significant. National governments, regulators, development institutions and NGOs recognize that access to financial services is key to boosting economies. In 2014, 70% of micro-enterprises were found to have a bank account, but only 5% had access to term loans. Historically banking services to this segment were deemed expensive to provide. The digital revolution has made it increasingly possible to serve such segments in a cost effective manner.
In spite of the recent setback in India, the goal to spread free Internet access to developing markets remains, and we are likely to see significant strides in that direction in coming years.  Meanwhile, the World Bank has also set a goal to achieve universal financial access by 2020. Banks can decide to be part of that solution, or risk leaving the door open for new entrants and non-bank financial institutions.