A recent Accenture survey reveals a paradox in home equity lending in North America. While 92 percent of consumers do some research when applying for a home equity loan, borrowers are still confused about critical loan characteristics.
The survey findings are surprising—even troublesome. Consider that only 54 percent of borrowers know they can use home equity loans for "non-home purposes." Only 21 percent of consumers realize they can access loan funding through a credit card. Just 41 percent know they can access loan information through online and mobile channels or use loan funding to refinance debt.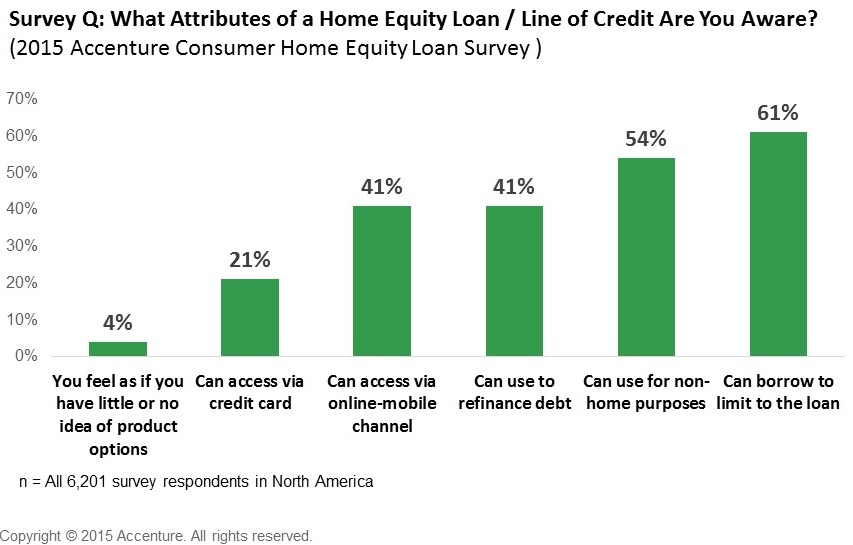 Reaching an Inflection Point
There are opportunities for traditional lenders to close awareness gaps like these. For many, this is a must-do, not a nice-to-do.
This is largely because of the complexity of the home equity lending market. A positive economic outlook and steadily rising home values are driving growth that we haven't seen since before the credit crisis. Consumers are optimistic. They are seeking home equity loans for discretionary purchases for home repairs, durables and home improvements.
Our analysis shows that home equity loan products have the highest "stickiness" of all retail bank products. They have an important role in protecting and extending banks' book of business. And this is more important than ever as new players such as digital-savvy alternative lenders, regional banks and credit unions encroach on the market.
Knowing Beats Guessing
By improving the customer experience and education, traditional lenders position themselves well for this resurgent market. The good news is that for consumers who've applied for a home equity loan, 75 percent consider their primary bank to be their go-to information source. And 65 percent would prefer to apply with their primary bank.
Banks have the advantage of a somewhat "captive audience," but they have more work to do to close awareness gaps and overshadow competitors' value propositions. There are several fundamentals that traditional lenders need to improve home equity loan education:
More digital tools and technologies. Digital-powered processes are a difference-maker for customer preference. For now, alternative lenders are setting the bar here in home equity lending. When consumers do use a digital channel for information, 81 percent go to alternative lenders' sites.
Focus on ease and transparency. Consumers want educational tools that are easy to use, give them personalized information rather than fluffy marketing messages, and tell them the whole story of the loan experience.
Training initiatives for branch staff. Digital is non-negotiable, but consumers are still visiting branches for loan information. Branch staff need to be equipped with the right tools to support a needs-based discussion focused on educating consumers on the product options and processes required to achieve their funding objectives.
Education through cross-promotion. Banks can proactively educate existing customers about home equity loan benefits and options by taking a holistic view of their financial lives. This is not about overt up-selling that can turn customers off, but providing financial guidance as part of a trusted relationship.
Team teaching with ecosystem partners. Traditional lenders do not have to go it alone when it comes to building consumer awareness of home equity loans. Some are already collaborating with retailers, such as home improvement stores, so that education can start at the point of purchase and move to the bank setting.
Closing the Gap
By helping build consumers' understanding of home equity loans and delivering consistent and convenient customer experiences, traditional players can help people—and help themselves. To learn more, visit www.accenture.com/HomeEquityLending.