---
The financial services industry hires thousands of new university graduates each year and has always looked for the best and the brightest talent to add to its workforce.
For the third year in a row, Accenture Strategy surveyed this year's university graduates in the United Kingdom, and compared the results to those who entered the workforce in the two previous years, to understand how graduate expectations and attitudes toward employment are shifting.
Each generation feels that their work ethic surpasses that of the next. The oft-cited platitudes about millennials include their unwillingness to work hard and their tendency to be job hoppers. But our 2016 UK University Graduate Employment Study revealed quite the opposite is true for the recent additions to the workforce.
The 2016 graduates are not lightweight. They are practical and prepared. Graduates today are more resourceful – they are more considerate of their future career when selecting their course of study. University career advisors are better equipped and more actively involved in engaging with employers, and supporting students in their career planning and job applications. Students seek work experience earlier in their academic lives, and for most, enhancing employability is just as much a priority as their degree
More than half of them are ready to work evenings and weekends; and 63 percent expect to be with their first employer for at least three years.
However, despite their high commitment levels, many recent graduates report a perception of underemployment:
69 percent feel underemployed/underutilized;
40 percent don't find full-time work;
Only 55 percent have been able to work in their chosen field.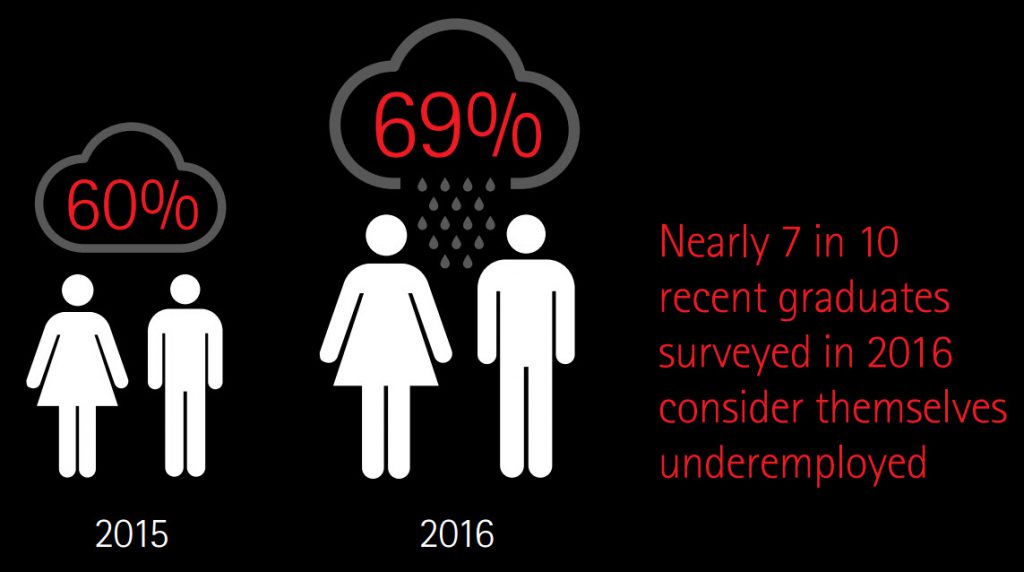 Bridge the divide
FS leaders need to consider redesigning entry-level jobs to make them more engaging, and ensure that their early talent feel the skills and capabilities they have acquired are being fully utilized. The rigid corporate structure of the industry, especially those of banks, does not suit the millennials' idea of a more fluid career journey. A personalized talent strategy is best. Tailor and implement a comprehensive recruitment culture centered on an individualized approach in order to bring in the best and retain them. Today's grads want to feel 'empowered' to shape their early careers – they want to feel in control rather than decisions being made for them. Employers need to find the right balance in providing grads with autonomy/influence, whilst still ensuring there is a sufficient level of support processes in place.
Early experiences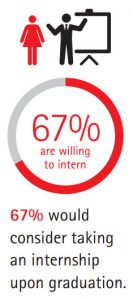 Our study found 77 percent of 2016 grads completed an internship or apprenticeship, yet only 39 percent of those who completed these programs were able to convert it to a full-time job. Students place high value on work placements – opportunity to learn more about what it's like to work at a company, expand their knowledge/skills, secure a graduate role early. Employers also reap rewards from offering placements by engaging top talent early, and testing performance prior to permanent employment.
However employers need to remember that placements are not just a method for them to assess potential talent and employ lower cost resources. They are equally being critiqued by the students they hire on placements therefore they need to ensure they provide a quality, differentiated, valuable experience, and reward high performance with a full time offer. If they don't, they will lose out on best talent to their competitors.
On-the-job training
Growth and learning opportunities remain a top priority – 84 percent of recent grads expect this, but only 72 percent received this. For financial services organizations, there's an opportunity to increase appeal amongst millennials by differentiating on talent development strategy and using this as a key selling message on campus.
When it comes to further education and training, 98 percent of this year's graduates expect to pursue additional training to further their career. Some formal training is important and expected, but more important to them is the more personalized approach that only a carefully shaped mix of on-the-job training, coaching and mentoring can deliver. Sixty-eight percent expect on-the-job training and experience in their first job, while just 51 percent expect formal training.
Millennials constantly require feedback and seek leadership – consider training line managers to be 'coaches' as well as managers, create a manager proposition that attracts the best managers to shape early talent, get leadership backing to ensure grads only hired if compelling work and structure.
Millennials see their careers as a journey of learning and development. Financial services industry leaders interested in finding and keeping the best and the brightest will create a corporate culture that satisfies their intellectual and professional curiosity.
Special thanks to Payal Vasudeva and Diana Barea for their work on the 2016 UK University Graduate Employment Study. To learn more, register to download the report: Great expectations: Redesigning the employee experience for the workforce of the future.