One trend to come out of our recent Global Consumer Pulse Research that banks might consider good news is the high but slowing growth in customer service expectations—a slowdown which is giving banks a chance to re-evaluate the ways they meet customer needs and catch up.
In line with last year, trustworthiness (35 percent), employee skills (33 percent), high quality of customer service (32 percent) and ease of doing business (32 percent) are the core drivers of customer satisfaction for banking, and contribute to the general pool of consumer expectations for customer service, which has increased greatly since 2007.
Unfortunately, the percentage of consumers switching providers due to poor service has decreased only slightly during that time, leading us to think that most companies are still not giving consumers the kind of service they want. Indeed, over the past few years, consumers have consistently said their biggest frustrations with providers include:
Failure to deliver on their promises.
Inefficient and slow customer service.
Lack of convenient interaction.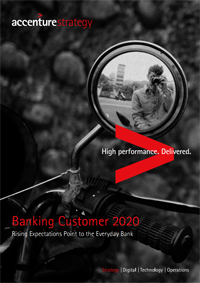 One method banks have implemented to try to stem the flow of customers switching to other providers is to offer customer loyalty programs. Research shows that the numbers of customers adopting these programs is on the rise. Across industries, the percentage of consumers saying they participate in at least one customer loyalty program has increased since 2009, as has the percentage of respondents indicating such programs persuade them to stay with a provider.
Among banking customers, one-third say that they participated in at least one loyalty program, about the same as last year. Efficiency of these programs (determined by measuring customers who stayed with their providers because of the program) remains at around 56 percent. This sounds positive, except that program adoption is primarily driven by the desire to gain access to the "best deals"—indicating a short-term loyalty that fails to keep customers committed for the long haul. Although consumers stated that their loyalty increased due to such programs, their actual behaviors demonstrate they continue to leave providers at a high rate.
What all this shows is that despite many customers being pleased with the customer service being offered by their current bank and taking advantage of loyalty programs to access the best deals, they are failing to remain committed for the long haul. Which begs the question: Are loyalty programs worth the effort to implement them?
Learn more about how banks can drive customer engagement and seize digital's opportunity.