In my first post we looked at the growth aspirations of financial services providers and made some recommendations around structure and technology.
Our High Performance Finance study adds another dimension for providers to consider: the role of the CFO. Among financial services businesses, the CFO sits in the "hot seat" for many of the efforts we believe providers should pursue.  More than ever, the CFO is taking a role as a business leader, and the "hot seat" includes being both a driver and a leader of critical business transformation initiatives.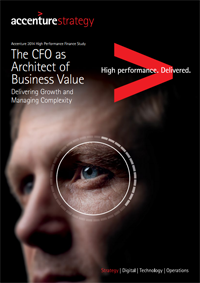 For example, centralizing and simplifying the finance and risk function alongside the regulatory function is an effort typically driven by CFOs. But Accenture's study reflects that leading CFOs are now pushing beyond this traditional role, and moving toward becoming drivers of business value.
Across all industries, the CFO role is growing and taking on more responsibility. Some 75 percent of high performing businesses say their CFO's role has increased when it comes to challenging and supporting strategic decision-making within the enterprise. A similar number, 70 percent, say the CFO has played a role in business transformation efforts. In the end, our study concludes that high performing businesses frequently have high performing CFOs behind them.
The same trend holds true in Financial Services. In Banking, where complexity and lack of integration is particularly challenging, the CFO can drive change and secure stakeholder support. In Capital Markets and Insurance institutions, the CFO plays a key role in building a closer integration between risk and finance.