Serena Williams has 23 Grand Slam singles titles to her credit and is the most successful tennis player—woman or man—of the Open era. Throughout her 24-year professional career, she's been known for exceptional comebacks and remarkable determination. At the post-match press conference following her 100th singles win at the 2019 US Open, she said, "When I play someone who is playing well, I have to step up or go home, and I'm not ready to go."
Now that the true digital mortgage—one that is easy to use, quick to close, completely paperless and fully compliant—is fast becoming table stakes, it seems appropriate to ask those lenders still thinking about it, "Are you ready to step up or are you ready to go home?"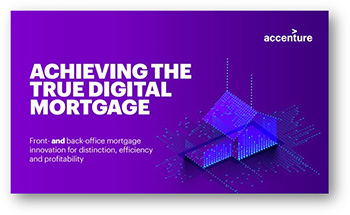 While non-digital mortgages are not yet obsolete, the trajectory is now clear. According to a MERSCORP report, the use of electronic promissory notes skyrocketed in the first quarter of 2019, rising nearly 5,000 percent over the last year, exceeding all of last year's production and indicating a material upswing in digital mortgages.1 In its "Role of Technology in Mortgage Lending" report, the Federal Reserve Bank of New York noted that end-to-end online mortgage-lending fintechs increased their market share of US mortgage lending 30 percent from 2010 to 2016—from two percent to eight percent, and that trend has accelerated over the last few years.2
Traditional lenders don't have to pack up their bags and go home just yet, as many pieces of paper will be signed to close US mortgages for the foreseeable future. However, the trend does indicate that traditional lenders need to address two hurdles that are holding them back from getting their digital mortgage proposition right: cost and people.
Digital mortgages are faster and cheaper, but getting to that point can be costly. Hefty investment is often needed to augment core technology, automate the loan origination process, and integrate customer-facing and back-office systems. The ability of borrowers to track their loan status in real time requires a single system of record enabled by an open architecture that allows for seamless data management and the integration and reconciliation of data from multiple sources, all delivered through a user-friendly front end. So, step one is to understand the value-cost trade-off to deliver a truly digital mortgage experience and prioritize those technology and data investments that will make a meaningful difference.
Now that the true digital mortgage … is fast becoming table stakes, it seems appropriate to ask those lenders still thinking about it, "Are you ready to step up or are you ready to go home?"
What we also know from our experience is that better technology alone isn't enough for banks to ensure that their mortgage businesses remain competitive. While TV advertising may emphasize end-to-end digital, the reality is that people are still a necessary component of the lending game. Creating a digital mortgage business means putting the workforce front and center during the change journey and equipping those employees with the right tools to improve lending-team efficiency through automation, better exception handling and a process that is agile rather than rigid. While a digital front end is important, empowering a skilled workforce is key to reducing costs, lowering risks, increasing the speed of the mortgage process, and, importantly, improving communication with borrowers.
Achieving the true digital mortgage requires traditional lenders to transform themselves. A failure to either grapple with the cost-benefit of improved mortgage technology or empower their people to use that technology will mean that those lenders will fall short of borrowers' digital expectations. While those lenders may win a few games or even a set or two before the industry fully transforms, over the medium term they may as well go home.
I invite you to read our latest report, Achieving the True Digital Mortgage. In it, we discuss five key actions banks must take to apply innovation to shift their mortgage operations and reap the bottom-line benefits.
---
1Intercontinental Exchange, "Growing Volume of eNotes Signals Surge in Digital Mortgages, According to Merscorp Holdings, Inc. (Mers)" 4/11/2019
2Federal Reserve Bank of New York, "The Role of Technology in Mortgage Lending" February 2018