No industry can escape digital disruption—and banking is in the thick of it. Customers want omni-channel banking options. Digitally savvy new entrants are shaking up the service proposition. Digital disintermediation has become the norm. And it is accelerating at a rapid pace.
Most retail banks recognize that they have to up their digital game or risk getting left behind. In fact, according to Banking 2020, Accenture's vision of the future of banking, two out of three of the emerging banking business models over the next decade will be digitally-driven—the niche digital provider and the digital, full-service bank.
But how is banking doing in digital transformation compared to other industries?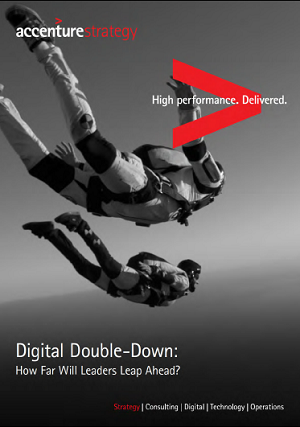 An Accenture survey of C-suite executives across 12 major industries reveals that as a whole banking is doing surprisingly well. Banking ranks second after only "electronics and high tech" (no surprise) in the percent of players (63 percent) that are digital transformers. Of those digital transformers, 57 percent are focused on transformation for growth.
Digital transformers are those companies that see the transformative potential—and mandate—for digital. They understand that digital is much more than a technology tool or a capability to tweak status-quo operations and business processes. For them, digital is the big bang, not the slow burn.
These findings were published recently in an Accenture article called Digital double-down: How far will leaders leap ahead? I encourage anyone thinking about digital strategy to explore this highly relevant point of view.
The article offers a thought-provoking profile of the digital transformer—what they focus on, where they excel and why they see digital as synonymous with strategy. It's all part of their conscious commitment to "doubling down" on digital as a priority across every facet of the business.
From a banking industry perspective, the survey data runs counter to the notion that traditional banking players are losing the digital battle to nimble start-ups at every turn. It is true that being agile and making proactive changes to the business model is difficult for large, well-established organizations.
However, more banks are acting as digital leaders than common wisdom gives them credit for. This is exciting for the industry and for consumers even if there is still a lot of work to be done. I look forward to continuing to observe how banks are continuously innovating their application of digital technologies to meet evolving customer needs.