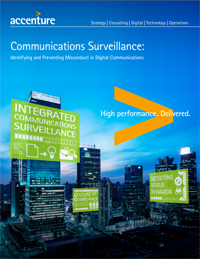 Over this series of posts, we've been looking at communications surveillance, as summarized in our paper, Communications Surveillance: Identifying and Preventing Misconduct in Digital Communications. New regulations, and new communication vehicles, have created all-new headaches for financial institutions and their risk managers.
The issues we've honed in on include social media, structured and unstructured data, and human capital. Combined, these issues mean major challenges for banks and capital markets firms as they seek to meet regulatory requirements around communications surveillance.
Luckily, there are some approaches that may help to ease the journey. We believe one key to success is adopting a solution that enriches data. Today's electronic surveillance approaches automatically cross reference multiple sources. They help reduce false positives. Using filtering tools and artificial intelligence, new systems help users quickly identify trouble spots and prioritize them, saving time and increasing efficiency.
An effective surveillance program should be fully integrated. We believe a sound approach includes the following elements:
An ability to enrich unstructured data (gathered from emails, social media and voice calls) with structured information (transactions, activity logs, internal restricted lists).
Voice surveillance that is integrated into the overall surveillance model.
A centralized infrastructure that allows historical access for verification.
Speed and flexibility, perhaps derived from tools such as customized dashboards.
Advanced semantic technologies that automatically recognize concepts and topics, understand meaning and categorize information.
Network analytics capable of aggregating the metadata created by communications.
Visualization tools that help facilitate discovery by displaying content via dashboards or other visible means.
A holistic, fully integrated approach to communications surveillance can help financial firms identify possible trouble spots and respond quickly. But a truly integrated solution brings additional benefits: It can help identify positive behaviors. It can aggregate findings to offer business-building insights, and may help the business identify new opportunities to drive growth.
The challenge around communications surveillance has increased exponentially in recent years, true. The good news is, the right solution can not only support effective surveillance, it can add business value.