Other parts of this series:
---
In earlier posts in this series, I've looked at how banks and insurers can use methodologies such as Agile to improve their change capabilities. For many FS organizations, a further step in the professionalization of change is building scalable and repeatable 'industrial' change capabilities.
Some major transformation programs – such as multiple releases that need to be implemented thousands of times – have sufficient scale to do this alone. Other firms build enterprise-wide change services that span multiple programs.
The change capabilities most frequently targeted for industrialization are business analysis, PMO, business testing and implementation management. Often this creates a significant opportunity for offshore delivery – 30 to 50 percent of the change team can be offshore, creating significant cost arbitrage. However, the real benefit is using industrialized change capabilities to work smarter.
There are a number of key aspects to industrialization:
Integration – e.g. "we can implement these three programs within this market as a single joined-up deployment."
Standardization – e.g. "we will implement within each branch following 15 steps before, during and after each go-live."
Tooling – e.g. "we will regression-test for each release using a standard test pack and test automation."
Specialization – e.g. "we will manage process analysis through business analysts specialized in Lean Six Sigma."
Learning – e.g. "we know the pitfalls and success factors based on similar implementations."
The benefits of industrialized change capabilities are faster, lower-risk and lower-cost change delivery. The key to success is building up the maturity of an industrial capability over time, building confidence in it among program managers and overcoming siloed delivery.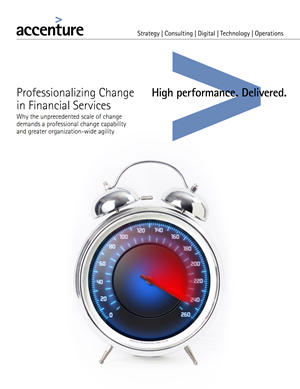 Also important in professionalizing change is the sourcing of change capability. There is a range of sourcing options, from project-by-project sourcing through to strategic change partnerships and full managed-services arrangements.
Given the variety of programs, these sourcing models often have to combine both specialist change skills that have a high impact on the change outcome, with lower-cost commodity and offshore delivery.
Many global FS organizations are increasingly sourcing external change capability as a way to gain more rapid access to specialist expertise, create flexibility around fluctuating demand levels, and install a level of delivery focus that can be difficult to sustain in internal teams working alone. These partnership models are often a complement to internal change capability, working alongside and strengthening the organization's own team.
In our experience, strategic change partnerships and managed-services arrangements lead to lower unit costs, especially by leveraging offshore delivery and productivity enhancing tools. They also tend to help spark a different style of change, bringing innovation and pace to the internal team.
To learn more, download Professionalizing change in financial services.