"Our customers are not asking for it" has been the standard reaction to immediate payments of many banks for many years. Even in the UK, the world leader in mass real-time payments since 2008, it was government pressure on the banking industry, not market demand or a desire to innovate that led to the creation of the Faster Payments system.
However this mindset is changing rapidly. Consumers expectations and tolerances have been transformed by the smartphone and the services they provide – always on, ubiquitous, real-time with instant transactions. Any banking service that enables, for example mobile payments with real-time notification to the beneficiary, but with delayed availability of funds is not an innovation, it is a dud. Immediate inter-bank payments are therefore a core requirement of any banking system today, which is why initiatives are appearing globally – from Sweden and Finland, to Singapore and Australia. Even in the USA where bank payments are little changed since the Jurassic era (in stark contrast to those provided by its non-bank technology sector), there are stirrings towards immediate payments.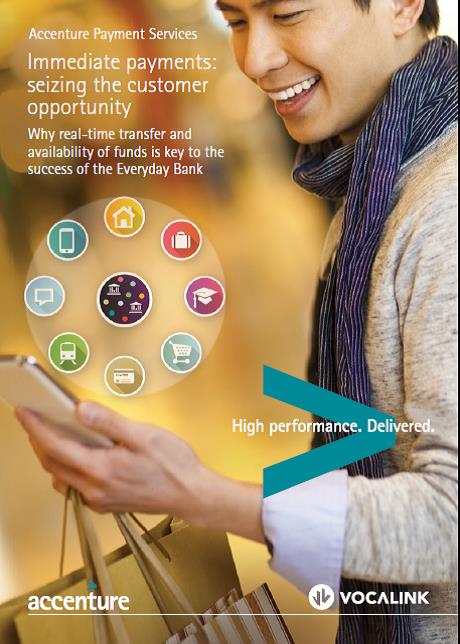 As seen in the UK, although bank customers may not demand for immediate payments, once they have it, they find creative ways to use them to make their lives easier and more efficient. The benefits range widely and include ability  to instantaneously transfer money to cash-strapped friends and family, immediate payment for time-dependent services, improved cash-flow management for both individuals and businesses, just-in-time inventory management leading to reduction in working capital. Furthermore the list of benefits keeps growing as individuals and businesses find more and more ways to use immediate payments and to design new and innovative business models enabled by immediate payments.
This argument is explored in two ways: through examining benefits to customers, governments and companies, as well as focusing on case studies in the UK, the US and Australia where immediate payments infrastructure is either mature or just starting. The UK's Faster Payments Service, launched in May 2008, is one of the most mature in the world and as a result, illustrates the benefits of immediate payments well. Governments gain advantages ranging from reduced cash and check handling to easier management of economic risks; businesses can pay employees and suppliers faster, have funds available more quickly, and gain access to richer payments data; and consumers benefit most of all, with convenient 24-hour availability, a more compelling end-to-end payments experience, and ideally immediate access to value. Faster Payments infrastructure has also enabled the creation of innovative mobile payment apps such as Zapp and Paym in the UK – enhancing the customer experience even further.
As well as benefiting their customers, Accenture believes banks need to move towards immediate payments for their own benefit. In an industry where digital innovators are disrupting the retail and SME banking landscape, banks need to embrace the full potential of immediate payments, to position themselves as true partners in their customer's lifestyles.