A rapidly changing payments industry is threatening incumbent banks' payment revenues and customer relationships with significant knock-on impacts to a banks' ability to retain customers and cross sell. Against this backdrop, Accenture research shows that up to 43% of retail banking payments revenue in the United Kingdom is at risk between 2015 and 2020.
The revised Payment Services Directive (PSD2) is set to accelerate this disruption in the payments industry by opening the market to new forms of regulated Payment Institutions and by granting these Third Party Providers with access to customer bank accounts and transaction data via APIs.
Simultaneously, PSD2 also presents Financial Institutions with new service and monetisation opportunities and a rallying point around which investment and improvement initiatives can be instigated.
How will this impact European Financial Institutions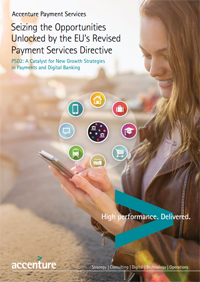 PSD2 will necessitate a compliance programme in European banks but also a strategic assessment of the threats and opportunities ushered in by this new regulatory environment. This must include consideration of the following questions:
How will new third party Payment Initiation Service Providers (PISPs) and Account Information Service Providers (AISPs) impact incumbent banks from the perspective of payments revenue and customer relationships / loyalty?
What opportunities exist for banks to leverage PSD2 and a move towards Open API's to grow new revenue streams, ensure competitive advantage and develop an Everyday Bank customer ecosystem?
What Operating Model changes will be required in order to respond to these changing market and regulatory dynamics?
To better understand what strategic options are available for Financial Institutions to minimise the disruptive threats of new competition and to maximise the opportunities unlocked by PSD2 and Open APIs read Seizing the Opportunities Unlocked by the EU's Revised Payment Services Directive: PSD2 – A Catalyst for New Growth Strategies in Payments and Digital Banking.
Key Contacts
I'd like to thank Andrew McFarlane and Killian Barry for their role in conducting our analysis and their keen insights on the strategic options available for European Financial institutions to sustain and grow their business in this new regulatory environment.