Consumer spending over connected-car platforms is expected to reach $265 billion by 2023. But will that benefit all players—or just the ones that carve out a definitive competitive advantage?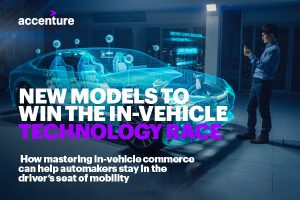 Picture this: It's a sunny Saturday morning and you and your family are buckled into the car for a day out. "Find the nearest gas station," you say, and the in-dash navigation recalculates your route. As you pull up, the car's voice assistant says, "Fill up at station six." A full tank later, you hop back in the car. "Pay for fuel," you say, completing the transaction. It turns out it's not just the car that needs fuel—your kids are hungry too. "Find the nearest drive-thru," you say. A new route pops up on the GPS, along with menu items. While you drive, your partner orders a mountain of cheeseburgers and fries from the dash. "Pay now?" asks the voice assistant. Your partner says yes, and when you pull up to the pick-up window, your order's ready to go. Phew, meltdowns averted.
It's time to rethink the in-vehicle experience
From paper maps to GPS systems, cassettes to music streaming, the in-vehicle experience has evolved to include more technology. But in-vehicle technology goes beyond infotainment and navigation, and original equipment manufacturers (OEMs) and their captive finance organizations face competition from outside the auto industry.
A decade ago, Apple collaborated with BMW to offer iPod Out. That has morphed into CarPlay, which brings Siri and the rest of the iPhone experience onto the driver's dashboard. Google users have Android Auto, now available in more than 500 car models from 50-plus automobile brands.
And now there's Amazon.
Earlier this year, I wrote about the splash that Amazon made at the 2020 Consumer Electronics Show (CES). For $50, you can plug in the Echo Auto to hear Alexa through the vehicle's sound system and speak directly to the voice-activated virtual assistant to play music, make calls and more.
Fine, you say. That puts Amazon in the same sandbox as Apple and Google.
Here's the wrinkle. Amazon isn't just bringing Alexa into the vehicle, it's also enabling in-vehicle commerce. Imagine saying "Alexa, pay for gas" in lieu of using a credit card. What's more, according to an Amazon blog post, the in-vehicle assistant will store driver profiles in the cloud and use Amazon facial recognition technology to load the proper profile for each driver. Routine behaviors, such as the morning coffee run, will be detected by machine learning. The blog post doesn't go into details, but a likely scenario would be for the in-vehicle assistant to automatically route the GPS to your coffee shop of choice, and place and pay for your order.
Tech giants are already influencing the in-vehicle experience
Several OEMs have already entered the in-vehicle commerce market, led by those makes and models with touchscreen dashboard capabilities. Most offerings include a fuel provider and some have incorporated quick-service restaurants. While OEMs may think of in-vehicle technology as their wheelhouse, to date none has provided a truly compelling in-vehicle experience that can keep pace with customer expectations and ward off competition from outside the industry.
For example, Amazon offers a single sign-on to access its ecosystem of e-commerce, streaming media, connected-home offerings and more. In contrast, some OEMs' in-vehicle offerings require users to create and sign in to individual merchant accounts.
Amazon, Apple and Google all have stores of customer data, including location, social and transaction data, that they could use to personalize the in-vehicle experience. And they already benefit from a reputation for embedding themselves into customers' lives. To date, neither Apple nor Google has formally entered the in-vehicle commerce marketplace. However, some OEMs are using Apple Pay for in-vehicle payments. It's clear that tech giants are influencing where the in-vehicle commerce marketplace could go.
The in-vehicle technology race is on. Will you lead or follow?
Historically, personalizing the in-vehicle experience meant features like dialing in seat settings or climate controls. But our research found that just 11 percent of consumers rank these features as a priority. Further, the Accenture 2019 Global Financial Services Consumer Study found that consumers value tailored offerings that meet their core needs in one place. And more than three in four are willing to share their data in return for these personalized services.
What might the future of the in-vehicle experience look like? Here are some examples:  
Bundling insurance into the car buying or leasing process

Reminding drivers about upcoming service needs and sharing a real-time discount for their preferred service location

Enabling in-vehicle payments so drivers can pay for parking, tolls, dining and entertainment
Our report, New models to win the in-vehicle technology race, looks at how OEMs and their captives can master in-vehicle commerce that meets customer expectations and creates a competitive advantage. It shares two business models and key capabilities to enable OEMs to transform the vehicle into a next-generation payments platform.
Mastering in-vehicle commerce will mean pivoting from being a company that manufactures cars to becoming a provider of relevant and tailored value propositions. It's estimated that by 2023, consumers will spend $265 billion over connected-car platforms. How much of that revenue will you capture?
---
This makes descriptive reference to trademarks that may be owned by others. The use of such trademarks herein is not an assertion of ownership of such trademarks by Accenture and is not intended to represent or imply the existence of an association between Accenture and the lawful owners of such trademarks.