Accenture is pleased to be sponsoring the FinTechStage conference in Milan, Italy from March 30-31. The conference brings together three communities—FinTech startups, investors and financial institutions—to discuss the state of the art in the local FinTech ecosystem, the relevant trends and what we can learn from outside to advance the local stage.
I'm excited to be presenting on the second day of the conference on our Accenture strategy for developing a Customer-Driven Digital Bank. We think this is the future of banking in a digital landscape.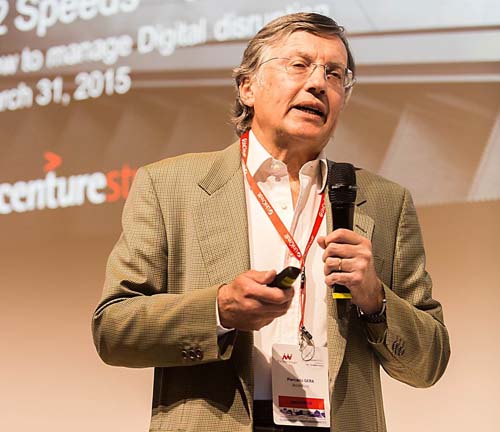 In our work with many of the world's top banks, we have a bird's-eye view of how digital is affecting the industry and it's clear that the traditional role of the bank is under threat:
Digital has set a new customer-experience standard
Competitors from other industries have the potential to consign banks to a limited role as utilities
Startups have proved they can pick off parts of the banking value chain and improve performance
Technology giants can accelerate the pace of disruption at scale—they have strong balance sheets, access to capital, hold huge amounts of customer data and are not hampered by complex legacy systems and infrastructure
Banks must also learn to operate at two speeds:
Transforming their operations and technology capabilities
Creating a portfolio of targeted innovations, by developing them internally, backing startups or acquiring other businesses
To succeed in this new competitive landscape requires a "3 Hats" governance model including Banking, Technology and Digital entrepreneurs to manage the GO Digital and BE Digital agenda consistently:
Banking entrepreneur. Managing the core franchise, balance short and long term priorities, and create conditions for the 2-speed agenda, while they ensure risk management, business viability and strong financial performance.
Digital entrepreneur. With a deep understanding of evolving customer needs in the digital world, the digital entrepreneur can define the digital innovation agenda, anticipate customer needs, identify disruptive innovations and build the necessary digital capabilities.
Technology entrepreneur. By helping to make the banks' IT systems more open, scalable and flexible, the technology entrepreneur enables banks to incorporate and support new innovations, use technology in news ways, such as creating an open technology ecosystem or recognizing the potential value in bank data.
Traditional banks have many advantages. They hold more information about their customers than any other type of firm, including data on individuals' incomes, savings and spending patterns, as well as information on small and medium enterprises' merchant transactions, cash positions and credit needs. But to capitalize on these advantages in the digital era, they need to change rapidly, be agile and be able to provide customers with products and services that offer the same levels of convenience, simplicity and speed to which they have become accustomed from other services they use every day.
What are your thoughts on how digital is affecting the banking world or our strategy for succeeding in this competitive landscape? Leave a comment below with your thoughts or examples of innovation in banking locally.